Thousands Gather in Washington, DC to Promote Early Childhood Education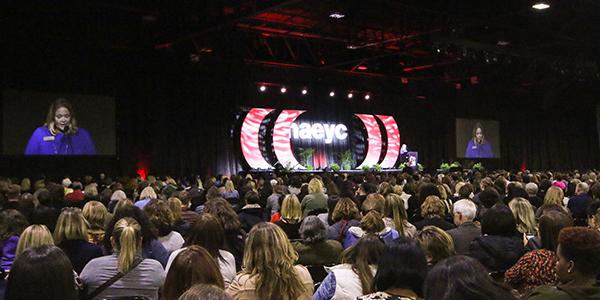 You are here
Home
/
Thousands Gather in Washington, DC to Promote Early Childhood Education
For Immediate Release:
November 7, 2018
Media Contact:
Gill Walker
gwalker@naeyc.org
202-350-8857
Thousands Gather in Washington, DC to Promote Early Childhood Education

The National Association for the Education of Young Children (NAEYC) hosts the 2018 Annual Conference in the Nation's Capital
Washington, D.C.-- More than 8,000 early childhood education professionals will gather at NAEYC's 2018 Annual Conference, November 14-17 in Washington, DC., the largest early child gathering in the world.
NAEYC is the premier membership organization for early childhood educators, reaching nearly 60,000 professionals, worldwide! Every year NAEYC draws thousands of early educators to one city to champion for their profession.
Over four days conference attendees will navigate the Walter E. Washington Convention Center to engage with peers and leaders in early childhood education, attend professional development sessions, network and experience the Expo.
The Opening Keynote Presentation titled,"Reflecting on the legacy of Fred Rogers through the 2018 documentary, Won't You Be My Neighbor?" will kick off Annual Conference. The presentation will take conference attendees behind the scenes of the critically acclaimed documentary that explores the life, legacy and career of Fred Rogers. Attendees will enjoy clips from the film and insightful discussion on Rogers' dedication to protecting childhood. Joining us for this panel discussion is Fred Rogers' widow, Joanne Rogers; Nicholas Ma, producer of Won't You Be My Neighbor? and son of world renowned cellist, Yo Yo Ma; Junlei Li, previous director of the Fred Rogers Center for Early Learning and Children's Media; Dan Kois, editor at Slate and founding co-host of Slate's parenting podcast, Mom and Dad Are Fighting; William Isler, former president and CEO of The Fred Rogers Company, and former NAEYC Governing Board Member.
Throughout the week there will be a powerful presence of NAEYC conference attendees on Capitol Hill. Early childhood educators and advocates will engage in meetings to educate policy makers on the crucial issues in their field. On Saturday, the final day of conference, local teachers unable to leave their classrooms during the week are invited to attend at a special rate.
Attendees can also look forward to:
More than 600 sessions about groundbreaking work and trends in the profession
An expo of 225+ exhibitor booths showcasing solutions and products in early childhood education
Training on NAEYC Early Learning Accreditation  
A Double Feature Movie Night featuring two groundbreaking films, NO SMALL MATTER, and Won't You Be My Neighbor?
Registration is required to attend the conference and the Expo.  To learn more about the 2018 Annual Conference and NAEYC please visit NAEYC's website.
For media passes to the 2018 Annual Conference please contact Jerilyn Gamble at jgamble@naeyc.org.
###
NAEYC is the foremost professional membership organization committed to transforming the lives of young children and delivering on the promise of high-quality early learning. NAEYC represents 60,000 early childhood educators who care for, educate, and work on behalf of young children, birth through age 8.  Learn more about NAEYC at www.NAEYC.org.