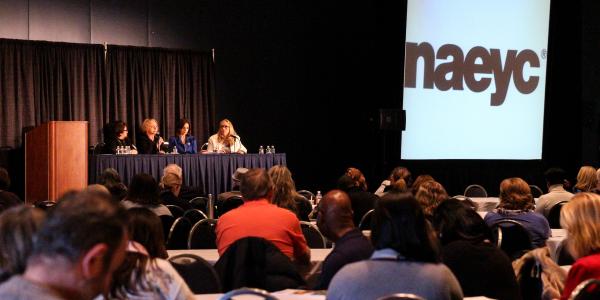 You are here
Get a glimpse of the 2019 featured sessions! Attendees are sure to find value in workshops that focus on a variety of topics including math, literacy, guided play, and equity.
To view the full lineup of Annual Conference sessions, browse the itinerary planner and search by presenter, topic, or keyword.
---
Opening Keynote Address

Join award-winning social change agent, Dr. Gail C. Christopher for a compelling session exploring how change is created at individual, community, organizational, and systems levels. Come to this year's Opening Keynote Presentation ready to address OUR responsibility to promote equity and diversity in early childhood education.  Learn more about Dr. Christopher and this year's keynote address.  
Teaching for equity: Legacy of and lessons from Vivian Gussin Paley

This session explores the late Vivian Gussin Paley's writings on teaching as they exemplify NAEYC's focus on the unique value and dignity of each child and family. Paley's 40-year pursuit of fair teaching as revealed through her iconic studies of classroom life and children's thinking include her self-examination of teacher bias around race, gender, and developmental difference. They also include her commitment to a classroom environment in which all children's interests and needs are met, and in which kindness and empathy are fundamental to classroom life. Following opening remarks by keynote speaker Dr. Gail Christopher, signature practices to be discussed in this session include Paley's dedicated study of young children's thinking and reasoning through pretend play, her storytelling and story acting activities, the classroom rule "you can't say you can't play," and more. Paley's achievements offer a much-needed roadmap for our profession towards equity, inclusion and the well-being of every child now and in the future. 
Gail C. Christopher , National Collaborative for Health Equity (NCHE), Ntianu Center for Healing and Nature, W.K. Kellogg Foundation (formerly). Trust for America's Health (TFAH); Patricia M. Cooper , Queens College, City University of New York; Gillian McNamee , Erikson Institute
Who is a "math person"? Gender stereotypes about math develop at an early age

Gender stereotypes such as "girls aren't good at math" can affect how well students perform on math tests and the way that teachers interact with children, and they can limit girls' aspirations for careers in science and technology. Research indicates that we develop these math-related gender stereotypes before we enter grade school! In this session, we'll look at research that explores how and when math-related gender stereotypes form. Stereotypes are not innate: We have the power to change them. The presenter will provide research-based practical strategies that educators can incorporate into classrooms, child care centers, and at home or in other everyday settings to help support ALL children's abilities in math and other STEM subjects.
Marley Jarvis; Institute for Learning & Brain Sciences, University of Washington
The book matters: Using the color-coded Bloom-Banks Matrix to support the literacy, engagement, and self-identities of Black boys

Too often, Black boys quickly lose interest in reading. They complain of finding little relevance in books, which hinders their racial and gender identity and, hence, their sense of self as learners. A recent study shows that only 7.6% of characters in children's books are African/African Americans. In this session, the presenters introduce the color-coded Bloom-Banks Matrix to encourage and engage Black boys by using books that feature Black boys as the main character. The matrix is designed to help early education teachers help Black boys find a passion for reading and, by extension, support and cultivate the self-identities, agency, and voice of Black boys in the early grades.
Brian Wright, University of Memphis; Donna Ford, Ohio State University​
Where are we now? Our 30-year journey in anti-bias education and culturally relevant teaching in early childhood classrooms

In this session, we will share and discuss past, present, and future iterations of anti-bias education and culturally relevant teaching in early childhood classrooms and teacher education. Presenters will explore emerging and cutting-edge strategies for addressing educational equity in early childhood. Using an interactive and informative presentation format, presenters will engage participants in cultural simulation activities, introduce various practical strategies in anti-bias and culturally relevant teaching, and allow opportunities for participants to reflect on enhancing their quality and responsiveness in teaching ethnically diverse children.
Tonia Durden, Georgia State University; Stephanie Curenton, Boston University; Kerry-Ann Escayg, University of Omaha; Iheoma Iruka, HighScope Educational Research Foundation
Early math, dual language learners, and the importance of whole-child curriculum

At a time when early childhood educators work tirelessly to meet the needs of the whole child, curricular approaches that aim to separate content areas into discrete elements (a) place more strain on an already taxed workforce, (b) exacerbate the early learning and early elementary divide, and (c) create confusion for children and families alike. While an evidence-based curriculum is a central component of quality early learning programs, a recent and unfortunate push for skill-focused curricula leverages claims regarding whole-child curricula that are both outdated and misguided. During this session, participants will hear about the role of whole-child curriculum in early math development, supports for dual language learners, and implications for ongoing and formative assessment.
Vincent Costanza, Teaching Strategies; Jie-Qi Chen, Erikson Institute; Dina Castro, University of North Texas
Meet the authors and illustrators: Children's literature at NAEYC

Celebrating its 29th anniversary, this well-attended annual featured session brings noted and often award-winning children's authors and illustrators to NAEYC to share their experiences and expertise with teachers. The authors and illustrators, all leaders in the field, will discuss how they create their books, what children have said and asked about their books, and strategies to use their books with children. Additionally, they will share their own journey as writers, writing for publication, and their experiences working with children in schools.
Christian Robinson, author and illustrator; Jonah Winter, author; Steve Light, author and illustrator; Mac Barnett, author; Holly Seplocha, William Paterson University (moderator)
La ciencia y arte del trabajo con niños de lenguaje dual a través del uso de Historias de Aprendizaje

Los presentadores compartirán sus experiencias al implementar Historias de Aprendizaje que documentan las vivencias de los niños en una escuela pública preescolar bilingüe. Learning Stories (Historias de Aprendizaje) es una filosofía de la educación temprana que surgió en Nueva Zelanda. Ambos presentadores compartirán de que manera las Historias de Aprendizaje han influido en su vida profesional (como maestros y entrenadores), aumentado la participación de los padres en la educación de sus hijos, y fortalecido la identidad de los niños como aprendices competentes.
Isuaro Escamilla Calan, San Francisco Unified School District; Lauren Boyles, San Francisco Unified School District
Keeping children at the center of pre-K to second grade through guided play and exploration

Building up from the successes of its nationally acclaimed pre-K program, the Boston Public Schools Department of Early Childhood developed Focus on Early Learning, an aligned pre-K to grade 2 model of early childhood and elementary curricula, professional development, and coaching. Focus on Early Learning keeps children at the center, honoring their experiences and valuing their input as capable agents of their own learning. In doing so, instructional practices build up from pre-K rather than allowing high-stakes testing to dictate the academization of the early grades. Teachers enable child agency and autonomy through guided play, not worksheets! Learning through play and exploration doesn't need to stop in first grade—here's how you can apply the BPS approach.
Marie Enochty, Boston Public Schools Early Childhood Department; Brian Gold, The Boston Foundation
What would it take? Implementing the Professional Standards and Competencies for Early Childhood Educators

There are important shifts and new emphases in the Professional Standards and Competencies. During this session, participants will consider these through several lenses and ask "what would it take" to implement these across the profession? What would it take to support talented educators to use culturally responsive approaches that support children of color to achieve their full potential? What would it take to help every early childhood educator build the multiple languages of dual language learners? What would it take for early childhood professionals to create inclusive environments and interactions that engage and support children of different abilities? What would it take to ensure that early childhood educators know how to support children who have experienced trauma? And what would it take to provide each early childhood professional with the confidence and competence to engage with and support each and every family?
Camille Catlett, Frank Porter Graham Child Development Institute; Dina Walker-DeVose, Georgia Southern University; Mary Harrill, NAEYC; Iliana Alanís, University of Texas at San Antonio; Eva Horn, University of Kansas; Elisa Huss-Hage, Owens Community College
President's seminar: Supporting early educators in higher education: Celebrating bright spots of progress, acknowledging the work that still needs to be done, and developing a plan for ACTION

Power to the Profession is focused on equitably advancing an effective, diverse, and well-compensated early childhood education profession across states and settings. Our children live in an increasingly diverse world, and they both need and benefit from a workforce that reflects and embodies that world. As such, when our current systems cause harm to educators, they can also harm children and their families. The inverse is also true: when our systems help educators, we help children and their families. We know that higher education plays a critical role, with many opportunities to support the workforce. If we are going to see our vision through and reimagine what could be, we have to take stock of the progress we have made, identify missed opportunities and barriers, and develop an action plan. Our panel will share perspectives and experiences from different parts of the higher education system and discuss key issues including equity, compensation, pathways, leadership, and financing, and will share recommendations for an aligned system designed to support early childhood educators.
Dina Walker-DeVose, Georgia Southern University; Pamela Evanshen, East Tennessee State University; Theresa Loch, Worcester Head Start; Amy O'Leary, NAEYC President and Strategies for Children (moderator).
Power to the Profession: The politics of implementation

As the Power to the Profession taskforce is poised to release a Unifying Framework in early December, the early childhood education profession stands on the brink of substantial progress. But it will take sophisticated political work, well-grounded advocacy, and a lot of grit and determination. A panel of national political and policy strategists will analyze and confront the opportunities and roadblocks at the state and national levels.
Max Fose, Integrated Web Strategy; Dave Metz, FM3 Research; Danielle Ewen, Education Counsel; Brooke Butler, Center for American Progress; Rhian Evans Allvin, NAEYC (moderator).