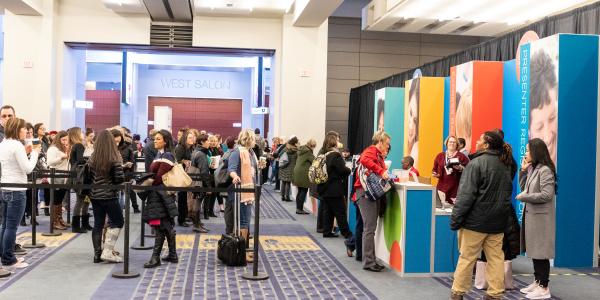 You are here
The Annual Conference will be held November 20-23 at the Music City Center in Nashville, TN. 
Register Online, by Mail, or by Fax:
Register by Fax or Mail

Complete the registration form and send with payment to: 
Fax—If you are paying by credit card, fax the Annual Conference registration form to:
NAEYC Annual Conference Registration, c/o CompuSystems, Inc.—708-344-4444. Please do not fax your form more than once.
Mail—Complete the Annual Conference registration form and mail with payment to:
NAEYC Annual Conference Registration
c/o CompuSystems, Inc.
2651 Warrenville Road, Suite 400
Downers Grove, IL 60515
Important:  Please mail payment by November 1, 2019 to allow enough processing time before the event.
---
Registration fees and deadlines

Important: The Regular registration deadline for the 2019 Annual Conference is Friday, October 18. Email and voicemail inquiries regarding membership to register at this rate that are time stamped by 5:00 p.m. EDT on Friday, October 18 will be honored. Any requests after this deadline will receive the After October 18 conference registration rate. 
Registration Type


Early Bird 


(Ends September 13)


Regular 


(September 14 – October 18)


 


After October 18


 


Member


$295


$325


$385


Nonmember*


$450


$480


$540


One-Day Member


$205


$235


$295


One-Day Nonmember*


$335


$365


$425

*Includes complimentary entry level NAEYC membership
---
Housing

The deadline to reserve housing at the special NAEYC Annual Conference rates is Friday, October 18. View the housing page for details. 
---
Presenter Registration

Registration for Annual Conference presenters is now open! For instructions to register please visit the presenter information page.
---
Group Registration

Each person in your group of 10 or more will receive $10 off their Conference Registration fee.
To qualify, all registrants in the group must be at the same address and all names must be submitted at the same time; only ONE payment to cover all registrations will be accepted. Registrations that arrive later will NOT be eligible for the group discount, nor will they count toward the 10-person minimum.
To register as a group, please use the special Group Registration online link or the Group Registration Form. 
No refunds will be issued for a Group Registration; substitutions will be permitted.
New Benefit: Add an Interpreter to Group Registration at No Additional Cost!

Eligibility requirements: You must register as a group with at least 10 attendees (excluding the interpreter you plan to register).
Registration instructions: Note: *If you are already registered (either online, mail, or fax), there is no need to go through the registration process again. Simply follow online instructions listed below.   
Online 
Once your group registration is confirmed, send an e-mail to our conference department at conference@naeyc.org requesting to add a foreign language interpreter. Please include the following information in the e-mail:
 Group Registration confirmation number
 Name of group's company/organization
 Interpreter's first and last name
 Mailing address
Email address
By Mail or Fax: 
On the paper group registration form, indicate that you will bring a foreign language interpreter. Include the following information:
 Interpreter's first and last name
 Mailing address
 Email address
---
Payment

Each Registration must be accompanied by full payment. Purchase orders are NOT accepted. Your check/money order or credit card information (VISA, MasterCard, American Express, or Discover) must accompany the Annual Conference registration form.
If paying by check, please make check payable to "NAEYC Annual Conference Registration." Non-U.S. registrants: Be certain that your fees are paid in U.S. funds drawn on a U.S. bank, bank draft, or credit card.
---
Pre-Conference Workshops

To register for one of the Pre-Conference Workshops, use the Registration Form or online registration link. Registration for the full conference (November 20-23) is not included in the pre-conference workshop fee.
---
Special Needs

If you have any special needs, please notify us on the Annual Conference registration form by October 18. After October 18, please email us at conference@naeyc.org with the subject line "2019 Annual Conference Special Needs."
---
Registration Credentials

A name badge will be mailed in advance to Conference attendees who register by Friday, October 18. The Annual Conference Final Program will not be mailed in advance. You may pick up a copy on-site in the conference registration area starting Tuesday, November 19, at 1:00 PM.
---
Refunds/Cancellation of Registration

Fees are non-refundable after October 18. Cancellation prior to October 18 will incur a $75 processing charge per registrant. Telephone cancellation is not accepted; certified mail is recommended. When submitting a refund request, please include the name and Registration ID of each registrant, the name of the organization or person receiving the refund, and the mailing address for receiving the refund. Refund requests must be mailed to:
NAEYC Annual Conference Refunds
c/o CompuSystems, Inc.
2651 Warrenville Road, Suite 400
Downers Grove, IL 60515
Refund requests are processed after Annual Conference using the same method of payment used for registration.
---
Expo Hall Entry

Due to safety concerns, we cannot allow children or strollers in the Expo Hall. Only paid registrants (adults only) with a conference name badge will be permitted to enter the Expo Hall.
---
Questions about Registration?

Call CompuSystems, Inc., Monday through Friday, from 9:00 AM to 5:00 PM, Central Time, at 855-326-8340 or 224-563-3120 or email them at ycac@compusystems.com. For other questions, please contact NAEYC at conference@naeyc.org.
---
NAEYC Membership

To receive the membership discount, you must be a standard or premium level NAEYC member and provide your valid NAEYC membership ID# along with your membership expiration date. If this information is not provided, it will delay the processing of your Annual Conference registration. Nonmember registrants will receive complimentary entry level NAEYC membership, which is not eligible for the discounted member rate.
To become an NAEYC member, visit our webpage or call NAEYC's Member Services at 202-232-8777 or 800-424-2460, ext. 4. Pay by credit card and receive your membership ID# and expiration date immediately. If you mail your check payment, please allow 3 to 6 weeks after your application has been processed to receive your Welcome Packet containing your membership card with membership ID# and expiration date.
By mail: Send a check or money order to NAEYC Membership, P.O. Box 97156, Washington, DC 20090-7156.
School or agency administrators: NAEYC membership must be in the name of an individual. A director's membership does not extend to other staff members.
NAEYC-accredited programs: NAEYC Accreditation does not include membership in the Association.
---
CEUs and University Credit

More information will be available soon.
---
General Consent and Release for Use of Image

Registration and attendance at, or participation in, NAEYC meetings and other activities constitutes an agreement for NAEYC, or anyone authorized by NAEYC, to record and use, as NAEYC may desire in its sole and absolute discretion, all recording and reproductions or depictions of such exhibitor's, or attendee's name, likeness, voice, persona, words, actions, and/or biography, which NAEYC may make, including without limitation, the right for NAEYC, or anyone authorized by NAEYC, to use such recordings, reproductions, or depictions in or in connection with any legitimate purposes, including for advertising, publicity, trade, and editorial purposes, at any time in the future in all media now known or hereafter developed, throughout the world.
---
Tax Deductibility

Expenses of training—including tuition, travel, lodging, and meals—when incurred for the purpose of maintaining or improving your skills in your present profession are tax deductible. Please consult your tax advisor for details.