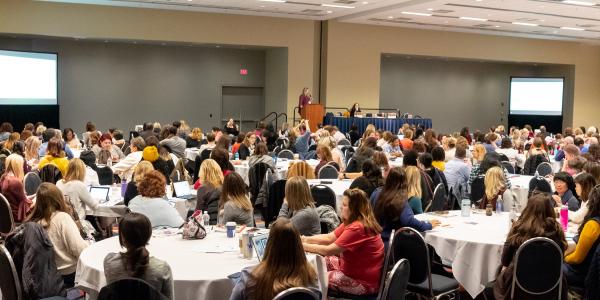 You are here
Get a glimpse of the 2019 featured sessions! Attendees found value in sessions that focused on a variety of topics including diversity, global issues, professionalization and more.
For a complete list of sessions from this year's Institute, view the itinerary planner and browse by topic, presenter or keyword.
The early advantage: Lessons from leading countries around the world

Based on a three-year study, this session will share how leading countries conceptualize, design, implement, and evaluate services for young children and families. Focusing on a systems approach that addresses governance, finance, accountability, quality enhancement, professional development, family engagement, and transition, this interactive session will provide concrete examples of how diverse countries achieve early childhood services that are high quality, equitably distributed, efficiently organized and managed, and durably sustained.
Changing mindsets: Culturally and linguistically responsive practices for young dual language learners and their families in ECE settings

Participants will begin by completing self-assessment tools regarding dispositions, including relevant beliefs and values regarding culturally responsive practices in early childhood settings. Presenters will address current knowledge about how children learn languages and review relevant research leading to recommended practices for assessment, eligibility determination, and learning strategies for culturally, linguistically, and ability diverse students, with a focus on dual language learners and their families in ECE.
Racial microaggressions: Redressing inequities for Black boys and girls in early childhood education

In recent years, practitioners have become aware of the role that racial microaggressions have on the learning, development, and success of young children. Microaggressions are common, daily verbal and nonverbal slights that negate the experiences of people of color. Participants will learn what racial microaggressions are and how they serve as a barrier to academic success for Black children. ECE counter-narratives will amplify strategies and practices that parents, teachers, and community advocates can use to reduce the prevalence of microaggressions.
Integrating social justice approaches in preservice and in-service teacher education

This session will introduce two complementary approaches—anti-bias education and culturally sustaining pedagogy—to advance social justice in teacher education. Drawing on these perspectives, we offer practical strategies for the preparation and ongoing learning of preservice and in-service teachers. This session will support adult identity development, designing learning activities, addressing practical teaching dilemmas, navigating institutional politics, and teaching in online spaces. Opportunity will be provided for problem solving and action planning.
Preparing teachers to work with children who have been traumatized

Children who have been traumatized are often misunderstood by teachers.  Whether the trauma is from abuse, neglect, disaster, or other circumstances, these children often experience and exhibit behavior which teachers may misinterpret are find hard to understand.  This workshop will explore the causes of trauma, how to identify and work with trauma in young children.  The focus will be on training teachers to set up appropriate environments and provide effective guidance for children who have experienced trauma.  
Five steps for self-regulation for administrators, educators, and children: The awareness and skills to move from self-sabotage to self-regulation

Using reflective activities and video vignettes, participants will learn about the five steps of an unregulated life that create a cycle of self-sabotage. Then they will consciously create a life blueprint of the five steps (and skills) to self-regulation that provide a bridge from problems to solutions in all areas of education, from administration to classrooms.
Cross-border window shopping: Discovering shared and differing perspectives about professionalization

Power to the Profession is spearheading exploration of early childhood education's future as a recognized field of practice. This session will enlighten participants about the results of Ontario's successful effort to form ECE as a profession and explore differences with professions in the US. Learn more about professionalization by comparing Ontario's model with US-based professions, followed by reflection and discussion about application of our "cross-border window shopping" for efforts to professionalize ECE as a field of practice in the US.
Baby boomers to X, Y, and Z: Contemporary contexts across the generations in the early childhood profession—Finding common ground for solution-oriented outcomes

Presenters representing a variety of generations and educational roles will share their workplace experiences and career aspirations. Topics of expectations, technology, communication, diversity and inclusion, mentoring, leadership, and norms will be explored. Participants will examine belief systems and be challenged to think beyond "the right way" to manage and lead in a changing early childhood landscape. This interactive session serves to cultivate a strengths-based approach to workplace and networking relationships.
Count all children: Preparing for the 2020 Census

Data from the decennial Census are used to determine federal resources states receive, including allocations of major federal funding such as Head Start/Early Start, Children's Health Insurance Program, and WIC. The US is currently at risk of undercounting up to 1.5 million young children in the 2020 Census and early childhood professionals have the opportunity to be leaders to ensure a fair and accurate count of the children and families in their communities. This session will provide an update on the current preparations for the 2020 Census and strategies that early childhood professionals can implement to ensure their communities are accurately counted and that young children and their families have access to the resources they need to thrive.