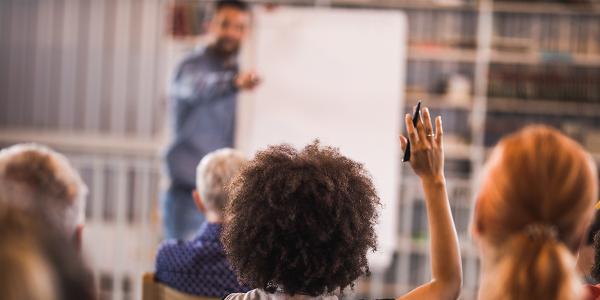 You are here
Make the most of your Professional Learning Institute experience and register for one of our Pre-Institute Workshops! These full-day workshops take place on Saturday, June 1, 2019, the day before Institute starts.  
Looking to save on costs? Standard and Premium NAEYC members receive discounts on the workshops below. Become a member today to save!
NAEYC Accreditation of Early Learning Programs: Implementing the Process

Time:  8:30 AM–4:00 PM
Fee: $199 members/$249 for nonmembers

This full day workshop will focus on portfolio development, site visit preparation, and continuous quality improvement throughout the accreditation journey. Participants will receive tips and strategies from NAEYC Staff while engaging in hands-on experiences. Breakfast and lunch will be provided.
Higher Education Faculty Workshop: Completing the NAEYC Higher Education Accreditation Process

Time:  8:30 AM–4:00 PM
Fee: $199 members/$249 for nonmembers

This full-day workshop is designed for higher education faculty who are engaged in NAEYC Accreditation of Early Childhood Higher Education Program Accreditation (please note, this workshop is not applicable to those pursuing NAEYC SPA Recognition as part of CAEP Accreditation). This workshop will focus on the NAEYC Professional Preparation standards; evaluating sample key assessments, rubrics, and data charts; and using student performance data to improve programs. It will be especially helpful for those who are writing self-study reports, meeting annual reporting requirements, or responding to conditions. Breakfast, lunch, and an afternoon beverage break will be provided.
From Survive to Thrive: Leading Early Childhood Programs

Time:  8:30 AM–4:00 PM
Fee:  $199 members/$249 nonmembers

The focus of this interactive workshop is on the guiding principles and practical strategies that support program leaders of early childhood programs. Based on NAEYC's book, From Survive to Thrive: A Director's Guide for Leading an Early Childhood Program, we will explore topics and issues such as using facilitated leadership, building the culture and context of your program, growing and maintaining great staff, engaging families, and managing conflict. There will be opportunities throughout the day for dialogue, problem solving, and action planning. Includes a copy of From Survive to Thrive: A Director's Guide to Leading an Early Childhood Program, breakfast, and lunch.
Making, Tinkering, and Engineering in Early Childhood

Time:  8:30 AM–3:00 PM
Fee: $199 members/$249 nonmembers

Embrace a mindset for making and tinkering through engaging, playful experiences. Together we'll investigate how tinkering and making experiences support fundamental STEM thinking and learning for young children. After this introduction to the fundamentals of tinkering, we'll dive into NAEYC's book, Making and Tinkering With STEM: Solving Design Challenges With Young Children. You'll learn how tinkering, making, and engineering are related and how each has an important role in the early childhood setting. Includes a copy of Making and Tinkering with STEM: Solving Design Challenges with Young Children, breakfast, and lunch.
Using Powerful Interactions with Adults to Promote Children's Learning and Success

Time:  8:30 AM – 4:00 PM
Fee: $199 members/$249 nonmembers

We will examine how the three steps of a Powerful Interaction serve as the frame in which a coach individualizes interactions that reflect the personal style and the unique strengths, interests and needs of the person you are coaching. We will explore the five principles of a Powerful Interactions stance and participants will practice strategies for using Powerful Interactions with adults. Includes a copy of Coaching with Powerful Interactions: A Guide for Partnering with Early Childhood Teachers, breakfast, and lunch.
Power to the Profession: From Shared Framework to Implementation and Investment

Time:  12:00 PM - 4:00 PM
Fee: Free for members and nonmembers  (space is limited).

After two years of shared leadership, collaboration, and reciprocal feedback, the first edition of the unifying framework for the early childhood education profession is nearly complete. With this framework in place, we begin to turn our attention toward implementation and the advocacy required to secure the significant and sustained public investments the profession deserves.
Join this workshop to review and give input on the full unifying framework with special attention given to questions related to accountability, resources and infrastructure such as: what accountability structures must be in place to support effective preparation and practice? What policies need to be in place to clarify and target resources to build and sustain the profession? Does the unifying framework set up a profession that reflects the diversity of the young children it serves?