Update on the 2020 Professional Learning Institute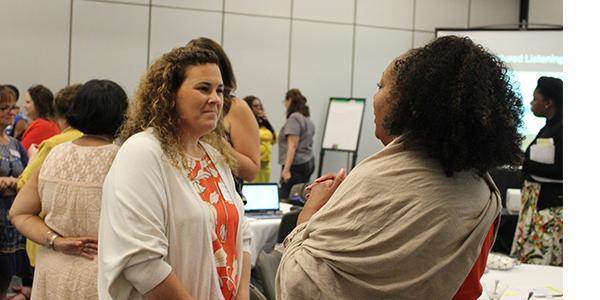 You are here
We are in unprecedented times with our field under more stress and challenge than ever before.  We have heard the stories and are doing what we can to advocate for the field.  During this unprecedented time, NAEYC is having to make hard and sometimes heartbreaking decisions as to what is best for our members, partners, staff and vendors.
With so much uncertainty still surrounding the impact of COVID-19 in the next few months, we've decided to forego gathering for the Professional Learning Institute in New Orleans as we had planned for June 7-10.  This decision was not made lightly and we know how important this event is to so many of you.  With the passing days, it has become harder to think that we might be in a time by June where we can gather without worry for health or well-being.  We hope you will understand our difficult decision. 
Please contact us at Institute@NAEYC.org with any questions. We are watching this inbox closely to respond to your questions in an expedient manner with the most current information available.
We know that many of you have questions about the Annual Conference.  We are continuing with the planning for the November Annual Conference in Anaheim with the hope we can all be together then. Please know that we are here to support you as we all work through this difficult time together.
---
Coming Soon!

While we will not be gathering in person, we have heard from our members and many people in the field of early childhood education that resources and learning opportunities are critical now more than ever.  Realizing how valuable the content we had planned for Professional Learning Institute can be for the entire field, we are in the process of planning for a virtual event that would take place over the course of the next several weeks.  Whatever your potential role may have been for the Professional Learning Institute, we hope you will journey with us down a new path as we work out possible virtual presentations and learning opportunities in the weeks ahead. Visit our NAEYC Virtual Institute page to learn more!
---
*Please these FAQs before sending us an email.

NAEYC will handle your registration payment in 1 of 4 ways listed below. Please complete this survey to communicate your selection. It may take 3-4 weeks to process requests and respond to inquiries.
Note: Please do not contact Convention Management Resources (CMR), our registration system provider about your registration payment questions
1. Donate the full amount of the registrant fee as a charitable donation to NAEYC's advocacy initiatives.
2. Apply the full registration amount to a 2020 Anaheim Annual Conference registration on June 1; any remaining balance will be applied to the individual/organization record for membership or book purchases after June 1.
After credits are issued, they are good for six months for membership or book purchases only.
3. Process a FULL refund (no $75 processing fee) of the registration payment to the credit card used for the original payment.
4.Donate a portion of the registrant fee as a charitable donation to NAEYC's advocacy initiatives; process a refund of the remaining balance to the credit card used for the original payment.
For all other questions, please send them to Institute@NAEYC.org.    
IMPORTANT: Call 1-800-Hiltons or 504-584-3999 to cancel your reservation at the Hilton New Orleans Riverside Hotel. You may also visit the hotel website to cancel your reservation.
Note: Follow the link, click "existing reservations" in the top right corner.
Cancellations must be made seventy-two (72) hours or more prior to reservation arrival date in order to avoid cancellation fees.  
For those of you that submitted session proposals, thank you for your dedication and commitment to early childhood education. In lieu of a face-to-face meeting, we are in the process of planning a virtual event that will take place over the course of the next several weeks. If your proposal is selected as a candidate for a possible virtual presentation, you will be contacted directly by NAEYC in the upcoming weeks.