Call for Proposals: Professional Learning Institute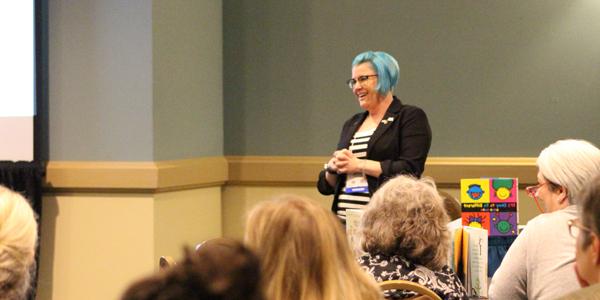 You are here
Home
/
Call for Proposals: Professional Learning Institute
2022 NAEYC Professional Learning Institute

Sunday, June 12 – Wednesday, June 15, 2022
Cleveland, OH
Deadline for Submissions: Friday, January 28, 2022
Submit a Proposal to Present

NAEYC's Professional Learning Institute brings together seasoned and emerging early childhood leaders in a community of learners focused on deepening the early childhood knowledge base, addressing challenging and controversial issues facing the field, and developing skills to improve professional development and practice.
The Institute features hundreds of informative sessions and research posters, unique networking opportunities, and a vibrant exhibit hall marketplace. NAEYC seeks proposals that reflect innovative thinking in early childhood education, informed by research, policy, and practice.
NAEYC invites proposals that:

Address current challenges faced by early childhood professionals and are solution-oriented 
Use active approaches to enhance attendee learning  
Engage attendees in stimulating activities and discussion  
Present new strategies and fresh perspectives on traditional content supported by research 
Help participants turn ideas into action 
Target either new, mid-career, or seasoned professionals 
Address the needs of program administrators, teacher educators, trainers, coaches, agency officials, advocates, master teachers, and others focused on quality improvement in programs for young children and their families    
Strong proposals address timely topics of interest to our attendees. Examples include:

Countering bias in early childhood programs 
Advancing the early childhood profession 
Supporting dual language learners 
Emerging trends in professional development and preparation 
Case studies of successful statewide systems and community collaborations 
NAEYC welcomes proposals from presenters that affirm the rich diversity of the early childhood field. Panel presentations that bring together diverse voices, cut across sectors & organizations, and balance both expert & practice-based viewpoints are highly encouraged.  Presenters can submit proposals for one-hour, two-hour, or research poster sessions.
Presenters can submit proposals for one-hour, two-hour, or research poster sessions: 

| | |
| --- | --- |
| Type | Description |
| 1-hour Session | One-hour sessions are forums for information dissemination—including sessions that address current issues, present recent research findings, provide an overview of proposed legislation, etc. They can include questions from the floor.   |
| 2-hour Session | Two- hour sessions include participant interaction during at least half of the scheduled time. Participants have opportunities to engage in discussions with colleagues, reflect on session content, and consider ways to implement what they have learned. |
| Research Poster | Research poster sessions present cutting-edge research in the field of early childhood education. Institute participants can review the poster displays and discuss the research methodology and findings with researchers.  |
Discounted registration rate for presenters

Presenters of one-hour, two-hour, and research poster sessions at NAEYC's Professional Learning Institute will register at a specially discounted rate. Registration information for presenters will be sent after proposals are selected.
Audiovisual equipment

NAEYC will provide a projection screen and stand and an LCD projector. Laptops, DVD players, audio patches, flip charts, and other equipment can be rented through our AV vendor. Internet access for session rooms can be purchased from the Institute hotel and/or convention center.
Important dates

All proposals must be received by Friday, January 28, 2022. Notification of proposal selections will be made in March.
Submit a Proposal to present at NAEYC's 2022 Professional Learning Institute