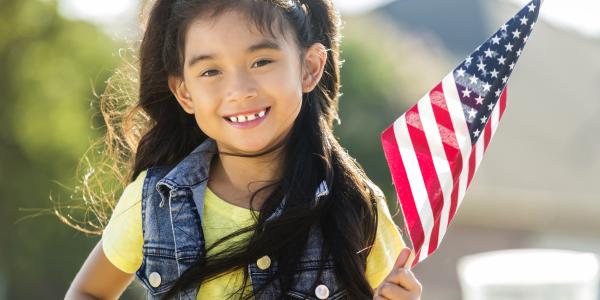 You are here
The National Association for the Education of Young Children (NAEYC) is proud to celebrate the commitment, expertise, leadership, and engagement of our members, partners, and Affiliates who came together in Washington, D.C. from February 24-26 for our largest Public Policy Forum to date!
By the Numbers:

357 early childhood educators, advocates, and allies participated (the most ever!)
41 states and the District of Columbia represented
54% first-time attendees
276 Congressional offices visited
350 "child care" bears delivered with "Congress, Congress, What Do You See?" poem (and check out Senator Patty Murray reading the whole thing)!
2 early childhood educators speaking at the press conference with Senator Patty Murray (WA), Senator Bob Casey (PA), and Senator Mazie Hirono (HI) to introduce the Child Care for Working Families Act!
One meeting at the White House, where early childhood education experts, leaders, and practitioners met with Ivanka Trump to share our commitment to promoting federal, state, and business investment in increasing access to high-quality and affordable child care and early learning.
---
2019 Event Agenda:

The 2019 Public Policy Forum was an important way for us to come together; to be heard on issues critical to early childhood education and educators; to sharpen our advocacy skills, to build our networks, and to strengthen our relationships with representatives on Capitol Hill.
 The event began on Sunday, February 24 at 1:00 pm and continued all day on Monday, February 25 with expert policy briefings, guest speakers, and skill-building interactive breakout sessions for all state team members, providing many opportunities for networking and learning.
 On Tuesday, February 26, members had the opportunity to experience an exciting and energizing Hill Day, building important relationships with Representatives, Senators, and/or their staff.
Take a look at the detailed 2019 Public Policy Forum agenda to learn how we made sure our elected officials knew who we were, and what our children, families, and educators need to thrive!
---
Check out highlights from past Public Policy Forums:

---
Interested in participating, but not a NAEYC Member? Join today!

The Public Policy Forum is a members-only function open to current NAEYC members. Take the first step and join the only association that gives you access to information from leading early childhood experts and ensures you will have the tools needed to excel in your job, grow in your career, and stay connected to a professional network of educators across the country.
---
NAEYC is grateful for the support of its generous sponsors and their participation in the 2019 Public Policy Forum.

"HighScope is proud to sponsor NAEYC's Public Policy Forum and to contribute to the shared voice raising awareness of the importance and impact of early childhood education. We believe in the ability of our collaborative efforts to motivate elected representatives to act on behalf of our nation's children and families — and we will continue working side by side to advocate for the profession and advance the field of early childhood education. We are grateful to everyone who participated in the national conversation on early childhood education."
-Cheryl Polk, PhD, President
HighScope Educational Research Foundation
"TCC Software Solutions was thrilled to sponsor and participate in the 2019 NAEYC Public Policy Forum.  NAEYC provided skilled staff, materials and resources to support the state affiliates in their advocacy efforts.  I was amazed that almost 300 meetings with legislators took place in just one day.  What a tremendous impact this type of coordinated effort will have in our continued mission to increase investments in early childhood education!"
-Michelle Thomas, MSW, Senior Client Engagement Manager
TCC Software
"Teaching Strategies supports policies and practices designed to create a well-funded, high-quality system of early childhood education. As a proud partner of NAEYC's 2019 Public Policy Forum, Teaching Strategies is honored to celebrate the many teachers who serve young children and organizations like NAEYC that energize and advance this vital profession. The Forum was a fantastic opportunity to foster engagement in electoral and grassroots advocacy for early childhood education."
-Garrett Bauman, Senior Manager, Public Policy & State Partnerships
Teaching Strategies, LLC
"Electrifying, exhilarating, and encouraging...these are the words to best encompass the essence of the 2019 Public Policy Forum. This year, I had the opportunity to stand with young professionals and veteran teachers, directors, social workers and trainers to advocate for accessible and affordable high-quality early childhood education and care for all children, families, and the dedicated educators who serve them. Their passion was powerful and their confidence in presenting the ask was compelling. From the House to the Senate their voices were heard and powered a movement! Overall, I left the event feeling energized and inspired for an optimistic future that will invest in childcare for all.   #PPF19 #ECEwins #Childcare4all"
-Raven Griffin, Marketing Manager
Kaplan Early Learning Company
"The NAEYC Public Policy Forum serves as a reminder of how powerful our collective voices can be when we advocate for our nation's youngest citizens, particularly when harnessed and elevated by NAEYC. We are living in a time when the importance of the early years is more widely known than ever and thanks to all of you, and NAEYC, we have the attention of decision-makers and legislators. This year's Forum was an exciting event where we were able to celebrate great progress and strive together for even more on behalf of children, teachers, and families.
From inception, Bright Horizons has been committed to high quality experiences for children and educators and we are inspired and proud to stand shoulder to shoulder with all of you as our field works together toward common goals and improvements that will truly make the world a better place. Thank you to NAEYC for giving us the opportunity to sponsor this event and their trailblazing leadership and commitment to what's best for children and families."
-Rachel Robertson, Vice President Education & Development
Bright Horizons
Interested in becoming a Public Policy Forum sponsor? Learn more