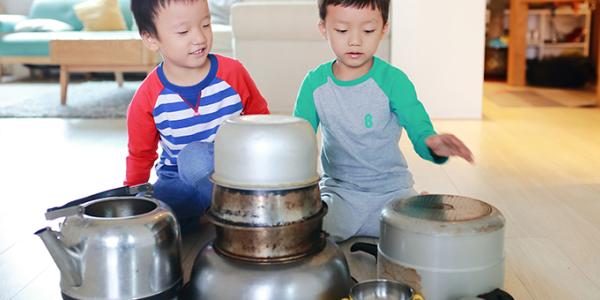 You are here

Use these resources to encourage your child's math learning at home!

Resources on Math Play and Learning

Math and Literacy - The Perfect Pair
Looking for engaging ways to weave math into the day? You might find just what you're looking for in your home or local library. Many children's books are perfect for introducing and reinforcing math concepts.
 
Math in the Bath! Ÿ
Bath time is perfect for exploring math with your young child! Not only do you have each other's full attention, but the learning can be hands on, playful, and messy.
 
10 Things to Know About Math
Math knowledge is useful for all of us—from children to adults—in all aspects of our lives. When parents and teachers get excited about math, then children get excited about math.
 
Everyday Shapes
You can expand your children's learning environment by helping them identify, create, name, and take apart shapes during your regular routines.
 
Las formas geométricas de todos los días Ÿ 
Las familias pueden ayudar a sus hijos a identificar, crear, nombrar y distinguir formas durante sus rutinas, actividades y conversaciones habituales en casa. 
 
Home Sorting Ideas
Early experiences in sorting and classifying help young children notice how things are alike and different. They will apply this understanding when learning math skills in the primary grades. Here are some ways families can sort and classify at home.
 
Helping Your Child See and Show Mathematical Ideas
Noticing when your child brings mathematical words and ideas into conversation or play can be a jumping-off point for helping him or her get a head start on understanding math.
 
Ideas para clasificar en la casa 
Las experiencias tempranas de agrupar y clasificar ayudan a los niños pequeños a observar en qué se parecen y en qué se diferencian las cosas. Esta comprensión les servirá cuando estén aprendiendo técnicas matemáticas en la escuela primaria. Aquí les proponemos algunas formas de realizar esas actividades en su casa.
 
5 Ways to Build Math into Your Child's Day
Tips for how to keep things fun as you encourage your child to explore math.
Support Math with Materials in Your Home
Six fun and simple activities to support your child's math readiness.
 
Support Math Readiness Through Music
Even the youngest of children can respond to music and the mathematical principles behind it. Here are three musical elements that relate to math and activity ideas to try at home. 
 
Support Math Readiness Through Math Talk
The more parents talk with their child about math at home, the more a child's mind is stimulated to think about math. Here are five ways to use math talk with your child.
 
Math Talk with Infants and Toddlers
Children develop math concepts and skills very early in life. How we talk with infants and toddlers about math ideas like more, empty, and full—matters.
 
Preschoolers are Natural Mathematicians
Preschoolers aren't yet ready to memorize multiplication tables, but that doesn't mean they cannot learn and explore math concepts. Try these ideas at home to help your preschooler explore math.
 
---
Printable Math Games in English and Spanish Ÿ

Fun math games to enhance young children's mathematics learning and persistence from the Education Development Center (EDC).
Make a printable half fold mini-book! Each math activity has two pages: Print each page single sided. Place the blank side of the two pages together. Fold in half to complete your mini-book. 
For more content about early math visit the EDC website at https://www.ym.edc.org.
---
Math Videos and Activities

Math activities to try at home with your child from The Bedtime Math Foundation.
March of the Stuffed Animals
Use this guide to help your children have fun counting and thinking about numbers with their favorite stuffed animal toys at home!
Watch and learn!
The Bedtime Math Foundation is a national nonprofit organization dedicated to helping kids love numbers so they can handle math in real life. For more information, visit www.bedtimemath.org.
---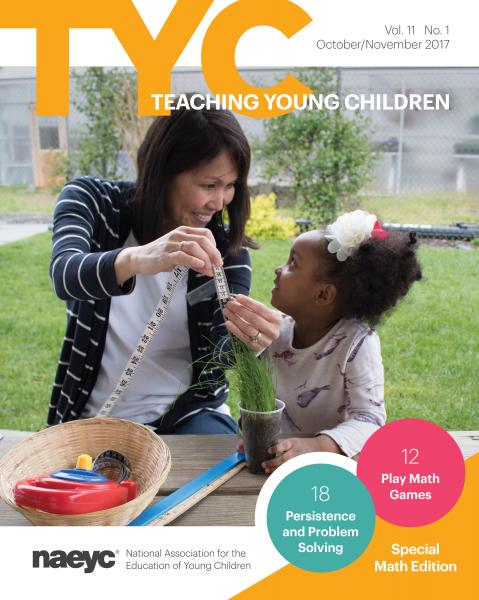 Teachers! Looking for more on math for your classroom? Learn all about math fluency in the October/November issue of Teaching Young Children! Articles include ideas for math games, making math meaningful for diverse learners, and more!