It's Here—Your New Community Platform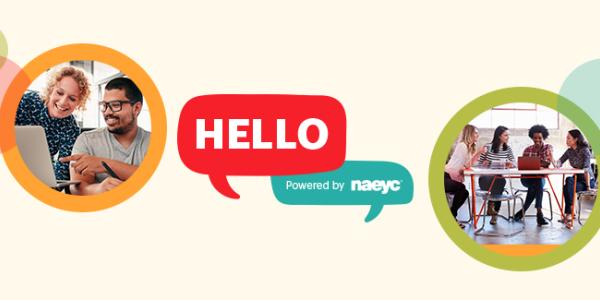 Today NAEYC launches Hello, a brand new online platform for Interest Forums and online communities.
Hello will completely transform NAEYC's Interest Forums and create a better, more accessible online space to have conversations and create connections with peers around important early learning issues.
NAEYC's Interest Forums are one of our most popular and valuable member benefits, offering discussion and dialogue around specific topics in early education. Hello marks a major step forward and a fresh, modern platform for these valuable conversations.
Hello is: Conversation. Early educators have diverse insights and opinions about their profession. Hello offers a unique platform for you to exchange ideas and have conversations with others around the issues you are passionate about.
Hello is: Digital Networking. Hello brings NAEYC's Interest Forum's fantastic face-to-face energy online and provides a platform for year-round networking with experts and peers nationwide—all from the comfort of your laptop or phone.
Hello is: Connection. Never been to a NAEYC event? Trying to figure out how to get more involved? Hello is the perfect opportunity to strengthen your connection to your profession.
How does Hello work?
All NAEYC members are set up with an account on Hello and are subscribed to the open discussion forum. Tomorrow, you'll receive your first digest email highlighting the conversations your colleagues are having in Hello. You can respond to discussions already happening or start your own. Instructions for using the site are available in our Quick Start Guide or the FAQ, but here are two quick things you may want to do first:
Get Access
To create a password for the new site, please click here and enter the email NAEYC has on file for you. This will send a link to your email. Click on the link in the email and Hello will allow you to create a password.
Post a Message
Posting a message to the open forum is easy. From the home page, click on "Participate" and choose "Post a Message." Choose "Open Forum" and then write your message. Add the most appropriate keywords from the drop down menu and add any relevant files, videos, or links by clicking "Attach." Click "Send" and boom—you've joined the conversation!
We can't wait for you to see what Hello has to offer!
---
Invite a friend! Hello has room for everyone, so make sure to tell your friends and colleagues to become a NAEYC member and join the Interest Forums today.
Rhian Evans Allvin
Rhian Evans Allvin is the chief executive officer of NAEYC. She is responsible for guiding the strategic direction of the organization as well as overseeing daily operations. Before joining NAEYC, Evans Allvin was a guiding force in Arizona's early childhood movement for more than 15 years, including serving as CEO of Arizona's First Things First.