10x: Play in the Grass! Practical Considerations for Quality Outdoor Play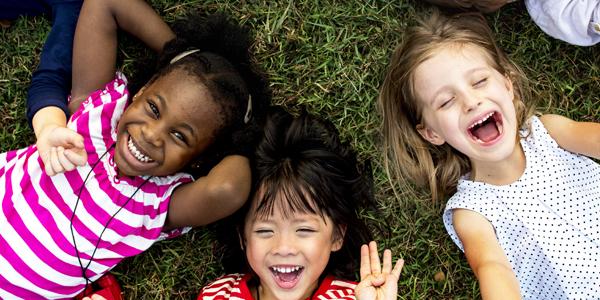 You are here
Brandy Smith Heather Olsen
When you think about outdoor space for children to play in, does a traditional picture usually come to mind? Do you imagine brightly colored equipment in a fenced-in area where children can engage in physical play?
Big body play outdoors is great—but as a teacher, you know something important is missing from traditional playgrounds. Outdoor spaces have wonderful potential for enhancing children's social, emotional, and intellectual development. This article provides simple tips to enrich outdoor environments so you can ensure all children have time to play in the grass.
1. Positive teacher attitude

Let's be honest—creating an engaging, safe, and nurturing outdoor environment can be hard work. It's difficult enough preparing the indoor space!
To inspire excitement, consider your colleagues' and your own interests. Is there a teacher who loves to garden? A vegetable patch could become a part of the outdoor space. Is another teacher an enthusiastic cook? Invite him to design an outdoor kitchen where children can bake mud pies. Is there a teacher who excels at organizing fun physical activities? A low balance beam and an obstacle course could be her domain.
2. Family connections

As you add elements to your outdoor space, be sure to ask families what they would like to see their children doing outdoors. Families may want to help build raised garden beds or donate natural loose parts—such as sea shells from their beach vacation—for children to explore.
In addition, sometimes culturally sensitive issues arise around outside playtime; invite families to share their concerns, interests, and suggestions so that your outdoor space and time meet everyone's needs.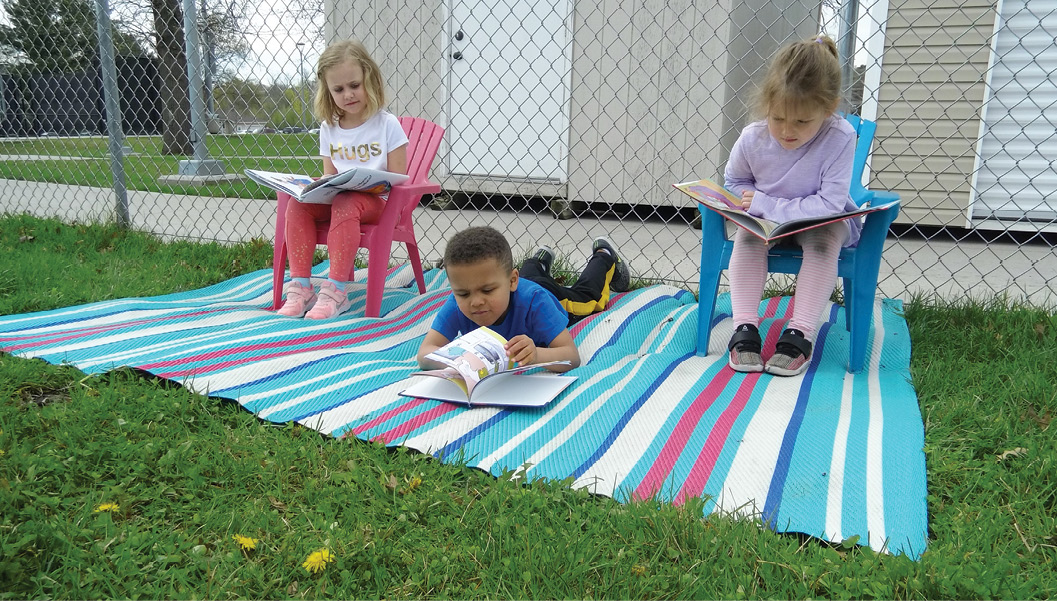 3. Natural elements

This might sound ridiculous, but ensure there are natural elements in your outdoor space. Many programs have fenced-in space that fences out all the natural elements. Children may be outside, but they are not in nature. How can children play in the grass if it's all on the other side of the fence?
You may not be able to plant grass, but you could bring in sticks, pinecones, pebbles and rocks, acorns, and other easy-to-gather natural materials. If your space is very limited, try to arrange a weekly walk to a local park so children can directly explore nature and observe changes over time.
4. Welcoming spaces for all children

Many questions arise when accommodating children with different abilities. Ask yourself:
Is the outside space welcoming and inviting to children of all abilities?
If a child uses a mobility device, can she easily play with peers without being excluded?
If a child has sensory aversions, are there considerations for space, materials, and special environments that are inviting to him?
If a child has an allergy, is the staff trained and ready for immediate action with emergency medication?
5. Free play

Allow for extended periods of free play in the outdoor space—just like you do indoors. All children—and especially the most active ones—need long stretches of time to run, play, and explore in open space.
Some preschool programs take away outdoor playtime as a consequence of challenging behavior, but we strongly discourage that. Denying children the opportunity to play outside will not improve their behavior, health, or well-being.
6. Toys and materials in good repair

At times, the outdoor space is forgotten when it comes to offering toys and materials children use to engage in deep play experiences. Consider how you might create centers such as dramatic play, natural art, scientific discovery, and poetry writing in the outdoors. When there are a variety of materials to match children's interests, the chance of less-desirable behaviors is reduced and the opportunities for playful learning are increased.
7. Quiet spaces

For some children, outdoor time might be when they want to relax or engage in quiet activities with a small group of friends. Consider ways your outdoor space might allow for some nooks and crannies where children can read, draw, investigate, or play with one or two classmates.
8. Overcoming deterrents

Several things might deter you from taking children outside every day, including inclement weather, lack of outdoor space, and questions about how to foster learning outside. We hope you will reconsider those deterrents and take children of all ages outdoors!
If you're concerned about the weather, try these tips that NAEYC members shared on Hello:
Have spare sets of clothing available for children who may not have coats, boots, or other items for wet or cold weather. You can also partner with community clothing banks to help families get the things they need to stay dry and warm.
Don't be afraid of the cold! Despite common misunderstandings, cold weather does not cause illness. Rather, children spending even more time indoors during colder months can lead to the spread of many germs and the flu. Bundle up and head outside to explore and play!
Get children moving! Being physically active outdoors will keep children warm while they also have fun and learn. Some ideas for outdoor activities in winter weather include using large blocks to build structures in the snow and painting with spray bottles filled with colored water.
If space is a challenge, try a walk around the neighborhood. From comparing different trees' leaves, to reading street signs, to visiting the local barber or pizza maker, there's a lot to learn in the community!
If you're worried about how much learning occurs outdoors—or if academic pressure makes you feel like you cannot take children outside—start with a child-directed exploration, like inviting children to collect or photograph natural items that interest them (pebbles, leaves, beetles). Then follow up with read-alouds about the items they selected. The article "Math Learning—and a Touch of Science—in the Outdoor World," in the April/May 2017 issue of TYC has some great suggestions for incorporating the curriculum outdoors.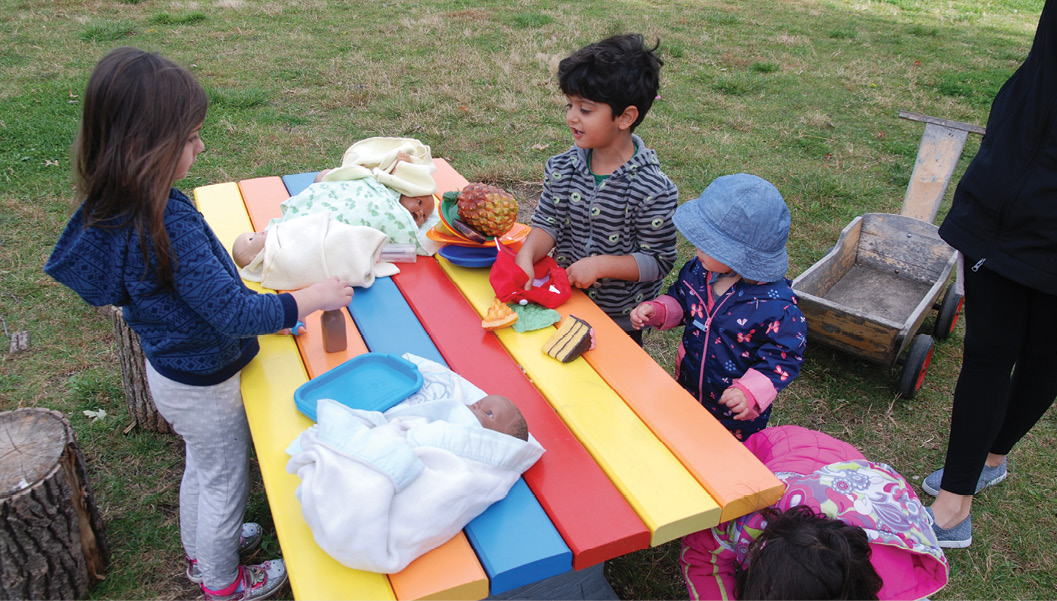 9. Shade, shade, and more shade

A critical element of outdoor space is ample shade. Although we tend to fear wet and cold, sun exposure should be a concern. Unfortunately, shade structures are expensive, and natural shade takes many years to achieve. Shade considerations need to be planned and budgeted over a long period of time. Consider reaching out to the American Academy of Dermatology or to a local dermatologist to inquire about partnering to purchase a shade structure.
10. Storage

Outdoor materials are much easier to access when you have secure, weatherproof storage outside. Toting materials and crates back and forth from indoors can be a challenge—and might result in lost learning opportunities if magnifying glasses, clipboards, paint brushes, or other materials are forgotten. See if your budget will allow for secure and organized outside storage.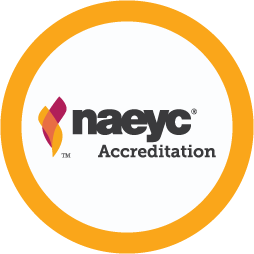 This article supports the following NAEYC Early Learning Program Accreditation standards and topic areas
STANDARDS 2: CURRICULUM; 9: PHYSICAL ENVIRONMENT
2C:
Physical Development
9B:
Outdoor Environmental Design

Photographs: 1 © Getty Images; 2, 3 courtesy of the authors
Brandy Smith
Brandy Smith, EdD, is an instructor of early development and education at the University of Northern Iowa.
Heather Olsen
Heather Olsen, EdD, is executive director of the National Program for Playground Safety and a faculty member at the University of Northern Iowa. For more information, visit www.playgroundsafety.org.