Two Homes, One Classroom: Inclusive Practices That Work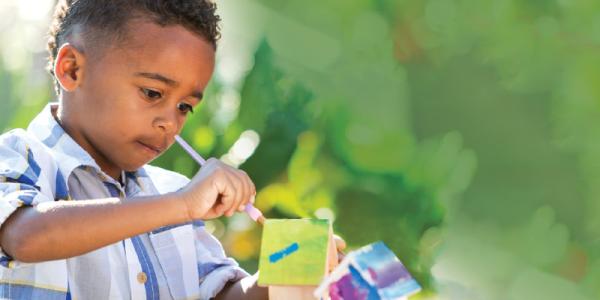 You are here
Katia González
It's not uncommon to have children in your program who spend time with parents in two different homes. What's the best way to show your understanding and sensitivity to the needs of these children and families? Individualizing communication is an effective way to recognize and welcome diverse family structures.
Understanding family structure and individual needs

The one-size-fits-all approach to communicating with families is not enough. After all, households can take many forms (separated or divorced parents, blended families, two moms, two dads, partners, stepparents, and foster families). First, find out about each household. Some schools and programs have emergency contact and family information forms as part of the registration process, but it's helpful to confirm directly with the adults caring for the child. For each household ask questions like "Who are the adults in the household?," "What is their relationship to the child?," and "What does the child call each adult?"
Once those basics are established, set up a time to discuss the preferences and needs of both homes—individually or together, depending on family dynamics. Talk about the best way to communicate with each household and who the primary contacts are. This demonstrates respect for the families' individual needs and appreciation for the contributions each person brings to the child's life. It is good to remember that contact information can change and may need to be updated throughout the year.
Teacher–Family Partnership Action Plan

Create a Teacher–Family Partnership Action Plan—a written document that outlines strengths, concerns, goals, resources, and specific actions that will take place to make sure both households receive information necessary to support their child. It is very helpful to have this in place at the beginning of the school year or as soon as possible thereafter. The action plan helps you consider the input and concerns of all adults responsible for the child's care. It is a way to make sure all adult family members provide input and effectively receive both individual family communications about their child and general classroom communications intended for all families.
The sample form below is a tool to help you develop an action plan with families and to ensure ongoing collaboration and communication about the child. Adapt it to prepare for teacher–family interactions. Use the form to note, reflect on, and thoughtfully capture and respond to the particular needs of the child and both households. Identify, as needed, new and ongoing goals and resources you and the family members can use to support the child and family. Consider the language and literacy needs of the family and respectfully include that information in the plan.
To ensure that all households receive general classroom messages, choose a few different methods for sharing information. Phone messages, emails, newsletters, and family–school notebooks are excellent ways to stay in touch, as long as they're easy for both homes to access.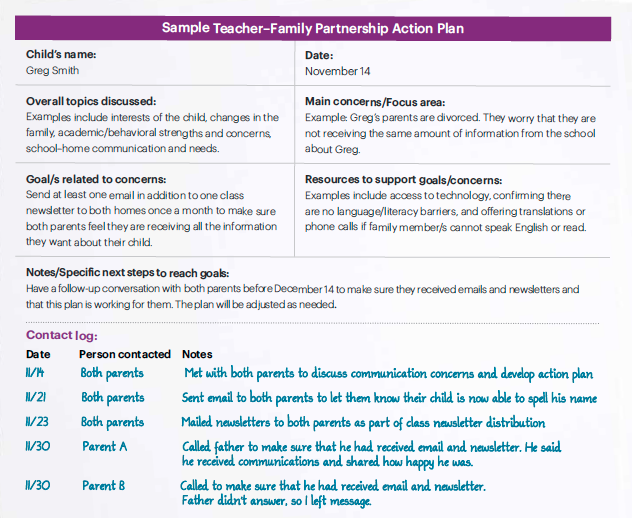 ---
A Heart With Two Doors


Acrylic painting on canvas and dictation by Ashley, 4 years old.
(artwork courtesy of Las Americas Early Education School)
Ashley's dictation:
Una puerta es de mi mamá y la otra es de mi papá.
Es el corazón de mi mamá y de mi papá.
Una mitad es de mi mamá y la otra de mi papá.
Es de noche. Me gusta ver las estrellas.
Estoy contenta porque estoy con mi mama y también
con mi papá.
A veces como y duermo en la casa de mi papá.
Quiero mucho a mi mamá y a mi papá.
One door leads to my mom's house and the other to my dad's.
The heart belongs to both my mom and dad.
One half of the heart is my dad's and the other half
is my mom's.
It is night time. I like gazing at the stars.
I'm happy because I am with my mom and I am also
with my dad.
Sometimes I eat and sleep at my dad's house.
I love mom and dad very much.
Parent–teacher conferences

Understanding and addressing the needs of families before holding parent–teacher conferences can make a big difference to everyone involved. Focus on discussing the child, don't take sides, and keep these tips in mind:
Present a relaxed, welcoming atmosphere.
Greet everyone with a smile, which sends a positive message.
Make eye contact with the person speaking.
Arrange seating so that everyone can be comfortable and interact easily.
Be sensitive to, respectful of, and understanding about differences in household routines.
Make the child's classroom work and art available to both households.
Give everyone opportunities to ask questions and express their opinions. Don't forget that digital technology and the telephone offer ways for family members who cannot attend a meeting in person to participate remotely.
Be flexible so you can include all parties when scheduling conferences—consider making online sign-up sheets available in addition to classroom sign-up sheets, offer individual meetings, and be sure to follow up by phone or in person with families who may not understand the sign-up process or have computer access.
Revisit the Teacher–Family Partnership Action Plan if it is already in place, or create one.
Family involvement and classroom events



Family members from both homes are welcome to get involved in the classroom. They can join parent advisory committees, become classroom visiting experts, volunteer in classrooms, and attend school parties and events. Make necessary accommodations for them to volunteer for or participate in special events, if needed. You can also ask households to write about family activities the child engaged in at home or in the community and share it with you. These actions strengthen your inclusive environment.
Classroom resources and activities

Make certain that your classroom resources and activities communicate that all families are welcome and valued. Reading aloud books whose characters are part of nontraditional families is a powerful way to encourage children to learn about—and value—the differences that make people unique and the similarities that unite them. Activities that spotlight the experiences of a child from two homes, like art activities that invite children to draw their whole family, can help that child feel proud and special.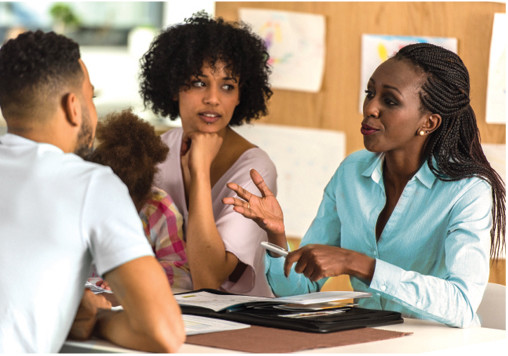 Conclusion

The ideas in this article offer teachers opportunities to develop a welcoming, caring classroom community that invites everyone to be a part of the school experience. If you are new to navigating teacher–family partnerships or find yourself a little overwhelmed, reach out to your director, principal, school counselor, or another teacher and ask for advice. It's also helpful to check in with other staff who have worked with some of the same families in the past. Respecting the roles of family members from each home, learning about family dynamics that may impact effective school–home relationships, and being willing to individualize practices can work wonders!
---
Photos © iStock
Katia González
Katia González, EdD, is an associate professor of education at Wagner College, in Staten Island, New York.