Timing Is Everything : Understanding the Importance of Timing, Length, and Sequence of Activities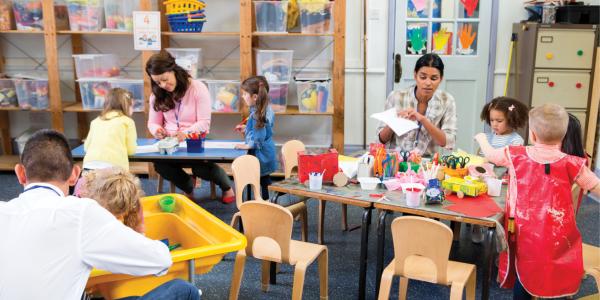 You are here
Monica Lesperance
Every classroom has its own daily schedule and routines: morning circle, centers time, snack, outdoor play, and so on. You probably have a schedule clearly posted for visitors and one in picture format for children to see. Most days you follow it closely—or at least you try to! But have you ever considered how the daily schedule impacts the behavior of the children in your classroom?
Classroom environments: Space and time both matter

Classroom environments influence the way children behave. From the acoustics (how a room's shape or size impacts being able to hear sounds clearly) and lighting to the furniture layout and organization, the physical environment affects how children behave and learn. The timing, length, and sequence of activities—sometimes referred to as the temporal environment—also influence children's behavior and learning.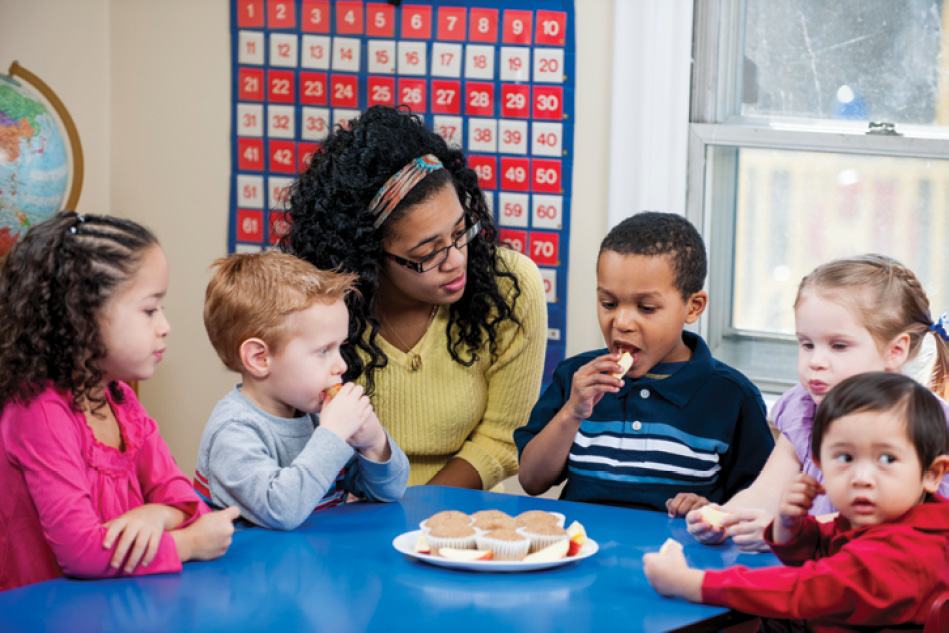 You change the classroom setup throughout the year, tweaking it to create a more comfortable and functional space for you and the children. Adjusting the schedule can be more challenging, though, since there are factors you can't control. Arrival and departure times, shared outdoor space, and your program's curricular expectations all need to be considered.
The ideal amount of time to allocate to different activities depends on the ages and developmental range of the children in the classroom, as well as the learning goals. For example, we might expect a typical fifth grade student to sit at a desk and stay engaged in a writing activity for up to 30 minutes. But asking a preschooler to do the same is not developmentally appropriate and would certainly lead to some challenging behaviors! Expectations for younger children are different, and the classroom schedule and routines should reflect that.
In a preschool setting, there are likely children at various levels of development, including some with delays or disabilities. Having a schedule that considers the development and needs of all children is key in creating an inclusive environment where all children can thrive.
How do you know if your schedule is working?


Sometimes it's obvious that the timing of specific activities leads to challenging behaviors. For example, if your schedule calls for a late lunch and many of the children become easily frustrated during activities right before they eat, you might add a snack break into the schedule. Other times, it's not so clear that the schedule is the issue.
If you notice more challenging behaviors at certain times of the day or during certain activities, it might be time to modify the schedule. Here are some things to consider.
Length of structured activities

Children's attention spans vary depending on their ages, interests, and development (and also depending on more day-to-day factors, like whether they got enough sleep the night before). A long circle time or extended read-aloud may cause some children to become disruptive. When children have exhausted their focus on one activity, they often begin to fidget, make disruptive noises, or get up and walk away! Their behavior tells you that they've had enough.
When one child behaves this way, consider an individual accommodation, such as providing an alternative, quiet activity for that child. But when several children are having trouble paying attention or remaining engaged—and a simple reminder or redirection doesn't help—consider altering your schedule:
Shorten the activity by a few minutes
Incorporate more movement or sensory breaks into activities
Add breaks for calming and focusing, such as everyone standing up to stretch and take three deep breaths
Transitions between activities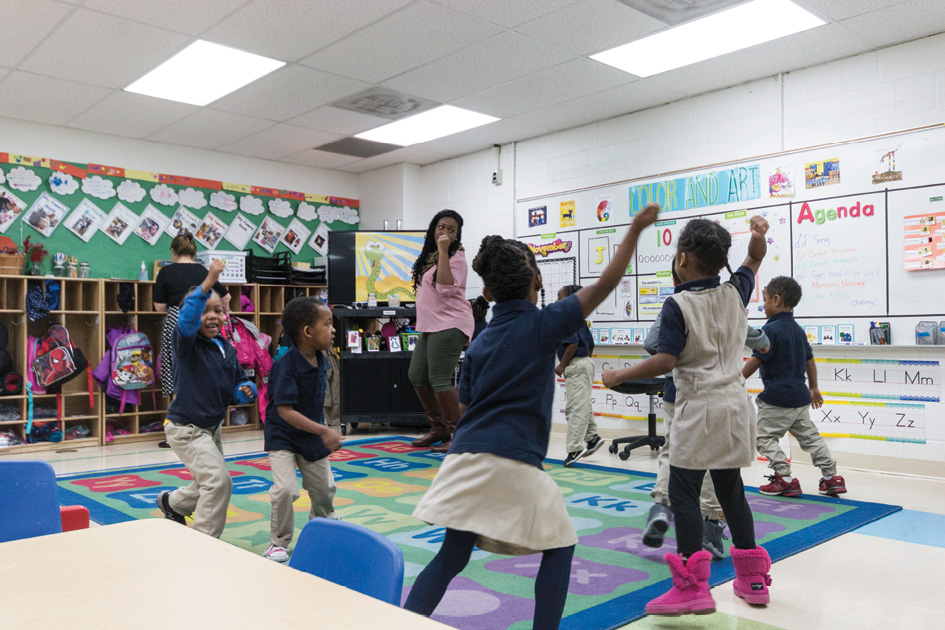 Ah, transitions. For many children (and teachers!) these are the most challenging times of day. Long transitions or too many transitions can lead to disruptive behaviors. Even within an activity, too many transitions can be difficult for some children—particularly those with developmental delays or disabilities. If you notice that a child's challenging behavior occurs mostly during transitions, try modifying or providing extra support during those times:
Allow the child to transition first. If you know it takes Shaun longer than others to put on his coat, give him extra time to get started before the rest of the group lines up.
Add structure to transitions. If Maya has trouble keeping her hands and body safe when waiting for the class to line up, give her a job, such as holding the teacher's coat or holding the door for her classmates, so she has less idle time.
Cut down on transitions. Do you have to walk the whole group to the bathroom for a break? Or can you send a few children at a time with a classroom assistant? Find places in your schedule where you can streamline activities so there are fewer transitions during the day.
Sequence of events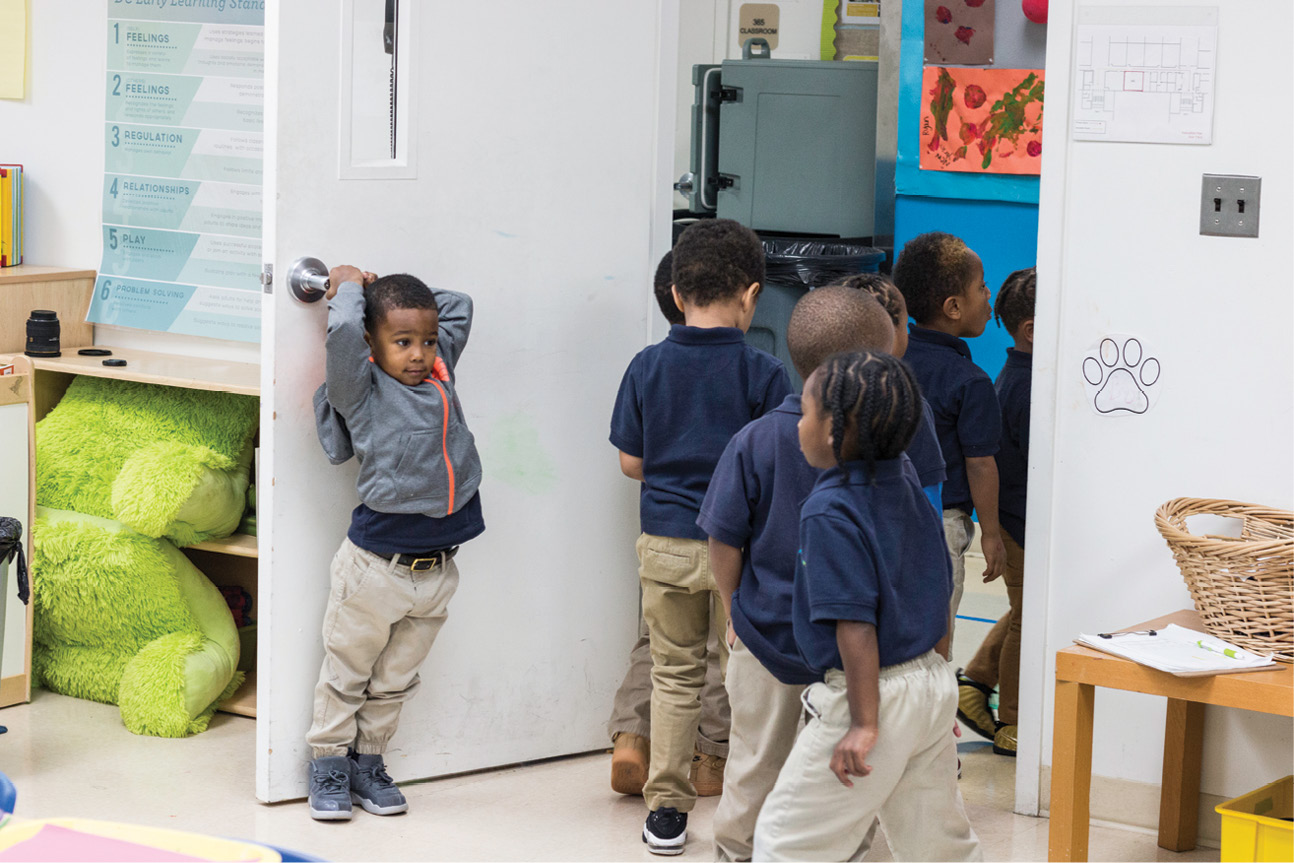 The time of day when activities take place can also impact children's behavior. Different classroom activities require different levels of attention and energy. Asking a child to do a high-attention task just before lunch or at the end of the day could result in resistance, disengagement, or disruptive behaviors. Build in extra support for children by thinking strategically about their day:
Alternate between teacher- and child-directed activities. Sustaining attention during circle or story time takes a lot of effort for preschool children! They have to keep their bodies still, focus on the speaker, and process what they see and hear. A schedule that includes back-to-back circle, story time, and teacher-directed group activities can be too much for many preschoolers to manage. Alternating free- or guided-play activities with teacher-directed, large-group activities gives children a chance to recharge.
Build in quiet time to transition children from high-energy activities. It takes a while for young children to calm their bodies after running outside or playing an active game. Try a relaxation activity, like a few simple child yoga poses. Or ask children to sit with their legs crossed and shrug their shoulders up and down. This helps them prepare to shift their focus to a new activity.
Plan for children with specific needs. Make sure there are ways for children with physical or medical conditions that affect their energy levels to participate in high-energy activities. You might schedule activities at times when those children have the most energy.
Allow children to take breaks. When frustration levels start to rise, give children the option of taking a break. Sometimes getting a drink of water or taking a short walk down the hallway is enough to help a young child get back on track. Some children also benefit from spending a few minutes drawing a picture to express their feelings.
Consider implementing an individual schedule for children who need more time, fewer transitions, or a different order of activities. You might have a child who entered your program midyear or a child with disabilities who is not ready to sit for a full story time, even with accommodations like sitting on a special seat cushion or holding a fidget (squishy ball or weighted stuffed animal). This child may need a more individualized schedule that includes a sensory break after five minutes of focusing, so she is able to sustain attention for longer periods of time.
Conclusion

Once you start looking at the schedule through the lens of children's behavior, you'll see places where small changes can have a big impact on children's engagement.
Monica Lesperance
Monica Lesperance is deputy director of the DC Special Education Cooperative and lead instructor for the INCLUDE DC teacher training program, in Washington, DC.