Conversations with Children! Big Questions Lead to Math Adventures
You are here
Janis Strasser, Ellie Maiorana
When we ask children questions—especially big, open-ended questions—we support their language development and critical thinking. We can encourage them to tell us about themselves and talk about the materials they are using, their ideas, and their reflections.
This is the third article in the TYC series about asking children several different types of questions and inviting meaningful conversations. Using an adaptation of Bloom's Taxonomy to think about the types of questions to ask, I've listened to teachers' conversations with children to explore how different kinds of question create new learning opportunities.
For this article, I visited a preschool in downtown New York City. The children had just completed a monthlong, child-initiated study about measurement—specifically, about measuring the "whole entire 14th Street Y" that housed their school—that stemmed from a yearlong exploration of building. Embedded in the project were many questions that Ellie, the teacher, had posed to help them expand their thinking and solve problems related to measurement.
Measuring the school

In the school hallway, there was a large documentation panel about the measuring project. Ellie used the children's words and drawings to demonstrate their enthusiasm and learning. By describing the project and adding photos of the children's many approaches to measurement, Ellie showed the depth of the children's investigation—and gave them a wonderful reminder of their new understandings.
Here, we have adapted a portion of the documentation panel. Even though the children did not always put their wonderings in the form of questions, it's clear that everyone was curious, engaged, and inventive!
The project opened with Ellie asking, "How many unit blocks will it take to measure the length of the carpet in the classroom?" (Analyze). Lining up unit blocks, the children had found that the carpet was 27 blocks long. Then one child, Ethan, had announced his idea: "Maybe we could measure the whole entire 14th Street Y!"
The children's questions and conversations quickly took on new dimensions—about predicting the number of steps from the classroom to the pool (Analyze) and deciding how to measure things (Apply). Ellie asked questions about the kinds of tools they might need for the project (Evaluate).
The children took walks inside the building and out. They documented the things they wanted to measure, carrying clipboards, paper, and markers to draw the outside of the building, the pool, and other areas.
Their activities measuring the school gave the children meaningful reasons to write numbers and words. They wondered, "How can we draw what we want to measure?" (Create). One child put the school's street number (14) on his sketch of the building. Another wanted to write pool on her drawing because she was interested in measuring the perimeter of their pool.
"What else can we measure?" (Understand/Apply) became a big question. They measured themselves, a table, and the length of the gym. As standards of measurement, they used food items collected for a food drive, artificial flowers from an earlier project, tape measures, and unit blocks.
The teachers introduced picture books connected to the children's explorations of measuring buildings—Inch by Inch, by Leo Lionni; Building Our House, by Jonathan Bean; Length, by Henry Pluckrose; and Curious Constructions: A Peculiar Portfolio of Fifty Fascinating Structures, by Michael Hearst and Matt Johnstone. Each of these books helped the children think about buildings and measurement in new ways.
Conclusion

Math is all around you! When teachers ask questions based on children's interests in the world of numbers, and really listen to children's answers, they can engage in exciting investigations together.
---
Measuring the "Whole Entire 14th Street Y"

By Ellie Maiorana
As we delved into thinking about buildings, teachers noticed a strong mathematical interest among the children. To engage the children in thinking more deeply about numbers, counting, and measuring, teachers helped the children predict and then measure how many unit blocks it would take to span the length of the carpet. Can you guess? It took 27 blocks!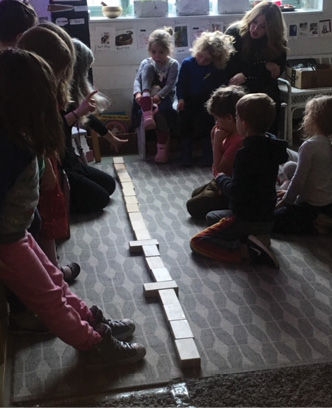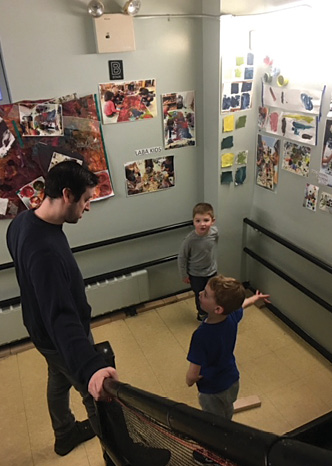 "Maybe we could measure the whole entire 14th Street Y!" Ethan announced to everyone.
Ethan and Andrew decided to begin measuring the school with unit blocks. They made and wrote down their predictions. "I think 700!" Andrew exclaimed and then, thinking more deeply, added, "I think 26 and 27."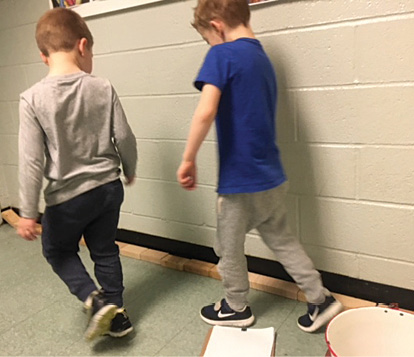 "I made a 68 because there was 68 blocks, but I crossed it out 'cause we added more. We added 2 more and that's 70. It's 70 blocks from the 3rd floor to 2," Ethan explained.
"It's 70! We counted 70 blocks!" Andrew told Mr. Patrick, a teacher who was passing by.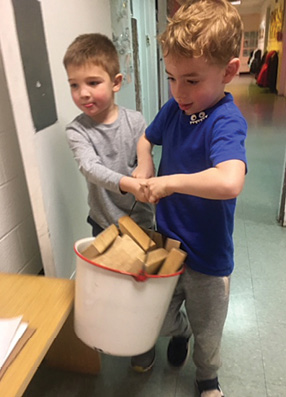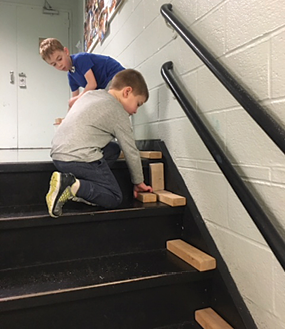 Children came up with their own ideas about different places as well as how to measure and what items they wanted to measure with.
Before swimming, the children drew the pool and guessed how many steps it would take to get there.
"Can we measure flowers all the way to the tape measure—all the way to see how long the table is?" asked Joy. "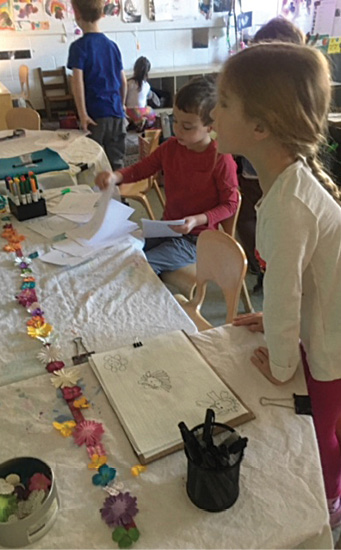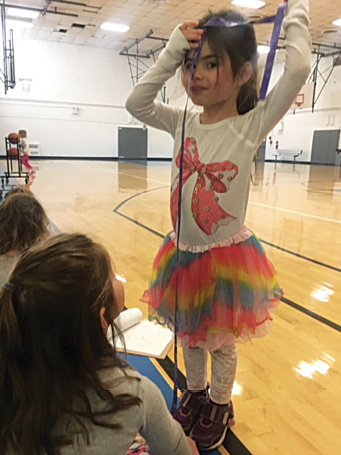 Thirty-eight!" Morgan exclaimed after counting the flowers with Joy.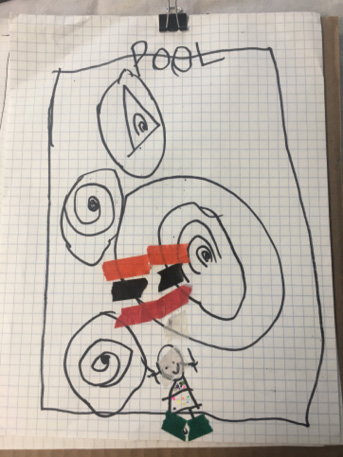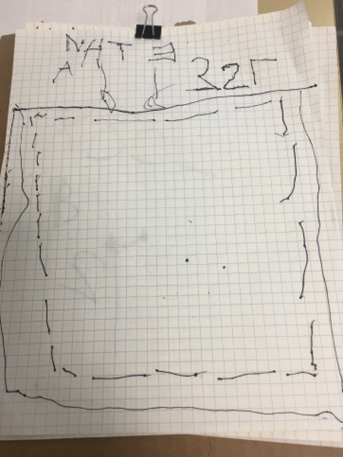 Maya and Joy ran through the gym. "Now I want to measure here," Maya told her good friend as she began measuring the seat of a bench with a tape measure.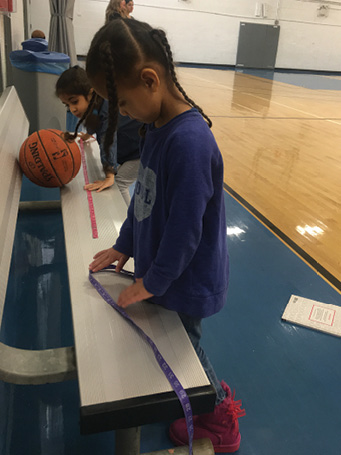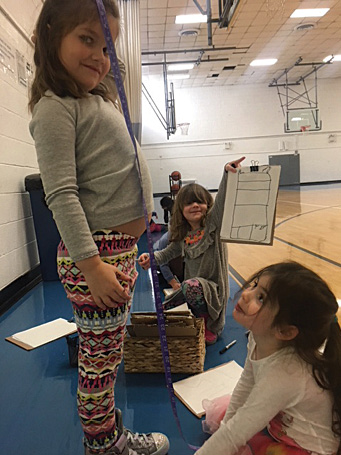 "I'll hold the bottom" Sydney told Annabelle. "And I'll hold the top!" Annabelle offered. Ethan, who was watching carefully, came over and looked at the top of the tape measure: "It's 4 and 4. That's 44." Looking even closer, he said, "Actually, it's 45."
---
Understanding Different Types of Questions

Bloom's Taxonomy has long been used as a way to think about the types of questions we ask students. We have adapted it for young children. Although Remember has mostly right or wrong one-word answers and Create invites use of the imagination and answers that are complex and unique to each child, these levels are just guides. It is up to you to consider which types of questions are appropriate for each child you work with. The lower levels form the foundation for the higher ones.
Remember
identify, name, count, repeat, recall
Understand
describe, discuss, explain, summarize
Apply
explain why, dramatize, identify with/relate to
Analyze
recognize change, experiment, infer, compare, contrast
Evaluate
express opinion, judge, defend/criticize
Create
make, construct, design, author
---
Conversations with Children: What Is a Good Listener?

Children know when adults are truly interested in what they have to say. When asked their criteria for judging if someone is a good listener, elementary-age children said that the person
Makes eye contact appropriately
Is patient and does not interrupt
Asks questions in a pleasant tone
Is responsive both verbally and nonverbally
Prepares for listening by focusing attention on the speaker
---
Note: Thank you, Michael (the director), Ellie (the teacher), and all of the other adults in the classroom. But most of all, a big thank you to the children, especially those who shared snack and conversation with me.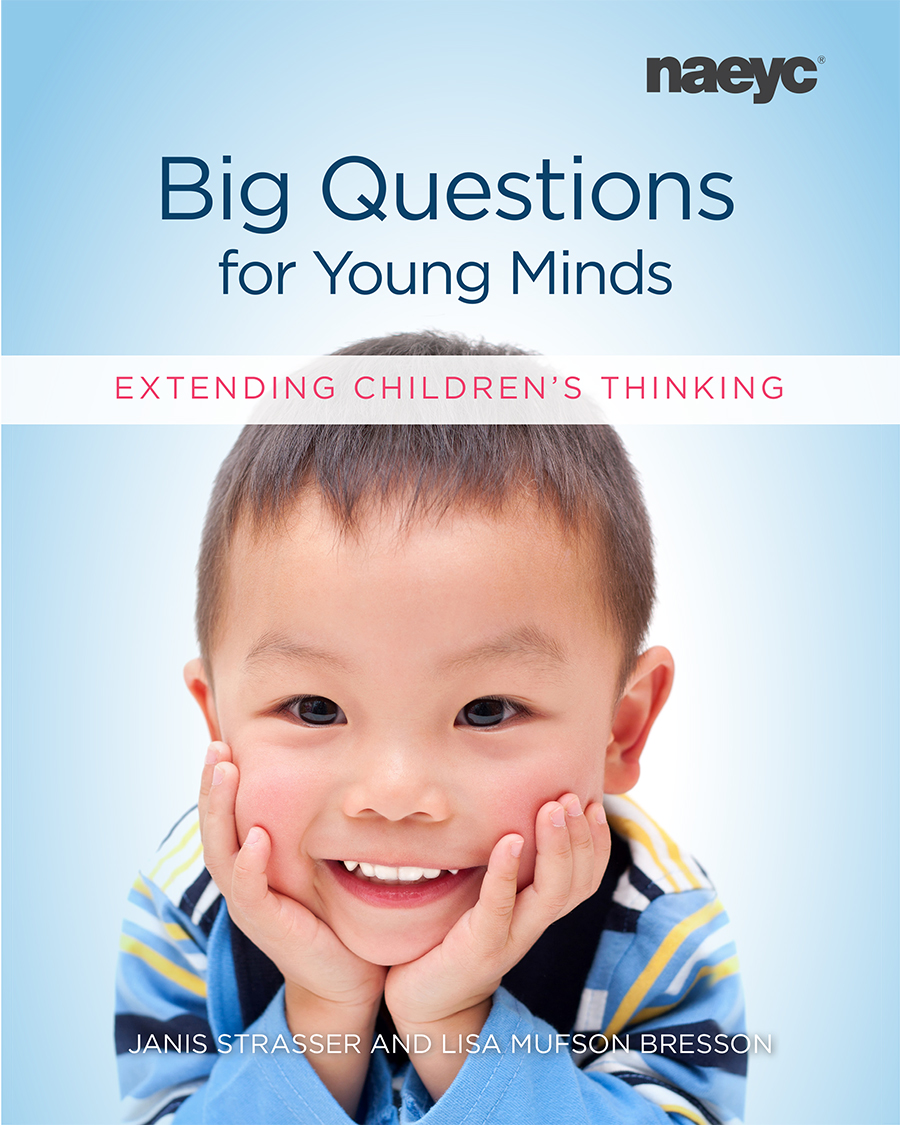 Some text in this article is excerpted from Big Questions for Young Minds: Extending Children's Thinking, by Janis Strasser and Lisa Mufson Bresson (NAEYC).
---
This article supports the following NAEYC Early Learning Program Accreditation standard and topic areas:
Standard 2: CURRICULUM
2D: Language Development
2F: Early Mathematics
---
Photographs: courtesy of the authors; banner image, © Getty Images
Janis Strasser
Janis Strasser, EdD, is a teacher educator and coordinator of the MEd in Curriculum and Learning Early Childhood concentration at William Paterson University in Wayne, New Jersey. She has worked in the field of early childhood for more than 40 years.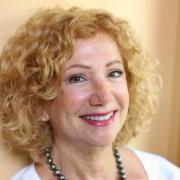 Ellie Maiorana
Ellie Maiorana is a pre-K teacher at the 14th Street Y Preschool in New York City.