Don't Miss This NAEYC Leadership Opportunity: Join the Affiliate Advisory Council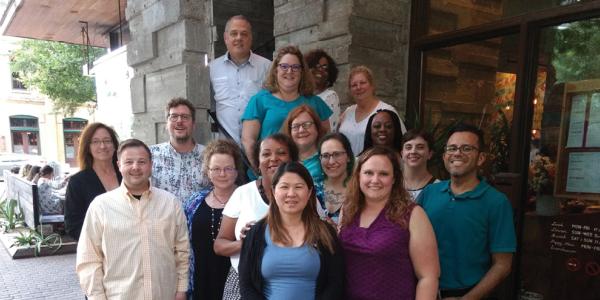 You are here
Shu-Chen Yen Karen Nemeth
The NAEYC Affiliate Advisory Council is seeking passionate members to advise the NAEYC Governing Board and national staff on all issues related to Affiliates and members, and to help identify and develop strong, inclusive leadership. Members from diverse backgrounds and with leadership experiences in Affiliates, in NAEYC Interest Forums, and throughout NAEYC are encouraged to apply.
The Council will appoint eight new members through the 2019 application process, which will be open from January 4 to February 7.
To serve on the Council, applicants must have
Current NAEYC membership
A solid understanding of the NAEYC Affiliate structure
A demonstrated commitment to the principles of high-performing, inclusive organizations (HPIO)
The ability to participate in monthly virtual meetings, ad hoc work groups, and up to three in-person meetings each year
In 2015, the Affiliate Council transitioned from a representative body to the smaller, more efficient Affiliate Advisory Council. Over the past three years, the Council has worked closely with staff to plan Affiliate Leadership Days and to provide insight and guidance throughout the National Dialogue and Affiliate Application process. Council members are appointed to serve on the following Governing Board committees: Affiliate Relations, Early Learning Systems, Member Engagement, and Nominations.
NAEYC issued a statement of commitment as a high-performing, inclusive organization in 2015 and approved a set of principles that define key characteristics of HPIOs. The Council embraces the HPIO principles, ensuring that diverse perspectives are included, shared, and respected.
Read more about the Council and its members and accomplishments in the Affiliate Advisory Council's 2016 and 2017 annual reports by visiting NAEYC.org/get-involved/membership/affiliates/affiliate-advisory-council.
This is an exciting time for early childhood educators, with initiatives such as Power to the Profession and America for Early Ed in full swing. We need you—your experience and expertise as NAEYC members and leaders in the early childhood field—in our organization.
We invite you to come to the table and make your voice heard! Applications are available at NAEYC.org/get-involved/leadership. Contact the Council at affiliateadvisorycouncil@naeyc.org.
Karen Nemeth
Karen Nemeth, EdM, is an author, speaker, and consultant on early childhood language development at Language Castle LLC. She is the author of Basics of Supporting Dual Language Learners: An Introduction for Educators of Children From Birth Through Age 8. Karen@languagecastle.com