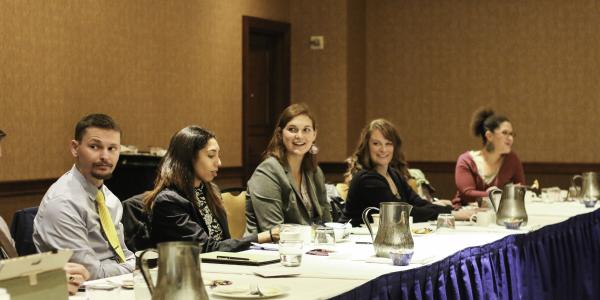 You are here
---
Michelle Jackson 

YPAC President
Education Coordinator
Atlanta First Day School
Atlanta, GA

As an Education Coordinator at the NAEYC accredited Atlanta First Day School, Michelle Jackson spends most of her day developing strategies and steering her teachers and students toward educational excellence in the greater Atlanta area.
With more than 13 years of diverse experience in childcare, her passion for connecting with students, families and staff has allowed her to excel in training as well as marketing, while balancing compassionate and mission-driven guidance. One of Michelle's primary goals is to help those around her reach their highest potential while providing direction along the way. As a member of organizations like NAEYC's YPAC she's able to further make an impact on a larger scale and directly influence those who work with our children on a daily basis. Michelle also has both a Bachelor Degrees in History and Psychology with a Minor in English which she's used to increase understanding and communication with the people she interacts with daily.
---
Alyson Panzarella 

Community Engagement Chair

BrightStars Navigator
Rhode Island Association for the Education of Young Children (RIAEYC)
Warwick, RI 

Alyson Panzarella began her journey at RIAEYC/BrightStars/TEACH RI as a Program Assessment Intern in January 2014.
Following her internship, she began consulting for the agency in the assessment department. After gaining classroom experience as a preschool teacher in Warren, RI, Alyson joined the RIAEYC team as a BrightStars Navigator in December 2015. Since joining the team, Alyson has worked with over 200 child care centers, family child care providers, and school- age programs to assist them in the T-QRIS process and help them improve the quality of care they provide to Rhode Island's children. She was also named the chair of the Community Engagement Committee of the NAEYC Young Professionals Advisory Council in November 2017.
Alyson holds a Bachelor's Degree in Human Development and Family Studies with a focus in child settings from the University of Rhode Island. She is currently pursuing a Masters of Jurisprudence in Children's Law and Policy at Loyola University Chicago. There, her coursework includes international children's rights, education law and policy, issues in school discipline, legislative advocacy, and children's health law.
As a member of YPAC, Alyson hopes to inspire civic engagement and advocacy in the early childhood community. Her personal experience as an advocate for children includes participating in NAEYC's Public Policy Forum, testifying to RI's House Finance and Senate Finance Committees, and facilitating professional development in writing and delivering effective testimony.  
---
Nadia Islam

Content Chair
Prekindergarten lead teacher and an educational director
Nadya Daycare
New York City, NY

Nadia Islam is the Educational Director at Nadya Daycare since 2010.
She provides instructional leadership, content collaboration among staff, and oversees the fiscal and operational matters of the program. Also, her priority is to work with the DOHMH to provide high-quality early learning - programming to the community.
Nadia graduated with her Masters of Science in Early Education from Hunter College (2012) where she researched the effects of Computer Assisted Instruction for students with disabilities. Currently, Nadia is a doctoral student for Interdisciplinary Studies at Long Island University. Nadia has been actively researching methods to improve instructional quality of prekindergarten programs, and public policies to makeprekindergarten reach every child in the United States.
Nadia is interested in data-driven instruction, universal design for learning, prekindergarten curriculum, funding, and assessment.
Nadia is honored to be a member of the Young Professionals Advisory Council. She hopes to assist in attracting new early childhood professionals in perfecting their teaching expertise and shaping their passion for educating our nation's youngest population. In her free time, Nadialikes to rides bicycles, paint, and travel outdoors with her family.
---
Nasser Nabhan

Assessor and Training Specialist
The McComick Center for Early Childhood Leadership
Valparaiso, IN

Nasser Nabhan is an Assessor and Training Specialist at the McCormick Center for Early Childhood Leadership at National Louis University. Before joining the McCormick Center, he taught preschool in Chicago and Ramallah, Palestine. He then became the Education Director at CCC Head Start in Northwest Indiana and taught as an Early Childhood Education Adjunct Faculty Instructor at Ivy Tech Community College of Indiana. Nasser's diverse experiences and roles have led him to be a passionate advocate for high-quality early childhood education as he has witnessed it serve as a conduit for sustainable change both communally and globally.
Nasser received his B.A. from Indiana University Bloomington in History and Near Eastern Languages and Cultures and his M.S.Ed. in Early Childhood Education from Dominican University. In addition to his deep love for the blocks center and everything Fred Rogers, Nasser enjoys traveling, reading, spending time with family and friends, and cheering other people on as they run long distances. Click here to connect with him on LinkedIn!
---
Katie Albitz

Graduate Research Assistant
Center for Women in Government and Civil Society 
Albany, NY

Katie Albitz began her journey in the field of early childhood education as a preschool aide and then toddler teacher at the Young Wonders Early Childhood Center in Binghamton, New York.
Her experience with young children also includes time spent as a co-teacher at Ithaca Montessori School and as an in-home informal child care provider. Katie is a passionate advocate for an empowered early education and child care workforce that embraces and uplifts its diversity. She seeks to promote better outcomes for children through a living wage and adequate benefits to teachers and providers, who often struggle to promote a thriving environment because of the stress they endure.
Currently, Katie is in her final semester of SUNY at Albany's master's in public administration program. Her concentration is in early learning and child care policy. Over the last two years, she has tremendous opportunities interning with the Early Care and Learning Council as well as with the emergency preparedness team at Child Care Aware of America.  She spent six months as a Fellow at the New York State Office of Children and Family Services in the Division of Child Care Services. During this time, she took particular interest in New York's use of the Pyramid Model to curb suspension and expulsion in child care programs. She worked on cross-state comparisons to understand states' successes and struggles with implementing the new Child Care and Development Block Grant regulations.
---
Kapua Hussey

Preschool Director and Pre-K Teacher    
Harris Preschool
Honolulu, HI 

Kapua Hussey is the Preschool Director and Pre-K Teacher at Harris Preschool, near Downtown Honolulu.
She is responsible for supervising teachers and teaching the Pre-K (4-5 year olds) class while overseeing the program. Kapua graduated from Oregon State University in 2011 with two Bachelors of Science Degrees. One in Human Development and Family Sciences with a focus on Early Childhood Education and another in Public Health with a focus on Community Health. As a new NAEYC member, Kapua attended the 2017 Professional Learning Institute and was inspired to seek more opportunities to be involved. In addition to serving on the NAEYC Young Professionals Advisory Council, Kapua is also a member of Kia i Ka Ike, an association for Preschool Directors in Hawaii.
---
Gabriela Torres

Child Development Specialist    
Grand Street Settlement
Brooklyn, NY

Gabriela Torres is the Child Development Specialist for Grand Street Settlement's Early Head Start Child Care Partnership (EHS-CCP), a federally funded program created to support high quality programs for children 0 to 3.
As a Child Development Specialist, Gabriela works closely with over 50 teaching staff and program leaders to deliver professional development training around infant/toddler best practices and support.
Gabriela is a native New Yorker and is a graduate of S.U.N.Y. New Paltz with a BA in Communications and a M.S.Ed in Early Childhood Education from Hunter College. When not in the dramatic play center, Gabriela enjoys traveling the world and tasting new cuisines. So far it's a tie between Barcelona and Italy.  
---
Elizabeth 'Lizz' Cohen

Primary caregiver  
Old Firehouse School
Mill Valley, CA


Lizz is a primary caregiver at Old Firehouse School in Mill Valley, CA, currently working with three year olds.
She formally began her path in early education as a Head Start volunteer in 2010, eventually becoming a teacher there, then later a family childcare provider. She knows that each child deserves high-quality early education experiences, and strives to both provide those and help others do the same. When she's not reading, writing, and talking early childhood, Lizz can usually be found exploring her new neighborhood and enjoying local theater performances.
---
Christine Noonan

Kindergarten Teacher
Otter Creek Academy at Leicester Central School
Leicester, VT

Christine Noonan is the kindergarten teacher at Leicester Central School in Vermont.
Christine graduated from Castleton University in 2011 with a degree in Elementary Education, and received her Masters of Education in Early Childhood Education with a focus in Administration from Champlain College in 2017.
In addition to these degrees, Christine graduated from the Vermont Early Childhood Leadership Institute sponsored by the Snelling Center for Government in 2017. In February of 2018 she joined her state affiliate, VTAEYC, as a board member to try and help the field on both a national and state level.
As a member of NAEYC, Christine has had the honor of presenting at the Annual Conference twice; once in 2015 and again in 2017.
Christine lives in the small town of Brandon. In her free time she enjoys spending time with family and friends, reading, and walking daily.
---
Christian Patterson

Lead Preschool Teacher  
First Presbyterian Early Childhood Center
Santa Barbara, CA

I am currently a lead preschool teacher at First Presbyterian Early Childhood Center, an NAEYC accredited preschool in Santa Barbara, California.
I was born and raised in Santa Barbara and first graduated from Santa Barbara City College with an A.S. in Early Childhood Education. Next, I attended Purdue Global University where I graduated Magna Cum Laude with my Bachelor's degree in Early Childhood Development. I recently graduated from Walden University with my Master's degree in Early Childhood Studies with a specialization in working with adults in the Early Childhood field.
My future goals are to begin teaching early childhood workshops and classes in my community and to continue furthering my education. I feel honored to be part of such an influential team of professionals brought together through NAEYC.
---
Shelby Bergeson

Early Childhood Specialist 
The Right Turn, Inc.
Pierre, SD

Shelby Bergeson is an Early Childhood Specialist at the Right Turn Inc. located in Pierre, South Dakota.
As an Early Childhood Specialist she provides trainings and technical assistance to providers in a twelve county region which includes three Native American Reservations. Shelby has 5 years of experience working in the field ranging from Center- Based childcare, Family Childcare, Elementary Special Education, and Home Visiting for Head Start.
Over the past years, Shelby has discovered her passion lies in special needs and inclusion of all children. This has led her to develop training on Autism in Early Childhood that she has presented at statewide conferences. She is currently working towards a degree in Early Childhood Education with an emphasis in Children with Special Needs.  
---
Megan Sigovich

Special Education Teacher  
Portland, ME

Megan Sigovich is a Special Education Teacher working primarily with kindergarten students in a public elementary school. She modifies and delivers instruction for students with developmental disabilities, autism spectrum disorders, and other health impairments.
Megan has worked in the early childhood field for more than ten years. She began her career teaching infants, toddlers, and preschoolers in a private child care setting. Megan completed an early childhood teaching fellowship at a public charter school serving three- and four-year-old children in Washington, D.C. Over the last five years, she has taught students with disabilities in prek to second grade.
Megan holds a master's degree in Early Childhood Special Education from The George Washington University. She served on a panel at NAEYC's 2018 Professional Learning Institute, speaking on behalf of early childhood educators working in K-3 settings. Megan is passionate about expanding access to high-quality public preschool programs, bringing developmentally appropriate practices back to the early elementary grades, and ensuring every child with a disability has access to early intervention services.
---
Natalie Vieira

Policy Associate 
All Our Kin
New Haven, CT

Natalie brings her passions for social justice and inclusive policy change to her role as the Policy Associate at All Our Kin.
Prior to joining All Our Kin, Natalie was a Fulbright English Teaching Assistant at a foreign language high school in Bulgaria. Her background also includes work around affordable housing, homelessness, and environmental policy. As the Policy Associate, she advocates for programs and policies that invest in the power of family child care at the local, state, and federal levels.
In her role on the Young Professionals Advisory Council, Natalie is passionate about bringing the home-based child care perspective to national conversations in the early childhood field. In 2018, she was selected as a Visiting Fellow with Education Pioneers, which connects and trains emerging leaders in the education field. Natalie graduated from the University of Connecticut with a B.S. in Resource Economics and a minor in Political Science.  
---
Leah Walker

Director & Lead Teacher, PreK Teacher    
Rowan University Early Childhood Demonstration Center
Glassboro, NJ

Leah Walker began her career in the field of ECE while a senior in high school and is currently the director and lead teacher at the Rowan University Early Childhood Demonstration Center.
In her role as the head teacher of the prekindergarten classroom, she loves being part of the growing process of her students. Within the university, Leah also enjoys her role working with teacher candidates as the advisor for the campus Early Childhood Club and an adjunct faculty member.  She earned both her undergraduate degrees from Rowan University in Early Childhood Education, with a special education endorsement, and American Studies as well as her M.Ed. in Teacher Leadership/ESL Education. 
Leah's involvement with NAEYC began as an undergrad student and includes several years of serving on the board of her local affiliate, serving as her local Chapter Representative to the state affiliate, presenting at the 2015 Annual conference, and  participating in the 2017 NAEYC Policy Forum (something she hopes to continue doing in future years). 
When not working, Leah enjoys spending time with her family, friends, and cat, Stella.  She is an avid reader of both classical fiction and current events, tries to keep her promise to herself to leave the country every year, and takes advantage of every opportunity to dance. 
Ben Thomas

Literacy Coach, Administrator  
Bronx, NY

I grew up in Omaha Nebraska and graduated from Omaha Central High School.  I then attended Hendrix College in Conway Arkansas.  
At Hendrix I was a member of the Phi Alpha Theta History National Honors Society and was captain of our D-III Collegiate Tennis Team.  After graduating from Hendrix, I worked for a year in the Hendrix Admission Office. I reviewed applications, worked through student financial aid concerns, and traveled across the south visiting different High Schools to share the benefits of attending a liberal arts institution.  
I then moved back to Omaha Nebraska and became a paraprofessional in a Head-Start Program at
Gateway Elementary. This experience encouraged me to apply to Teach for America.  My Teach for America placement site was as a Universal Pre-k Teacher with the Children's Aid Society (CAS) in New York City.  I worked at CAS for two years while completing my Masters in Early Childhood Education-Students with Disabilities at Hunter College. I aspired to go into educational leadership and in the Summer of 2017, I accepted a position as an Education Director at Hamilton-Madison House Early Childhood. Most recently, this past fall I accepted a position as a Literacy Coach and administrator at the Rosalyn Yalow Charter School in the South
Bronx.
I am a member of the New York Early Childhood Professional Development Leadership Initiative.  I attend monthly meetings and receive leadership coaching and support.  This program encouraged me to start a Children's Program Administrator Credential through the City University of New York and my anticipated completion is the summer of 2019.  I am also a member of the National Association for the Education of Young Children (NAEYC) and was the 2018 Hal Kaplan Emerging Leader Scholar.  This allowed me to attend the 2018 NAEYC Professional Learning Institute on scholarship. Additionally, within NAEYC I am also a member of the Young Professionals Advisory Council. In my free time I enjoy hiking, reading, playing tennis, and connecting with other early childhood professionals.
Jacquelyn Chasteen

Training and Development Consultant  
Albuquerque, New Mexico

Jacquelyn Chasteen is currently a Training and Development Consultant at the University of New Mexico Early Childhood Services Center.
Through her role, Jacquelyn has the opportunity to provide support to early childhood programs and educators working to provide high quality early childhood education to
young children in her community. Jacquelyn's journey into Early Childhood education started more than 8 years ago as she began working in a preschool as a college job. Quickly her college job became her passion and career of choice.
Jacquelyn has worked in a variety of programs and roles as an educator, program administrator, and
consultant. Through each of her roles Jacquelyn has enjoyed the opportunity to serve as an educator,
leader, coach, mentor, advocate, and cheerleader for young children and their educators in order to
provide children with the best foundation possible.
Currently, Jacquelyn is attending New Mexico Highlands University as a full-time undergraduate student. She expects to obtain her BA in Early Childhood Multicultural Education with a birth- age 4
concentration in 2019. She currently holds two Associates degrees, one in Elementary Education and
another in Early Childhood Multicultural Education, as well as a Council for Professional Recognition CDA Professional Development Specialist certification. Jacquelyn believes that early childhood educators and other early childhood professionals play a critical role in shaping our future, and she hopes to support them through her time with YPAC!
Bella Freuh

Lead Toddler Teacher 
Cincinnati Early Learning Centers
Cincinnati, OH

Bella is currently a Lead Teacher at Cincinnati Early Learning Centers, a non-profit education agency with eight top-rated quality sites and a strong constructivist philosophy.
She additionally manages their social media presence and facilitates internal trainings for their staff. When not in a classroom, Bella creates and implements trainings for other educators through 4C for Children, a large non-profit that connects families, educators, and childcare providers in Ohio and Kentucky. Specifically her focus is supporting the children's rights movement in the United States through educating early childhood teachers about rights-based pedagogies within classrooms.
Before these positions, she received her Master of Arts in International Child Studies from King's
College London, with a specific focus on public policy as she studied many, varied applications of
children's rights across the world. Her Bachelor of Science is in Psychology, with minors in
Mathematics and Physics, from the University of Cincinnati, where she spent many years as a
teaching assistant and research assistant.
For eight years prior to beginning her graduate coursework, she worked for the Y as a counselor,
then unit director and trained many staff members over the years. Bella has worked with children
in various settings for eleven years now, but is most enthusiastic about coaching others to support
children's learning in respectful ways.