NAEYC Publishes New Edition of Anti-Bias Education for Young Children and Ourselves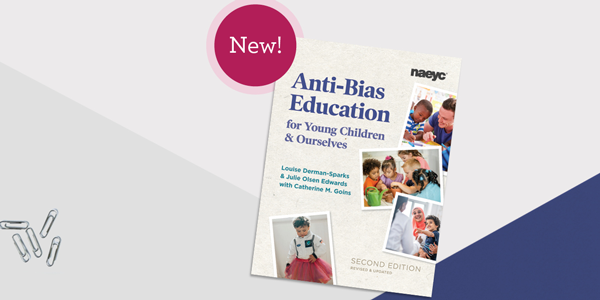 You are here
Home
/
NAEYC Publishes New Edition of Anti-Bias Education for Young Children and Ourselves
For Immediate Release:
March 30, 2020
Media Contact:
Marketing
202-232-8777
[email protected]
NAEYC Publishes New Edition of Anti-Bias Education for Young Children and Ourselves

Washington, D.C.-- The National Association for the Education of Young Children (NAEYC) announces the publication of Anti-Bias Education for Young Children and Ourselves, Second Edition by Louise Derman-Sparks, author and faculty emerita at Pacific Oaks College; Julie Olsen Edwards, children and families advocate and former faculty of Cabrillo College's early childhood education department; and Catherine M. Goins, assistant superintendent of Early Childhood Education for the Placer County Office of Education in California.
More than ever, young children need educators who can help them navigate and thrive in a world of great diversity, educators who can give them and their families the tools to make the world a more fair place for themselves and for each other. This classic resource, expanded and updated, is a guide to building strong anti-bias early learning programs, including learning to know yourself. 
This revised edition provides the latest research-based guidance for supporting children's social identities, including gender, race, culture, abilities and more!
Anti-Bias Education will inspire and support young children and educators as they walk this journey and meet and work with other travelers. 
I welcome this new edition of Anti-Bias Education for Young Children and Ourselves because we are still learning exactly how to support all children and families. This book is a master class on our professional responsibilities to lead issues of identity, diversity, justice, and activism. —Valora Washington, CEO,  Council for Professional Recognition
Email [email protected] for author interview availability.
Anti-Bias is available for purchase in the NAEYC online store. For more information on this book and other resources, visit NAEYC.ORG/resources/pubs. 
###
NAEYC is the foremost professional membership organization committed to transforming the lives of young children and delivering on the promise of high-quality early learning. NAEYC represents 60,000 early childhood educators who care for, educate, and work on behalf of young children, birth through age 8. Learn more about NAEYC at www.NAEYC.org.