The Lasting Legacy Scholarship Application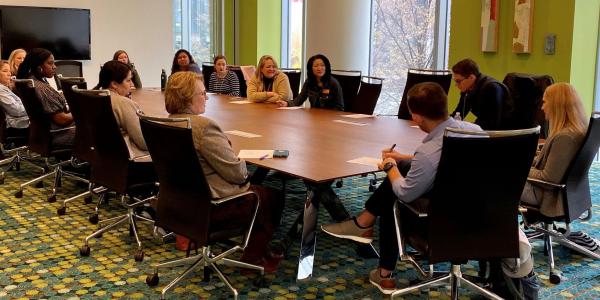 You are here
Home
/
The Lasting Legacy Scholarship Application
The application closed at 12PM on Friday, April 17, 2020. All applicants will be advised of their status in early May.
---
With so much uncertainty surrounding the impact of COVID-19 in the coming months, we've decided to forego gathering for the Professional Learning Institute in New Orleans as we had planned for June 7-10.  The current Lasting Legacy Scholarship application process will transition to scholarships for the NAEYC Annual Conference, November 4-7 in Anaheim. The scholarship award will provide conference registration and funds for travel, hotel and meals.  
Additional Lasting Legacy Scholarships categories are expected to open for applications by July.
Before applying, please review and select one of the following scholarships to be considered for:
Lasting Legacy Scholarship: Early Learning Center Director/Assistant Director  Early learning center directors and assistant directors who have been in their position for no more than two years are welcome to apply.
Lasting Legacy Scholarship: Primary Grades Classroom Teacher (Grades K-3) Classroom teachers of students in grades K-3, who have been in their position for no more than two years are welcome to apply.
Lasting Legacy Scholarship: Hal Kaplan Emerging Leader Award To recognize the contributions of the Kaplan Early Learning Company, the Hal Kaplan Emerging Leader Scholarship will support an emerging leader in an historically under-represented population with fewer than two years experience in an early learning teaching position.
Lasting Legacy Scholarship: Diane Trister Dodge Award  In honor of Diane Trister Dodge, founder of Teaching Strategies, NAEYC offers a Lasting Legacy Scholarship to a student who is pursuing a Bachelor of Arts, Master's or Doctorate degree in Early Childhood Education or a post-doctoral research fellow working in the field for fewer than two years. 
Frequently Asked Questions
What is the review process?
Applications are reviewed by the NAEYC Governing Board alumni. One reference for each of the finalists will be contacted.  A select group from the second review will be awarded scholarships.  We consider the following criteria in the selection process:
 demonstrated commitment to the early childhood profession,
 likelihood of using the conference experience effectively, and 
 potential to make significant contributions to the early childhood profession as an emerging leader.
Only applicants who have been in early childhood program management positions for fewer than two years are eligible for consideration. 
How do I know if my application was received?
After you submit your application, you will receive a confirmation email from NAEYC.
If I am awarded one of the scholarships, what is expected of me?
By submitting an application, you are agreeing to attend the complete NAEYC Annual Conference, November 4-7, in Anaheim. Scholars follow a specific schedule that allows for session selection by the individual.
Scholarship recipients are expected to participate in group photos and give permission to NAEYC for their image and names to be used in future promotional and marketing materials. Awardees are also expected to submit a written or video reflection about their conference experience. 
When will I find out if I have received a scholarship?
Applicants will be sent a status update by May 15, 2020. Finalists will be advised if the selection process is not complete.
If I applied for a scholarship, should I still register for Annual Conference?
If you've already registered for Institute or Conference and then are selected to receive a scholarship, NAEYC will reimburse your registration costs. If you are not selected for a scholarship and the decision-making process extends beyond the deadline for Early Bird registration, a code will be provided so you can register at the discounted rate. Keep in mind, registration and travel costs will be covered for selected scholarship recipients.    
Who do I contact if I have questions?
You may contact Christine Herrmann at [email protected] or 202-350-8832 if you have additional questions.
Please note that it is wise to answer the more complex application questions in a separate document so you may edit and save your responses.