Calling All Dads: Tips for Getting Involved in Your Child's Preschool or Child Care Program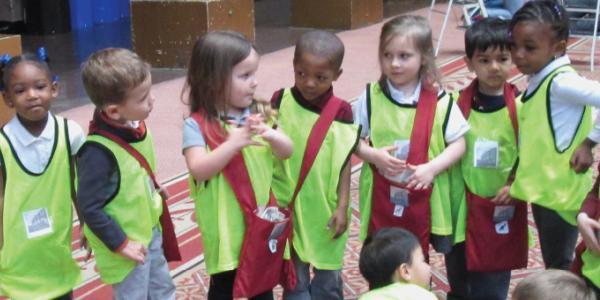 You are here
Home
/
Calling All Dads: Tips for Getting Involved in Your Child's Preschool or Child Care Program
By Tracey Hoffman, EdD
Teachers sometimes hear fathers express a desire to participate and become more involved in their child's preschool or child care program. Of course, many teachers already work with dads who are actively engaged in their children's activities. Still, other dads want to be more involved, but may not know how to begin.
Here are some tips to help you get started:
A unique perspective
Dads do things differently than moms, and that can be good for children. Dads offer a unique perspective on everything from yard work to grocery shopping. Why not take this unique perspective into the classroom? Research has uncovered the positive effects that dads have on their children's development and learning, such as school readiness and improved social emotional skills (McWayne, Downer, Campos and Harris, 2013).
Embracing new roles for dads
When most people think of caregiving, moms typically come to mind first. Traditional views often portray dads as the breadwinners and playmates for young children. However, these views have been shifting over the last decade or so. There are many more stay-at-home dads now, and moms are often working as many hours outside the home as dads (if not more). This is an exciting time for fathers to get involved with their children in a whole new way.
Ideas for participating
Share your talents. If you have special talents, why not bring these into the classroom? Show the children how to play table tennis, fold a paper airplane, or grow a certain type of vegetable. Break bread. Sharing food can also be a great way to get involved. Is there something you always ate as a child, or do you have a favorite recipe to share? This may be an opportunity to show off your cooking or baking skills and have the children participate.
Bring your work to school.
Is there a Career Day at your child's preschool or childcare? Discuss what you do for a living and any early interests you had that led to your desire to work in your particular field. Celebrate your heritage. Introduce the children to your culture or personal tradition This can be a great opportunity to show the children cultural artifacts, teach them phrases in your native language, or discuss a little of your family's history. Think creatively Dads who work during the day may need to be flexible as they think about ways to participate in school activities. Maybe you can come in after work and make copies for the teacher or create a holiday bulletin board. Ask to help with tasks that can be done at home, such as cutting out shapes in preparation for art activities.
Start with something simple, be creative, and think outside the box for ways to get involved. The benefits for you and your children are worth it.
 
---
Dr. Tracey Hoffman is an Assistant Professor in the Department of Teacher Education and Coordinator of the Prekindergarten Program for the regional campuses at Miami University. She serves on the Advisory Board for NAEYC for Families and NAEYC Teaching Young Children, and enjoys writing on topics related to early intervention and families.