What Does a High-Quality Kindergarten Look Like?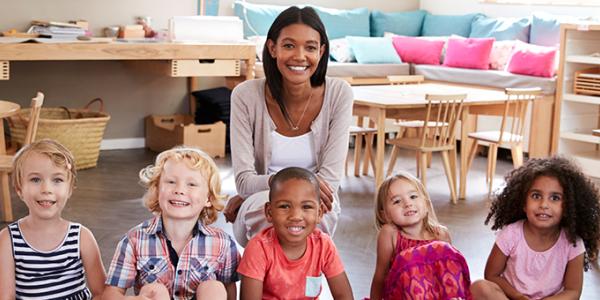 You are here
Home
/
What Does a High-Quality Kindergarten Look Like?
Teachers focus on these areas to help children learn best.
Creating a Caring Community of Learners
Having positive relationships with teachers and with each other helps children feel like they belong and that everyone is important. Teachers
Have children work with partners and in small groups to help each other, share ideas, and make friends
Respect children's ideas
Include the culture and language of every child in the class
Teaching to Support Children's Development and Learning
Teachers set up the classroom, offer materials, and plan interactions that support children's learning and interests. They
Arrange the room for different types of learning: space for class meetings, tables where children work together in groups, and quiet spots for independent work
Provide activities that interest children, challenge their skills, and help them love learning
Encourage children's deep thinking
Planning Learning Experiences Within the Curriculum
Your child's school has a curriculum and goals that state what most kindergartners should know and be able to do, and how they will learn these things. Teachers use the curriculum to plan lessons and activities. They
Pay attention to what children are interested in, what they already know, and what they might be ready to learn next
Talk about children's goals with families and find out what they want their children to learn
Assessing Children's Development and Learning
Regular assessment helps teachers understand what each child knows and can do. Using this information, they decide which materials, activities, and experiences to provide so children continue learning. To assess children's learning and development, teachers
Observe children, take notes, and collect samples of children's drawings, writings, and other work
Take photos and videos of what children are doing and making
Use checklists and screening tests to identify when children need more support
Developing Relationships With Families
Teachers work hard to build trusting relationships with families. They know that you are the most important people in your child's life. To partner with families, teachers
Listen to families' goals and concerns
Encourage families to participate in different ways in their children's education
Respect each family's language and culture and try to communicate in their home language
Regularly share information about what their child is learning
Warning Signs
There are a lot of terrific, high-quality kindergarten classrooms. But sometimes you might see practices that don't help children learn and develop. A few are listed here. If you're concerned about something you see or hear in the classroom, talk to your child's teacher or a school administrator.
Children spend a lot of time in their seats. Teachers mostly instruct the whole group at one time, and children don't play or work with each other much.
Children often use worksheets, workbooks, and flashcards for learning and practice. They're expected to learn abstract ideas (like adding) without first using objects (like blocks) to help them understand the concept.
Teachers rely on rewards, like stickers or treats, to get children to do their work. They compliment children's work using words that don't help children understand what they did well (like "Good job!" or "Nice!") instead of ones that do (like "You tried many times to find that answer").
Assessment focuses on some areas (like math and reading) and not others. Teachers use assessments only at the end of a project or school year, so they don't have many chances to adjust their teaching to what children need.
Teachers don't communicate regularly with families. They may contact families only when there's a problem.
Kindergarten is such an important time in your child's life—and in yours, too. With support from you and from knowledgeable, caring teachers, your child will see kindergarten—and school—as a fun, fair, great place to learn. Together, you can enjoy the many learning opportunities ahead!