A Conversation in Hello: Being Inclusive of all Families on Father's Day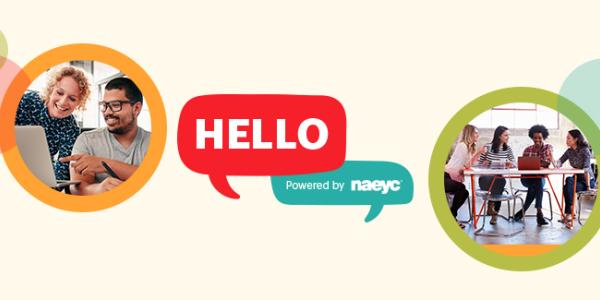 Hello is NAEYC's home for engaging and dynamic discussion. It's a space for everything from the practical to the inspirational in early childhood education. Sometimes a simple question can spur a more meaningful conversation that the whole community benefits from.
Hot topics trending now on Hello include:
Here we highlight a few posts from a conversation about Fathers Day. See how a discussion on gift ideas for Father's Day became an exploration of ways to be inclusive of all families.
Holidays are joyous occasions that can none the less prove a little challenging. NAEYC member Catherine turned to the Hello community for suggestions on Father's Day gifts. She asked the following question:
I have a new child starting in my class soon, and I need some suggestions for Father's' Day. He has 2 moms and no dad that I know of-he was at our center as a baby, left, and then came back. I think he was a foster child and then adopted by his foster family. I don't know them that well, and I don't want to offend anyone. Would it be appropriate to be upfront and ask them how they handle Father's' Day, or should I just make his gift without referencing the father part? Thank you for your help!
What began as a question on how to plan a Father's Day gift for a child and his family, turned into discussion on how to include diverse families in everyday customs and practices. Another member of the Hello community, Christine from Ohio, replied by thanking Catherine for being thoughtful and offering suggestions for how to handle this new situation:
Hello! Thank you for wanting to be thoughtful and inclusive of all your families! As a lesbian and foster/adoptive parent, I would definitely want my child's teacher to be open about this and speak to me directly. Since the family is new to your center, you will want to have a discussion about what each mom should be called (ex. Mommy and Mama, Mommy Christine and Mommy Rachel, etc) and if there are other family members the child might discuss. In many cases, children who were in the foster system are able to maintain contact with some members of their first family. It is definitely appropriate to say, "I am so glad Felix is joining our classroom. So I am using the right language, what does he call each of his moms? I was planning to have the children make a little present for Father's Day. What makes the most sense for your family? Should he make the present for you (his moms) or is there someone else in his life we should keep in mind for this present? I want to make sure I am supporting Felix and your family the best I can." I would imagine other children in the class might also have a family make up that would require you to adjust this activity a bit (single moms, grandparent-headed families, etc).  Also, it would be nice to make sure diverse families are represented in your children's books and in the images around the classroom (family pictures, etc) to make sure this child feels represented. Many GLBT families face discrimination in schools and we worry quite a bit about how welcoming teachers and other parents will be to our children, so again thank you for wanting to be supportive and inclusive of all your families. Best of luck to you!
Other community members weighed in with their perspectives. Patricia from Alaska shared that:
Some programs have decided to reject the idea of celebrating Mom's Day/Dad's day/Grandparents Day (was this started by the greeting card industry?) and instead celebrate families. This allows for inclusion of all family members and tends to get away from gift giving in favor of spending quality time together by having a picnic, BBQ, potluck, dance or other activities.  In our consumer-driven society it might be a better message to teach children.
Lydia in Ohio responded by highlighting the complexity of many families:
First, I think your idea of asking the family what they prefer is a great idea. It's important to build connections with families, and they'll know you value their thoughts and feelings on the matter.
Mother's Day/Father's Day is always a tricky one. I know many families expect centers & classrooms to do something as "gift" from their child...but families aren't that simple anymore. Honestly, we stopped doing anything in my classroom. My daughter, for example has two dads - a biological one that she sees once a week, and a stepdad (whom she calls Dad) and lives with during the week. She used to agonize over which one she'd give her created-at-school gift to. Many children do not have a single Mom and Dad at home. With divorce, blended families, incarcerated parents, LGBT families, there's a lot to take into consideration. I know that there are classrooms in which they know - without a doubt - that every child has a mom, for example, then I can see why they'd choose to do that. My personal opinion is to just leave the Mother's Day and Father's Day gifts up to the families themselves to celebrate, or not, in whatever way they see fit.
Conversations like such as these not only connect people across the country, but also enable an exchange of ideas, and can offer tangible solutions. This is a just an example among many of the discussions happening in Hello everyday. If you haven't already, now is the perfect time to jump right in. Find out how here.
Gilmar Rosas
Gilmar Rosas is Community Manager at NAEYC.