Addressing Social and Emotional Needs of Teachers and Parents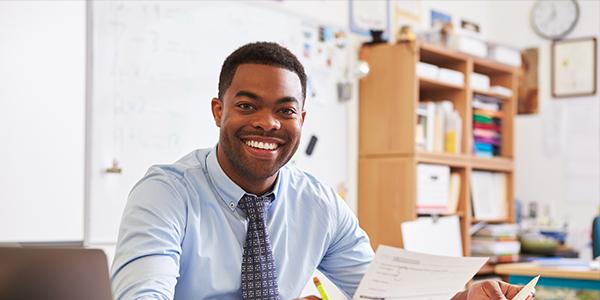 Stephen P. Zwolak is the Executive Director of University City Children's Center in St. Louis, Missouri. He shares how his program enhanced its approach during the pandemic.
---
When COVID-19 arrived in St. Louis, our center, along with most other programs, was forced to close. This was a sad time for all staff, but after a one-week period of grieving, we were identified as a child care resource for essential workers.  All staff returned and we enhanced our commitment to relationship-based care and learning. Each group now has four teachers who collaborate to build and maintain those relationships with children and families, and ensure the physical environment is appropriately sanitized to prevent transmission of germs.  
In addition to continuing to serve the children of essential workers, in late April our program re-opened for all children and families. Because the closure had been so abrupt, and because many children would be experiencing the effects of trauma, we expected that they might be feeling as though they had been abandoned. Through our sister professional development organization, LUME Institute, we began offering virtual webinars for teachers and for families. 
Sessions for teachers are led by teachers. They focus on what it is like to teach during a pandemic, with practical ideas and theoretical discussions. For example, participants in one session focused on questions such as: 
Sometimes I still feel scared; what can I do? 
Can I still hug the children?  
How can I fully engage with children while wearing a mask?
How can I develop a strong relationship with families when I don't see them every day?
How do I get support from my peers when I must stay in my own classroom? 
What happens if we have to "shut down" again? 
Sessions for families were short—no more than 30 minutes—to acknowledge the scheduling needs of this audience. They addressed questions of importance to parents, such:
How confident are you leaving your child at school?
How much guilt do you feel?
How do you feel when you turn away and leave your child a "hot mess"?
How do you feel when you child doesn't want to leave school?
How do you think your child feels when you sneak away without saying goodbye? 
Our primary focus was children's emotional well-being. I told teachers, "I want the children to feel hugged." How teachers bring about those feelings varies according to each child's temperament, behavior, needs. Through our virtual programming for both teachers and parents, our relationship-based approach that is already key to our programming was ramped up to identify, acknowledge, and attend to children's emotions. 
Stephen P.  Zwolak
Stephen P. Zwolak is the Executive Director of University City Children's Center in St. Louis, Missouri.