NAEYC Members Discuss Alternatives to Calendar Time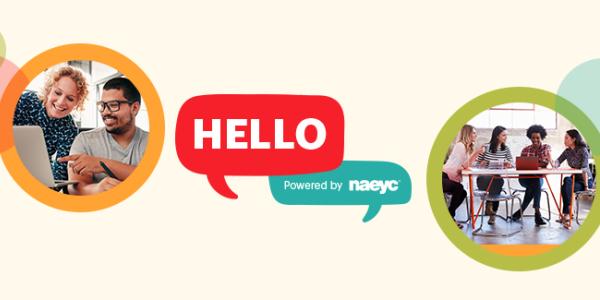 NAEYC's new community platform has been live for just 3 months and already, it is emerging into a thoughtful community for early childhood educators to engage and connect with their peers. Every month we highlight an important or popular discussion that catches our eye on Hello.
What began as a question about how educators have moved away from focusing on the weather and the calendar in morning routines has since become Hello's most active thread (except for our Introduce Yourself thread of course!). Here we take a look at some of the discussion that went on in that thread.
For many, the calendar is a staple of the morning routine. However, NAEYC member Rosalie discusses how she opted out of calendar time and turned to the Hello community to see if others had done the same. She asked the following:
Hello to all the early childhood professionals out there. I am curious how many of you out there have made the transition away from doing the calendar and weather as the staple morning meeting learning experience?  I have been in the field for 17 years and for all of this time I have been working diligently to inform my staff and students that doing the calendar every single day is quite limiting and there are other endless possibilities to what can transpire at morning meeting. As someone who supports project work, emergent curriculum, and Reggio Emilia, I am struggling daily with the idea that we just can't seem to kick this part of morning meeting. I do not mean to offend anyone out there who is doing the calendar. I invite you to enter into this dialogue with an open mind and heart. Would love to hear from others who have taken the leap and introduced varied learning experiences at morning meeting. I need to know I am not alone!!!
Many Hello community members chimed in to discuss how they too have moved away from calendar time. Soon after, the conversation delved deeper into why perhaps there are better ways to support children's learning other than focusing on the calendar. Hello member Susan from Massachusetts weighed in:
Developmentally, children are not ready for abstract thought, they live in the here and now and are concrete thinkers. Concepts such as time are very difficult for young children to grasp.  Group time has tremendous opportunity for learning, and yes children love repetition because that is one of the ways they learn concepts (how many of us in the field have read the same book over and over!), but the calendar is not the best use of creating a environment for learning. Personally I value, song, book reading, and discussion about topics that are relevant to the children in our class.
Gina from Wisconsin contributed further to the conversation by sharing a TYC article that questions the usefulness of calendar time and offers detailed alternatives for educators.
I appreciated this discussion very much. Rote memorization learning has always been a pet peeve of mine. Asking a colleague WHY he/she continues to use a specific routine and getting the reply... well, that's what has always been done... sends me through the roof. Whenever the calendar routine discussion emerges, I like to share a great article that explains so simply WHY calendar concepts are not meaningful to the little people of the world. Hope you enjoy it! https://www.naeyc.org/sites/default/files/globally-shared/downloads/PDFs...
However in many classrooms, routines such as calendar time are not only required, but part of long standing norms. Another Hello member Maria, shared her perspective of one such situation, and how she makes the most of calendar time at her program.
While I totally agree with you, I still do the calendar due to the fact that my Pre-k program is part of the district and it is expected. While this is an expectation, I take it as a positive tool, I could do a quick Math concept, today is, so yesterday was, and to morrow is....
While I do not agree with the mandates from the district, I pick and chose my battles. For example, I follow the project Base Approach which totally contradicts what "they" believe, but I am able to articulate the purpose while I also demonstrate that I am doing the basics that are required by them.
Conversations like these demonstrate how topics that individual educators wonder about can lead to multifaceted discussions, valuable to a wide range of educators. This is just one of the many discussions happening in Hello right now.
Check out these other trending topics:
If you haven't already, now is the perfect time to get started. Visit hello.Naeyc.org/welcomehello today!
Gilmar Rosas
Gilmar Rosas is Community Manager at NAEYC.