Anti-Bias Education in Action: One Center's Journey to Learn and Teach an Anti-Bias Curriculum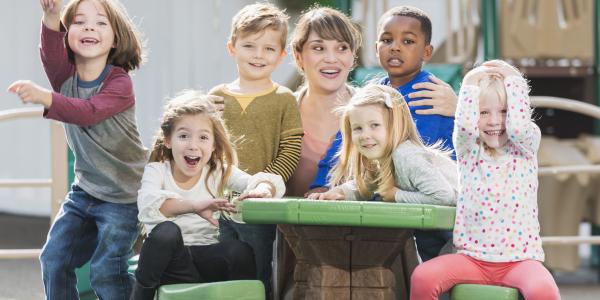 Three years ago, the Child Care Center at Hort Woods made a formal commitment to teaching anti-bias education. Center leaders and teachers recognized that an anti-bias program was one way of helping the 170 children who attend the center, as well as their families, feel more welcome.
Everyone feeling welcome was an important goal for the center. Approximately a third of the children served at Hort Woods' are people of color. At the same time, Hort Woods educators valued what an anti-bias program could do for the many white children at the center who, growing up in a largely white part of central Pennsylvania, had few opportunities to engage with non-white communities.
Educators at Hort Woods also sought to understand and affirm the many other ways in which children and families are different, including gender, religion, economic class, physical ability, and native language.
Based on these ambitions, Hort Woods established three goals for diversity and inclusion:
Work to understand, respect, and accept people who are different from us.
We will speak out about bias and prejudice when we encounter it and build an inclusive community where all feel welcomed and valued.
We will create intentional and responsive anti-bias curriculum that is developmentally appropriate, provides multiple perspectives, and helps children learn to reject stereotypes.
Over the past three years, Hort Woods' efforts to help young children respect all people and speak out against prejudice have been filled with successes, challenges, and questions. In this blog post, two educators share their experiences. They offer practical examples and honest reflections about their anti-bias work, with the hope that their stories can help other educators learn more about what anti-bias education can look like with young children.
Jenn Hooven – Supervising Teacher, Preschool Classroom (ages 3-5)

Jenn believes that all parts of a child's identity, from their race to the way they express their gender, "are pieces of the puzzle of who you are, and in order to best support a child to learn and grow the best way they can, you have to recognize them for all the pieces that they are."
Jenn wants kids to view each piece of who they are positively. For example, she knows that some kids in her class come from families of lower socio-economic status, and so she intentionally uses language and play to frame parts of these families' lifestyles in positive ways. When playing with a doll, for instance, she pretends the doll lives in an apartment, and talks about how fun it is for the doll to have so many friends who live right down the hall from her.
While Jenn wants children to view their differences positively, she also wants them to understand that some people have been discriminated against because of their differences. Prejudice is a big concept for young kids, and Jenn has learned how to help them understand it. "We use simplified language," she explains. "To talk about marginalized groups, we say that these people are not listened to, and some people think their ideas are not good or important. But we know that all people have good ideas and all people need to be heard, so talking about it that way helps kids understand and have empathy for marginalized people."
Jenn shares this language with families too, and encourages them to use simplified terms when talking to their kids at home. Jenn also shares information about her anti-bias curriculum to help families feel more comfortable with what children are learning, and to prepare them to respond to questions children might ask at home about diversity or bias. For example, in a recent letter to families, Jenn writes:
I'm sure our families hear their children using new words and phrases at home all the time! This month some of the new words might have been "fairness", "white people", "Black people", "peaceful", "Martin Luther King", "Ruby Bridges", "Rosa Parks" or "keeping people out". These are just some of the words I use when I talk with the children about the topics of social justice, segregation, and change making. This month we learned about the MLK holiday and standing up for change by reading books about MLK as well as focusing on other "leaders" who did the same kind of "work" or "problem solving". I use these simplified terms because they are words that many children understand and have experience hearing in the classroom setting…Families can also support this learning at home by using the same words when discussing social justice issues or leaders. I am hopeful that together we can begin to build the foundations of learning that support the children to stand up for fairness and make everyone feel welcome and valued at school.
Jenn also helps kids understand the concept of prejudice by connecting it to familiar experiences. For example, she often uses the idea of fairness as an entry point for talking about justice. "Kids this age constantly call out things that are unfair," Jenn explains. "To give them an emotional connection to the topic of anti-bias education or advocacy or understanding people who have been marginalized, you can talk to them about things that have happened to them that are unfair, and it can create a sense of understanding."
Though Jenn says she makes it clear that being told you can't go down the playground slide is not the same thing as being told you can't vote, for example, framing anti-bias education through the lens of fairness "gives kids something they can relate to."
"Sometimes I see my job as being a translator for small children," Jenn adds. "I kind of translate some of these big ideas and distill them down into issues of fairness – People have been kept out, they haven't been listened to, their ideas aren't considered important, and that unfairness still continues today."
And while Jenn thinks it's important that children understand issues of injustice, including those happening in the present, she doesn't stop there. She wants children to also understand that they can stand up to injustice through activism.
An example of classroom activism occurred last year when a child noticed that almost all of the teachers at Hort Woods were white. He wondered why there weren't more Black or [Latino] teachers. In a letter to families describing the event, Jenn explains, "This was a big moment full of possibility and questions…We chose to look at the situation as an opportunity to teach the children about advocacy. This is their school after all, and they deserve to feel represented by the teachers they love so dearly."
Together, the class looked at examples of advocacy in history, like when activists wrote letters or participated in marches. They learned the meaning of the word "representation", and found an example of "big kids" advocating for integration and representation in the New York school system. After discussing these examples, the class decided to write a letter to Hort Woods leaders to share their opinions.
Cassie Vomero – Teacher, Preschool Classroom (ages 3-5)

For Cassie, the entry point to anti-bias education is through families. "First and foremost, we always reach out to the families to see what they can share with us," she explains.
For example, a child and her mother, who are from Ghana, talked about their native foods and showed the class how to make plantain chips. Cassie and her co-teachers then built on this lesson by teaching kids about Kente cloth. They read the book Kente Colors by Debbi Chocolate, made their own stamps inspired by Kente prints, and stamped fabric with paint to create their own Kente cloths. Cassie and her team invited an African American teacher from another class to show children how she wraps her hair in Kente cloth, and another teacher sewed the class' Kente clothes into vests for kids to wear during dramatic play.
Another time, a child and her family shared their Jewish faith by reading a book about Hanukkah and teaching the class dreidel games. The same family is now working with Cassie and other teachers to plan a classroom visit for the child's grandpa, who is married to a man, to talk about what love looks like in their family. Cassie believes that these kinds of lessons are "celebrations", and help show kids that all families are special.
Cassie also wants her students to understand that "anyone can do anything". Throughout her lessons, she showcases examples of diverse role models so children can see that people of all genders, races, etc. make important contributions. For example, when the class was creating color block artwork, Cassie intentionally showed children paintings by Alma Thomas, who was the first Black woman to have her art displayed at the Whitney Museum in New York City. In a unit on architecture, Cassie showed children structures by Maya Lin, the woman who designed the Vietnam Memorial.
Challenges, Questions, and Moving Forward

Jenn believes that teaching an anti-bias curriculum requires preparation. She says teachers need to familiarize themselves with history, as well as current day statistics, so they know who is being marginalized. She also insists that self-reflection is critical for doing anti-bias work: "Anti-bias education is about coming to a place of understanding yourself and then really being able to think deeply and creatively about creating a space for children where they are allowed to understand themselves too and feel a part of the community."
Jenn admits that finding the time to do all this can be hard, especially in a profession like early childhood education where teachers have so many obligations.
For Cassie, a challenge in her work is recognizing that different people have different belief systems and expectations around what topics are appropriate for young children. "I don't want family members, or even other teachers, to feel uncomfortable about anything I'm doing", she says. Cassie also feels like she has a lot more to learn, and sometimes hesitates to talk about topics she's unfamiliar with, like gender identity and different world religions.
Both Cassie and Jenn say their next steps for moving forward in anti-bias education include learning from other preschool teachers who are doing anti-bias work, continuing to learn about kids and their families, and trying out new lessons in their classrooms.
---
Want to gain deeper knowledge about anti-bias and equity and diversity education? The draft position statement, Advancing Equity in Early Childhood Education, is a great place to start! You can also learn about other NAEYC diversity initiatives and find lots of great content about these issues on the Equity Initiative page.
Both Cassie and Jenn started by reading Anti-Bias Education for Young Children and Ourselves, a NAEYC publication written by Louise Derman-Sparks and Julie Olsen Edwards. Hort Woods also uses resources from Penn State's Center for Education and Civil Rights, Teaching Tolerance, and Embrace Race.
Karen Babbs Hollett
Karen Babbs Hollett is a former kindergarten teacher, instructional coach, and director at a state department of education. She currently studies issues of equity in early childhood education at Penn State University.