Our Child Care Crisis is the Result of Underinvestment, not Overregulation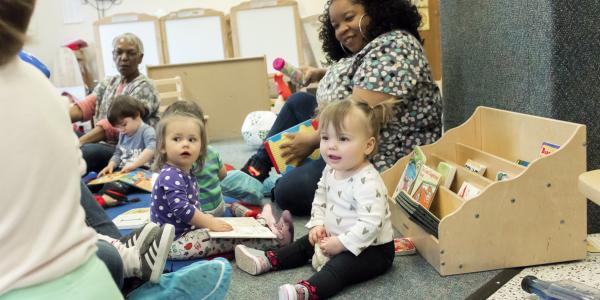 NAEYC, Center for American Progress
New research finds no correlation between state regulations and child care supply. Rather than rolling back necessary regulations, increasing public investment in child care is the key to building quality child care supply and improving affordability.
Introduction
All across the country, there is growing, bipartisan agreement around the urgent need to ensure that families have the opportunity to choose between quality child care settings, which they can afford, and in which their children are safe, healthy, and learning. From the Democratic debate stage to the White House Council of Economic Advisors' report, policymakers are highlighting the ways in which the limited availability and high expenses of child care prevent children from having opportunities to thrive in their earliest years; keep women out of the workforce; burden family finances; and stall the broader economy. Some choose to blame regulations for the existence of this broken market. Yet new analysis from the Center for American Progress and the National Association for the Education of Young Children (NAEYC) finds no correlation between the strictness of state regulations and state levels of child care supply. Furthermore, other research has shown that regulations provide important safety protections for children and uphold the quality of early education and care.
Methodology
Researchers examined how state regulations in all 50 states correlate with child care supply shortages. To do so, state regulations were scored on four data points: (1) teacher to child ratios, (2) group sizes, (3) minimum number of children at which point licensing is mandatory, and (4) teacher and director qualification requirements. The stricter a regulation, the higher its assigned score. The following scatterplot demonstrates the weak relationship between state regulation scores and ratio of licensed care supply to children under 5.
Perhaps this looks to you like random dots on some lines - and it should! That's because there is no pattern. In other words, our research found no correlation between the state regulations we examined and child care supply in the state. Idaho and Massachusetts, for example, have nearly the same measure of child care supply (approximately 2.7 children per licensed child care slot) despite dramatically different regulatory scores. Additionally, none of the individual factors that contributed to the overall regulation score have a statistically significant impact on the supply of child care slots. While a wide array of factors affect child care supply, these results indicate that more stringent regulation is unlikely to have a large impact on child care supply.
Opportunities for regulatory changes
Regulations that are sometimes targeted as burdensome, such as staff-to-child ratios, are crucial elements of program quality and safety. Meaningful interaction between children and the adults who care for and educate them is a central component of early childhood development, and we know too much about the importance of children's development in the early years - not to mention what can happen when children are left in unsafe environments - to ignore the benefits of a market with strong regulations.
However, there can be opportunities to loosen regulations in order to build supply and reduce costs with minimal downside. For example, Arlington, VA relaxed zoning regulations such as minimum parking requirements for child care facilities, and California passed SB 234, exempting large family child care homes from restrictive local zoning ordinances that make it more difficult and expensive for individuals to operate or expand programs.
Supporting Providers
At the same time, states can also do more to help educators across settings meet licensing standards, by providing supports such as covering the expenses of attending trainings and easing paperwork requirements. The supports offered through Washington's Early Achievers program, including free training and technical assistance to providers, grants to help programs make quality improvements, and scholarships to support early educators' professional development provide one such example.
The need for public investment
One indisputable problem contributing to the shortage of child care and the lack of affordability for families, is the lack of adequate funding. High-quality child care is resource-intensive, which comes with a cost; providing it shouldn't be cheap! Unfortunately, this cost is more than most working families can afford, and far beyond what most states reimburse providers who participate in the child care subsidy system. On average, infant care costs 60% more to provide than pre-K, yet subsidy rates are just 27% higher. This is an unsustainable model for those working in child care settings, especially when preschoolers are served in a separate setting. The consequences of this broken market have played out in states across the nation, where families are losing access to already-precious child care slots for infants and toddlers because low payment rates are driving providers away. In order to ensure child care is available and affordable, subsidy and provider reimbursement rates must reflect the cost of providing quality care.
Rhetoric about cutting costs of child care ignores what cutting those costs would mean within the business model of child care. Provider compensation accounts for almost 70% of the cost of providing infant child care, yet early childhood educators are dramatically underpaid. The average child care educator makes just $10.72 per hour, less than half of their counterparts in K-12 education. CAP analysis found that states with the lowest child care prices are also the states in which providers earn the least. The child care system cannot thrive while operating at the expense of underpaid professionals, many of whom are leaving the field because they can't afford to stay. Increasing salaries for providers would raise costs but is necessary to increase supply, address the well-being of providers, and improve the quality of care for children. The problem is not the cost of providing care, but that unlike in the K-12 education system or the ECE system in many other countries, parents in the U.S. must shoulder the brunt of the cost. The only solution is to increase public investment in child care.
Conclusion
Increasing bipartisan attention on the issues of child care shortages and affordability is promising. However, it's important to pursue policy solutions that will effectively address these problems without jeopardizing children's safety or access to quality. Regulations promote safety and quality in child care providers and do not correlate to a reduced supply of child care. Lowering the bar on child care by rolling back regulations in an attempt to solve the challenges of supply is misguided and will lead parents to choose between safe child care and affordable child care, compromising quality and harming children and families in the short and long term.
Some states and localities can find opportunities to adapt regulatory structures in support of a professional workforce, but those fixes won't address the scale and urgency of limited quality, high child care prices, and child care deserts. Solving our child care crisis will require a large-scale public investment that allows educators to stay afloat, and help children thrive, without asking more of already overburdened parents.
---
1 Child Care Aware of America also provided guidance on the methodology.
2 Information about state regulations was collected from the most recent state licensing requirements listed online. The scoring was based on the minimum statewide standard for licensing and did not factor in differing licensing standards for cities or programs within states. Center-based and home-based regulations were examined and scored differently, except in states where no distinction was made in licensing requirements. The total regulation score used here adds center and home regulation scores. When unable to find a state's policy on a regulation category, it was given the least strict rating for that category. Further analysis and explanation of the methodology used will be included in a Center for American Progress report to be released later this year. Please contact the authors for more information or questions about methodology and scoring. Child care supply numbers used here are from the data included in https://childcaredeserts.org/, collected in 2018.
NAEYC
The National Association for the Education of Young Children (NAEYC) is a professional membership organization that works to promote high-quality early learning for all young children, birth through age 8, by connecting early childhood practice, policy, and research. We advance a diverse, dynamic early childhood profession and support all who care for, educate, and work on behalf of young children. The association comprises nearly 60,000 individual members of the early childhood community and more than 50 Affiliates, all committed to delivering on the promise of high-quality early learning. Together, we work to achieve a collective vision: that all young children thrive and learn in a society dedicated to ensuring they reach their full potential.
Center for American Progress
The Center for American Progress is an independent nonpartisan policy institute that is dedicated to improving the lives of all Americans, through bold, progressive ideas, as well as strong leadership and concerted action. Our aim is not just to change the conversation, but to change the country.