Empowering Refugee Parents, Educating Little Learners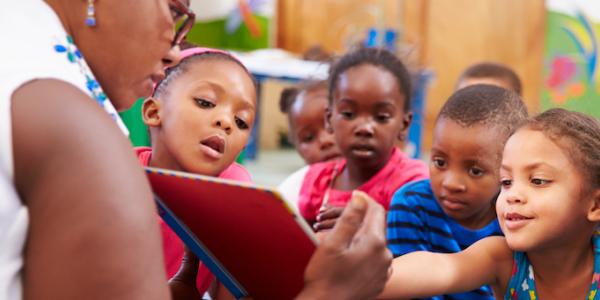 According to the United Nations High Commissioner for Refugees (UNHCR), there are over 25 million refugees throughout the world—over half of whom are children under the age of 18. There has never been a greater need for investment in quality early childhood education worldwide, but for children who have been displaced from their homes due to violence and hardship, the need for quality support is especially crucial. Significant progress is already being made— such as the selection of Sesame Workshop and International Rescue Committee for the groundbreaking 100&Change grant to bring early childhood education to Syrian refugees—but more needs to be done to reach children throughout Africa, Asia, and Latin America who are equally as vulnerable.
As the field of early childhood education looks to the future of preschool for children who are refugees, there are three key programming components that should be seen as best practices for the field moving forward. 
1. Refugee-led programming. It may seem like a no-brainer, but refugees leading their own early childhood programs is essential. However, this is difficult to achieve. If you think about the experiences of migrants from Central America in the US, for example, there are several clear barriers to refugee- or migrant-led programming: language differences, cultural stigma, and lack of training, access to funding or program resources like curriculum, and organizational or agency support. We need to work to overcome these barriers by providing training pathways, organizational supports, and resources to allow families who are refugees to lead their children and communities into the future.
2. Parent and family supports. As we've learned through programs like Head Start in the US, vulnerable families are more likely to succeed when children and families are supported through early childhood programs. Two-generational programming, whether it be economic support for mothers, parenting or language classes for family members, psychosocial (counseling) or group support, is essential for families who are refugees, and it shouldn't be an afterthought but a core component of a successful program.
3. Emphasis on social and emotional learning. For children who have faced significant past or ongoing trauma, focusing early childhood education programming on social and emotional skills is absolutely essential: when children are given the foundational social and emotional skills they need to become resilient in the face of difficult circumstances, they have a real chance to succeed in both school and in life.
In the field of refugee education, work is just beginning to help expand access to quality early childhood programs—many small programs are cropping up in camps and cities where refugees live, with little connection to the lessons learned by other early childhood communities around the world. At a minimum, by setting these three components as the foundation of any early childhood program serving migrant or refugee populations, we would be on the right path to supporting the healthy development of refugee families for the future.
Aimée Vachon
Aimée Vachon is a freelance international early childhood consultant. A passionate advocate for the potential of the early childhood years, Aimee has worked with early childhood programs and NGOs in Egypt, Rwanda, and the United States on teacher training, curriculum, and program administration.