Ambas opciones son válidas: Cómo utilizar las aplicaciones de ciencias para niños para favorecer el aprendizaje práctico y digital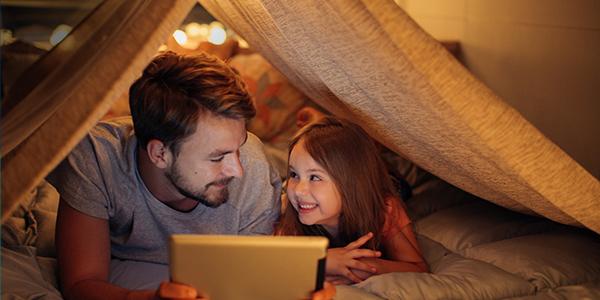 Cindy Hoisington, Claire Christensen
Como padres o cuidadores de niños pequeños (entre 3 y 5 años), puede ser difícil saber cuáles aplicaciones contribuirán realmente a su comprensión y habilidades emergentes en ciencias. Algunas investigaciones indican que muchos padres también tienen dudas con respecto a qué tipo de ciencia tienen acceso los niños y cómo facilitar su capacidad de juego de tal manera que se fomente su exploración en el tema.
Lo más recomendable para abordar esto es buscar aplicaciones de ciencias que fomenten su aprendizaje a través de juegos digitales y experiencias lúdicas del mundo real.  ¿Por qué incluir actividades prácticas en una aplicación? Se ha demostrado que las oportunidades para investigar objetos y materiales en el mundo real son vitales para formar las habilidades y el conocimiento básicos de los niños en ciencias, así como para contribuir a sus actitudes positivas hacia el tema.
En nuestra investigación, pudimos investigar la aplicación Play and Learn Science de PBS KIDS con la ayuda de 32 familias que tenían al menos un hijo de 3, 4 o 5 años. Solicitamos a los padres que utilizaran los recursos de la aplicación con sus hijos durante cuatro semanas, dedicándose a un tema por semana (combinamos Prepárate y Control del clima). También invitamos a las familias a participar en dos eventos de ciencias para que conocieran los recursos de la aplicación; ayudarlas en su interacción durante los juegos digitales; así como para que fueran parte de diferentes actividades y exploraciones en el tema que pudieran hacer todos juntos en casa.
Lo que aprendimos

Descubrimos que la aplicación, junto con los apoyos que brindamos durante el estudio, influyó de manera positiva en el aprendizaje de ciencias de los niños, así como en su uso de vocabulario relativo al tema. Puede obtenerse más información acerca de los resultados aquí.
A medida que reflexionamos sobre nuestra experiencia trabajando con las familias durante el estudio, también determinamos que cinco estrategias fueron especialmente útiles para promover este aprendizaje:
Involúcrense en los juegos digitales con sus hijos. Pueden impulsar el aprendizaje de medios educativos interactuando con ellos cuando juegan. Además, es una excelente manera de demostrarles que valoran sus intereses e ideas. En nuestro estudio, los padres casi siempre se sorprendían al observar las preferencias definidas de sus hijos de un juego con respecto a otro, así como sus habilidades para jugar.
Observen los juegos prácticos e independientes. Al observar los juegos continuos de sus hijos con materiales cotidianos, pueden tener la oportunidad de conocer sus habilidades e intereses.  Descubrimos que los padres se sorprendían con la perseverancia y la creatividad de los niños cuando realizaban tareas lúdicas que les interesaban, como construir rampas de cartón para pelotas o hacer botes de papel de aluminio que flotaran. Mediante la observación de sus hijos, pueden obtener información acerca de lo que saben y son capaces de hacer que aún no pueden expresar verbalmente.
Hagan preguntas que fomenten la exploración e indagación. Pueden fomentar las capacidades de exploración digital y en el mundo real de sus hijos centrándose en preguntas que promuevan indagar y pensar en lugar de aquellas que sugieran respuestas correctas. En los juegos de sombras o exploraciones prácticas con linternas, los padres del estudio probaron con preguntas como ¿De qué manera piensan que la sombra cambiará cuando mueven la linterna? en lugar de preguntas del tipo ¿Qué es una sombra? Se impresionaron con las excelentes ideas de sus hijos, así como de las justificaciones que dieron.

Hagan vínculos entre las experiencias digitales y del mundo real. Estos vínculos pueden parecer obvios para los adultos, pero los niños se benefician cuando los hacemos explícitos. Ayuden a sus hijos a entender cómo los juegos digitales se relacionan con los fenómenos del mundo real y hablen de estos vínculos en casa y en su comunidad. La sección "Padres" de la aplicación incluye muchas ideas para hacerlo. Una mamá del estudio nos comentó que, después jugar Rampa y rueda, motivó a su hijo a probar su pelota en distintos toboganes en el parque. Se mostraba entusiasmado por enfrentar este desafío y descubrir que el más inclinado hacía que la pelota rodara más rápido, ¡tal como en el juego!

Repitan las exploraciones interesantes. Los niños aprenden interactuando con contenido similar de manera continua y en diferentes entornos. Por ejemplo, los padres indicaron que sus hijos disfrutaban hundir y hacer flotar una y otra vez distintos elementos en los juegos digitales, ya sea en la tina, en el lavabo de la cocina y en cualquier otro lugar donde hubiera agua. Repetir actividades similares en distintos contextos les ayuda a comprender mejor qué hacen los objetos y cómo funcionan.
Lo que las familias saben acerca de la ciencia es menos importante que cómo observan y motivan a sus hijos, e involucran con ellos, durante sus juegos de ciencias digitales y del mundo real. Esperamos que los recursos de calidad, como la aplicación Play and Learn Science de PBS KIDS, puedan contribuir a la exploración, interacción y diálogo en familia, así como ayudar a los padres a sentirse con más confianza y soltura al promover el aprendizaje temprano de ciencias en sus hijos.
La aplicación Play and Learn Science de PBS KIDS

La aplicación Play and Learn Science de PBS KIDS incluye recursos digitales y prácticos sobre cinco temas de ciencias físicas, descritos a continuación. Además de actividades para los niños, también hay recursos para ayudar a los padres a facilitarles los juegos digitales y prácticos.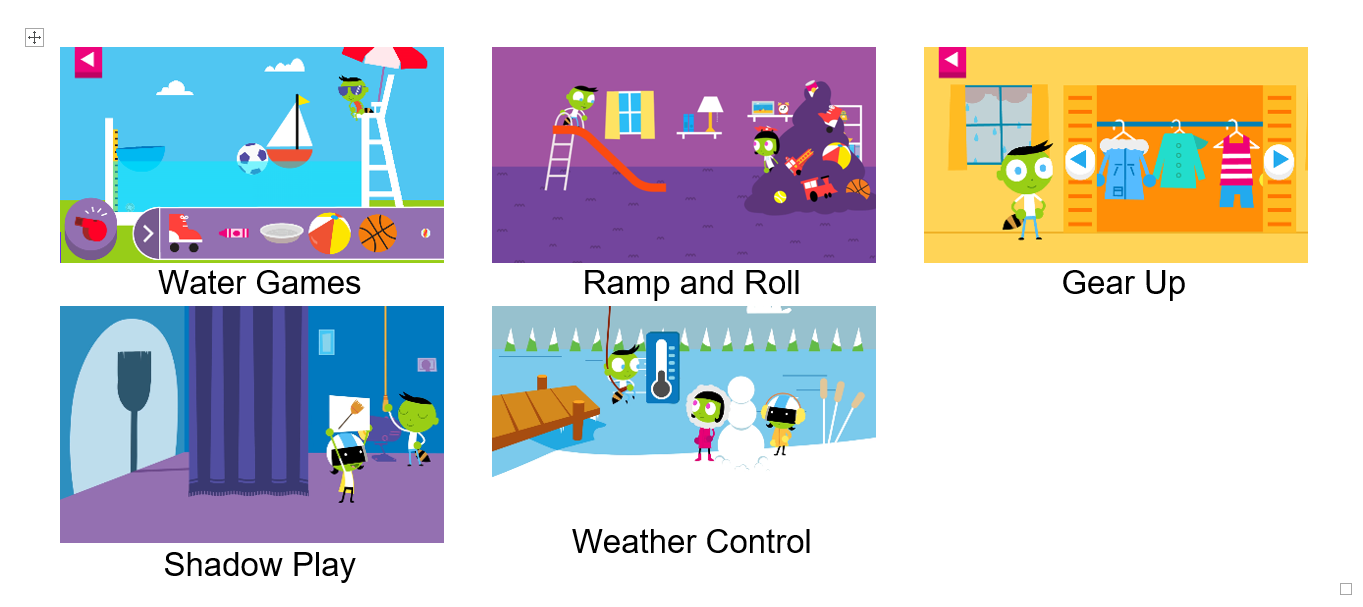 (De izquierda a derecha:)
Juegos relacionados con agua
Rampa y rueda
Prepárate
Juego de sombras
Control del clima

El tema en la aplicación incluye tres juegos digitales en vivo para niños y diversos recursos para padres y familias, tales como:
Información acerca de la importancia de la ciencia para los niños pequeños
Consejos para interactuar y hablar con los hijos cuando juegan
Vínculos entre la ciencia y los juegos con experiencias del mundo real
Actividades prácticas con materiales cotidianos sencillos para hacer ciencia
Sugerencias de libros para niños sobre cada tema
Una revista digital que ayuda a los padres a promover el pensamiento científico de sus hijos
---
Referencias
Anderson, Huston, Schmitt, Linebarger, & Wright, 2001; Fisch, Truglio, & Cole, 1999; Hurwitz, 2018; Moorthy et al., 2013; Pasnik, 2018; Rideout, 2017; Schmidt & Anderson, 2006
 Kirkorian, Wartella, & Anderson, 2008
Vom Orde, 2012; Wainwright, 2006; Kucirkova, Sheehy, and Messer, 2015; Alade & Nathanson, 2016; Donohue, 2017
Vom Orde, 2012; Mares, 2016; Skouteris & Kelly, 2006
---
La traducción de este documento ha sido elaborado en el marco de un acuerdo cooperativo (PR/Award no. U295A150003, CFDA Nº 84.295A) del Departamento de Educación de Estados Unidos. No obstante, este contenido no representa necesariamente la política del Departamento de Educación, y usted no debe asumir el aval por parte del Gobierno Federal.
Cindy Hoisington
Cindy Hoisington is an EC science educator and Project Director at the Education Development Center where she designs and develops STEM professional learning, curriculum, and resources for educators and families aimed at enriching the quality of children's early science and language experiences with a focus on multilingual learners.
Claire Christensen
Claire Christensen is an education researcher at SRI International in the Center for Learning and Development. She conducts research and program evaluations on educational media for young children. She is particularly interested in media's potential to promote social-emotional learning and STEM skills. She earned her Ph.D. in community and prevention research from the University of Illinois at Chicago.