Gimnasio para caracoles: aprendiendo con gusto recreativo en el salón de kínder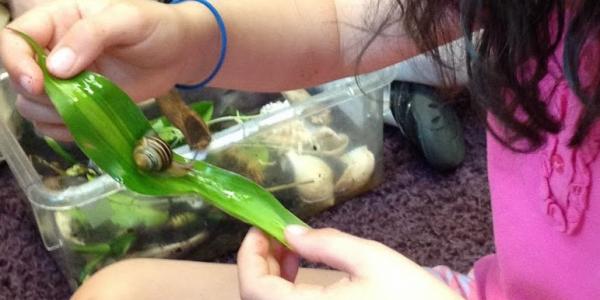 La energía en el "rincón de la naturaleza" es palpable el día de hoy durante el tiempo para actividades optativas en mi grupo de kínder. Seis niños eligieron limpiar el tanque de los caracoles, que es una de sus actividades semanales favoritas. Escucho su diálogo a medida que deciden qué diseño le darán al tanque esta semana.

Annie: ¡Miren allá! Los caracoles están dando vueltas y vueltas, rodeando la rama.
 

Sophie: Les gusta trepar.
 

Jessie: Hagamos un pequeño gimnasio para ellos.
 

Maestra: ¿Un gimnasio?

 

Jessie: Un gimnasio para caracoles.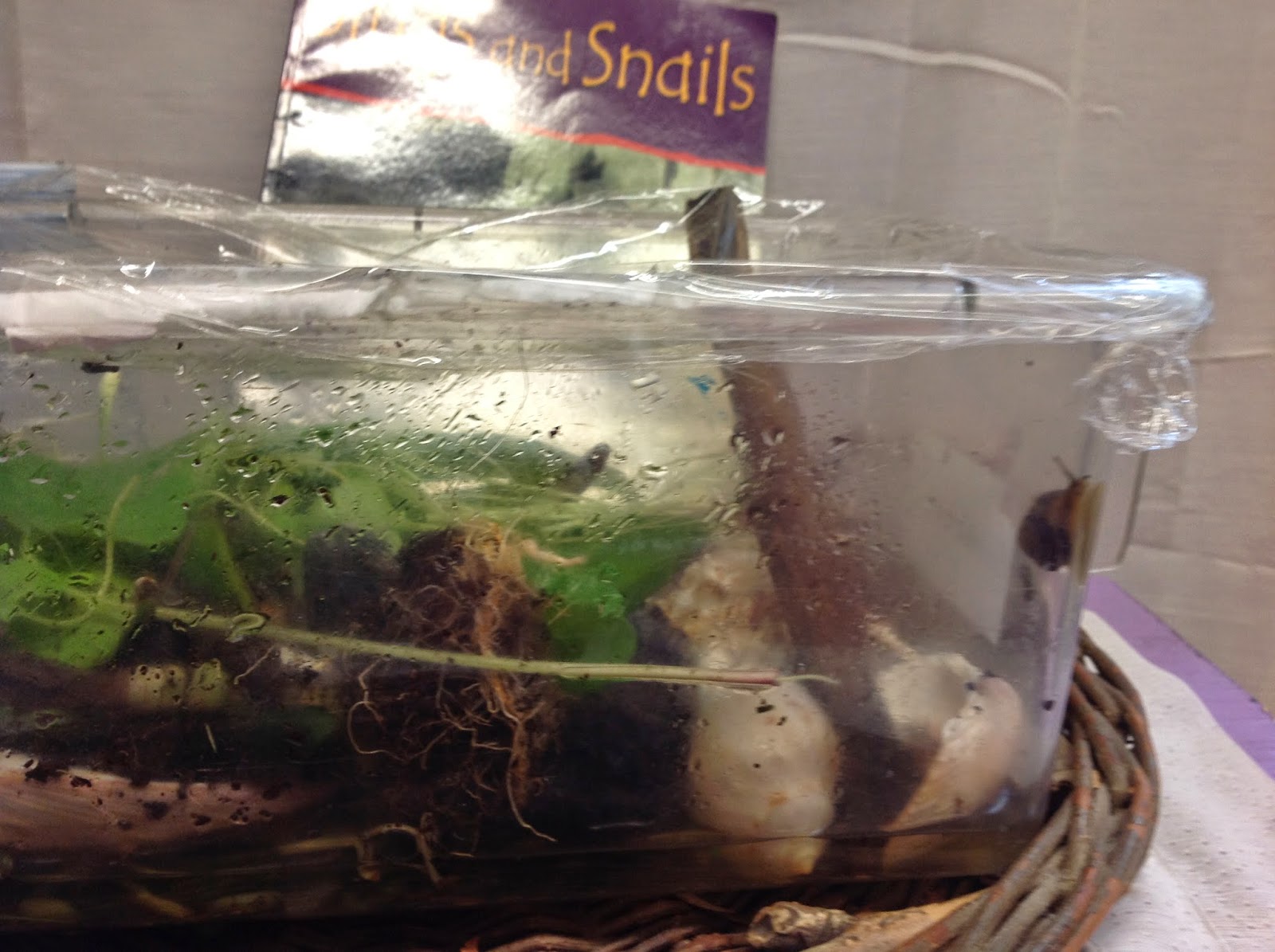 Los niños quieren diseñar un gimnasio de 2 lados para los caracoles. En un lado colocarán hojas suaves y tierra y, en el otro, objetos para trepar, como ramas grandes y pequeñas y piedras. A medida que los niños intercambian ideas, buscan entre los materiales y van considerando cómo cada uno de ellos contribuye a hacer un mejor gimnasio.

Mason: Podríamos hacerles una resbaladilla con palitos secos.
 

Annie: Y colocar hojas debajo de ella. Así, si se caen, no se lastimarán.



Sophie: Podríamos poner hojas y plantas en un lado, y cáscaras y palitos en el otro lado.
 

Annie: Sí, en un lado jugarán. En el otro, comerán.

Proporcioné a los niños papel y lápices de colores para que dibujaran detalladamente el diseño del tanque. Tras ponerse de acuerdo sobre los materiales que utilizarían, empezaron a construirlo Cuando se terminó el tiempo, compartieron su avance orgullosamente con el resto del grupo.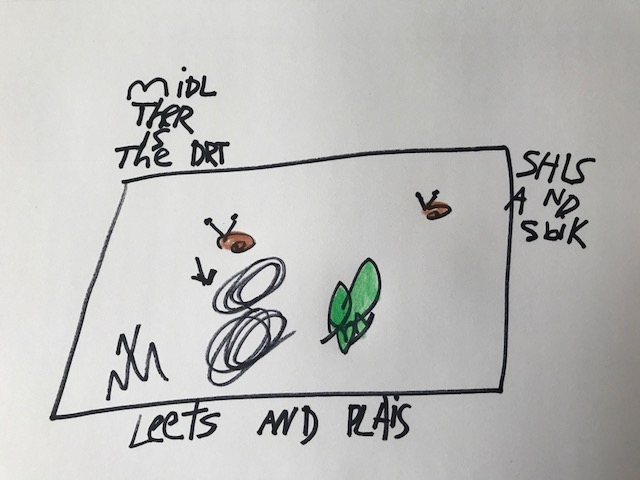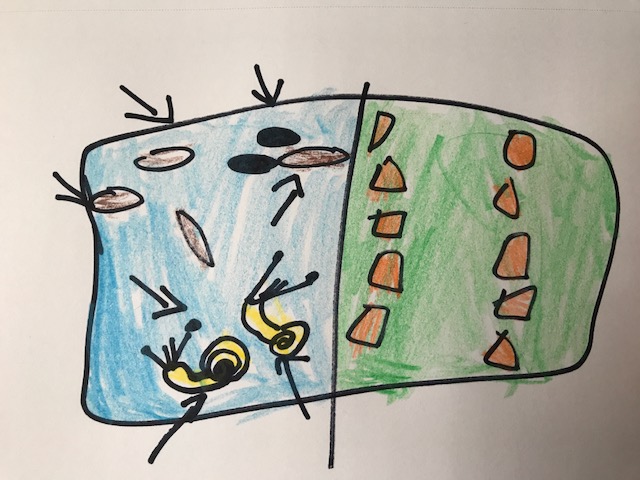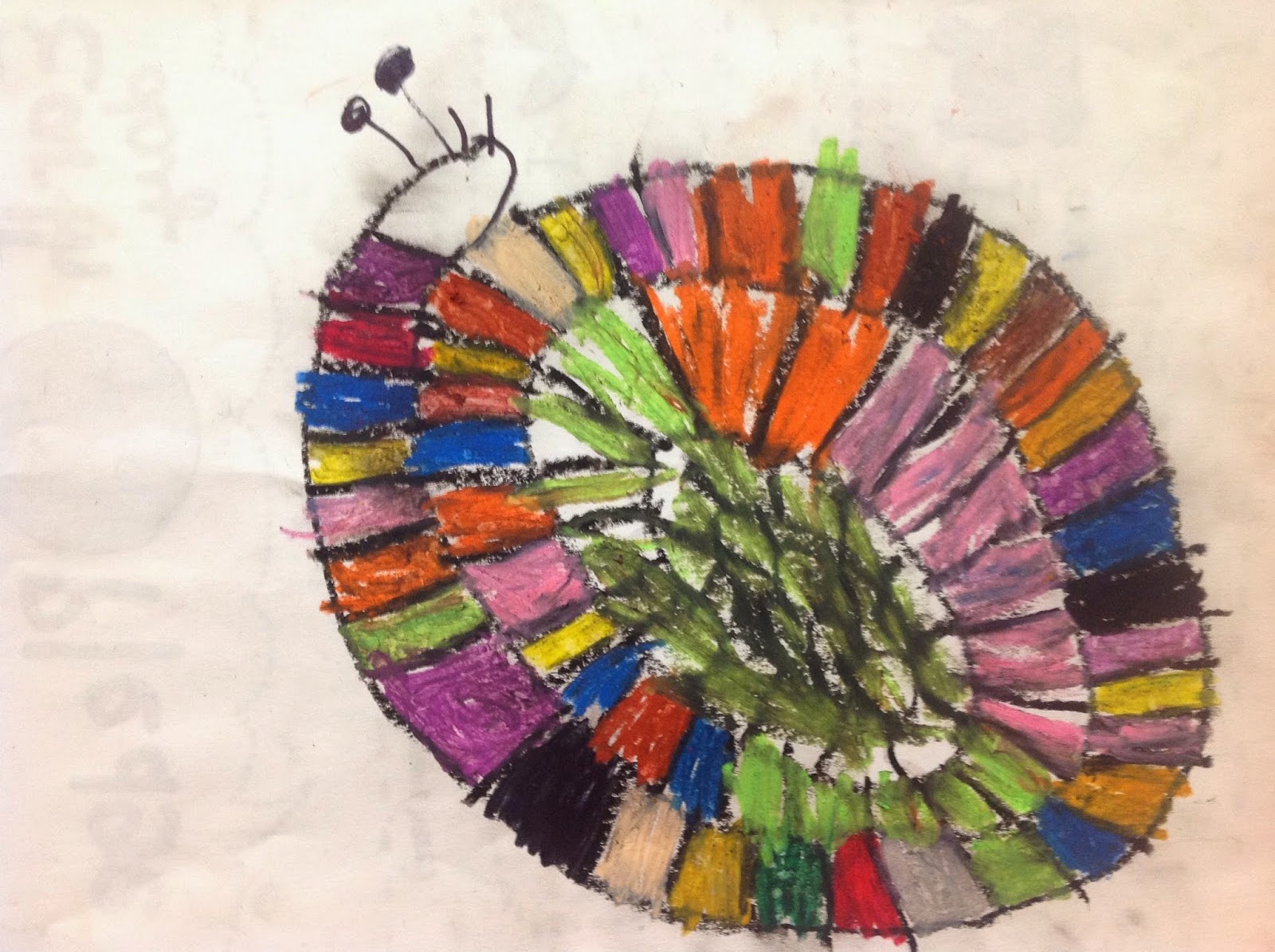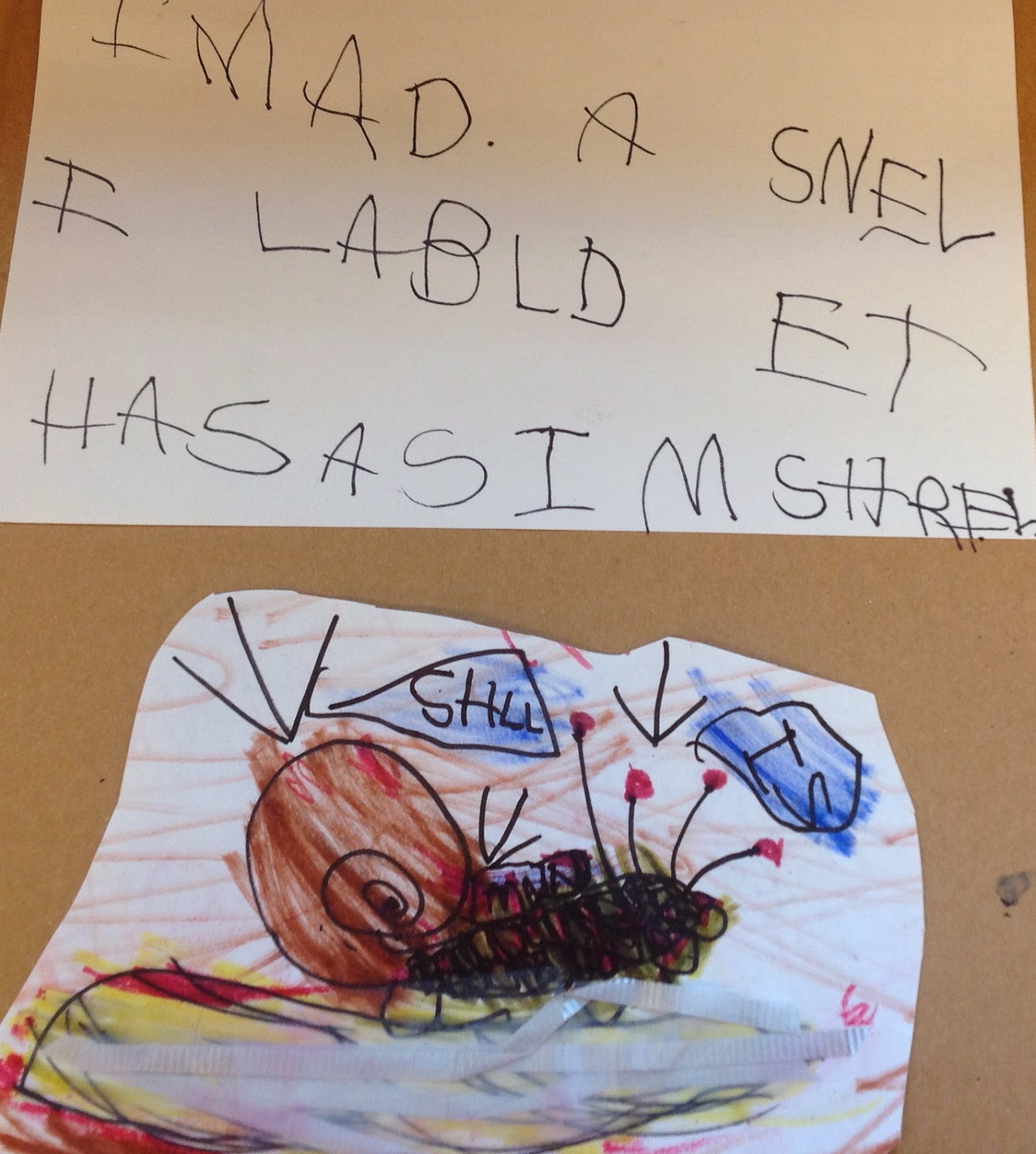 ---
A los niños de kínder se les fomenta el gusto por el aprendizaje cuando tomamos en cuenta su identidad e intereses. Los dibujos anteriores ponen de relieve la profundidad del aprendizaje que se da en los niños cuando los maestros los observan de manera estratégica en su clase, escuchan sus ideas y conversaciones y alientan y validan sus aportes. En nuestro ejemplo, la tarea rutinaria de limpiar el tanque se convirtió en un proyecto emocionante para los niños que requirió trabajo en equipo. Los niños realmente se interesaron por aprender, ya que la idea del gimnasio surgió de sus conversaciones y cuestionamientos. Al ser yo la maestra y dar seguimiento y documentar estos diálogos, me propuse validar las ideas de los niños y fomentar el aprendizaje en grupo.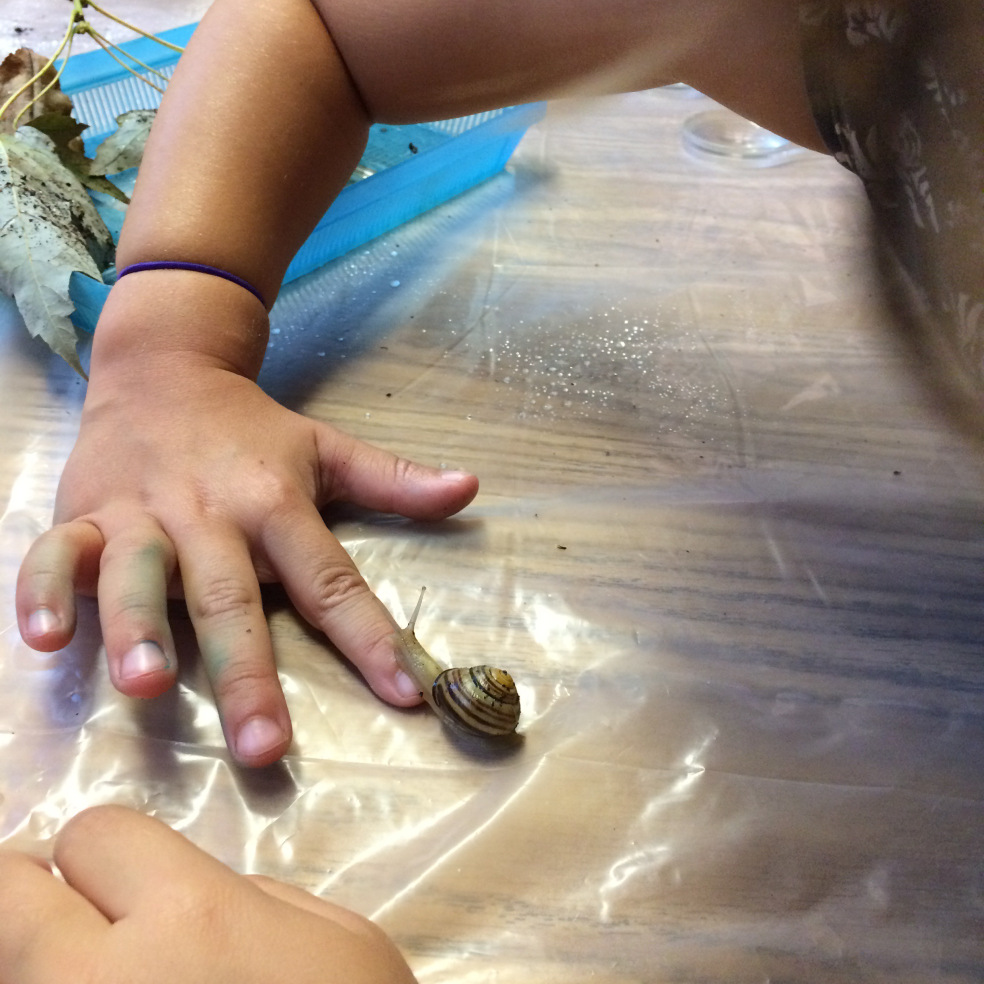 Los niños pequeños entran al salón de clases llenos de curiosidad y preguntas. Expresan grandes ideas con su cuerpo y su imaginación activa. Investigaciones recientes indican que los maestros de kínder se enfrentan a presiones académicas y expectativas más exigentes que antes se reservaban para los grados de primaria. La diseminación lenta de habilidades académicas y las pruebas en el kínder facilita silenciar o descartar la voz, el espíritu y la alegría de los niños en el aula.
Como maestra de kínder, he aprendido a guiarme mucho por el modelo Reggio Emilia, en el cual observar, escuchar y alentar son aspectos esenciales en los procesos de enseñanza y aprendizaje. Este modelo insta a los maestros a dar un paso atrás y considerar la imagen que tienen de los niños en su aula, su rol de facilitador en el salón de clases y el entorno que crean.
En una entrevista con el American Journal of Play (2011), Lella Gandini comentó que "ninguna actividad escolar debe hacerse sin alegría". En medio de las crecientes presiones académicas que enfrentan los maestros, es fundamental que los niños de kínder aprendan con gusto en su salón de clases. El modelo Reggio Emilia brinda inspiración a los maestros para que mantengan ese gusto por aprender en los niños y preparen el escenario para ofrecer una experiencia de aprendizaje temprano positiva.
Cómo fomentar la exploración libre en el salón de clases de niños en edad preescolar

Tome en cuenta a la comunidad educativa y el entorno de aprendizaje en su salón.
Cree un entorno visual que refleje los intereses y las identidades de sus estudiantes. Piense en su aula como un laboratorio viviente lleno de materiales estratégicamente colocados para invitar a la exploración.
Considere su función en el salón de clases.
Actúe como observador e investigador; escuche y documente los diálogos de los niños durante sus juegos, a fin de planear actividades que coincidan con los temas que les entusiasmen y les causen curiosidad. Intégrese a las conversaciones de vez en cuando para plantear preguntas, a fin de fomentar el raciocinio e inspirar más ideas.
Tome en cuenta el plan de estudios en el aula.
Los niños se sentirán más motivados a aprender y explorar libremente en un aula que exhiba un ambiente, proyectos y actividades que se hayan diseñado cuidadosamente para reflejar sus ideas e intereses. 
---
Recursos

Bassok, D., S. Latham, & A. Rorem. 2016. "Is Kindergarten the New First Grade?" American Educational Research Association 1 (4): 1–31.
---
Referencias

Gandini, L. 2011. "Play and the Hundred Languages of Children." American Journal of Play 4 (1): 1–18.
---
La traducción de este documento ha sido elaborado en el marco de un acuerdo cooperativo (PR/Award no. U295A150003, CFDA Nº 84.295A) del Departamento de Educación de Estados Unidos. No obstante, este contenido no representa necesariamente la política del Departamento de Educación, y usted no debe asumir el aval por parte del Gobierno Federal.
Melissa Fine
Melissa Fine, MA, is an instructional coordinator for the Division of Early Childhood Education in Queens, New York. Melissa supports teachers, program leaders, and children in universal 3K and pre-K programs. She has worked as an early childhood educator for over 10 years. She has published several works for NAEYC and Young Children focused on celebrating the interests of children and advocating for developmentally appropriate practices. [email protected]