Lecciones que aprendimos de nuestras colaboraciones con las familias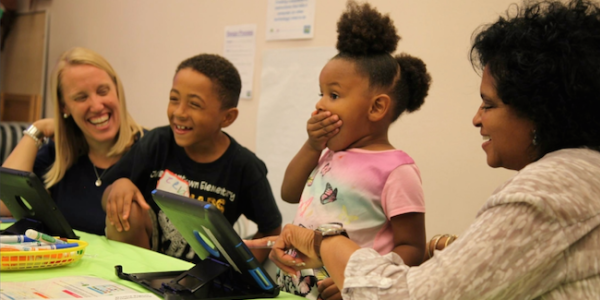 ​Aaron Morris
Como educador de preescolar, sabe que muchos padres están en una búsqueda continua de herramientas y recursos que contribuyan al aprendizaje de sus hijos fuera del salón de clases. Es especialmente difícil encontrar herramientas que sean interesantes, educativas y adecuadas para el desarrollo tanto para los niños como sus familias. Con tantos recursos educativos por doquier, ¿qué pueden hacer las familias para que sus hijos sigan por la senda del aprendizaje para toda la vida de manera significativa? Como los medios multiplataforma se han convertido en un estilo de vida, cada vez es más importante equilibrar el aprendizaje digital y no digital.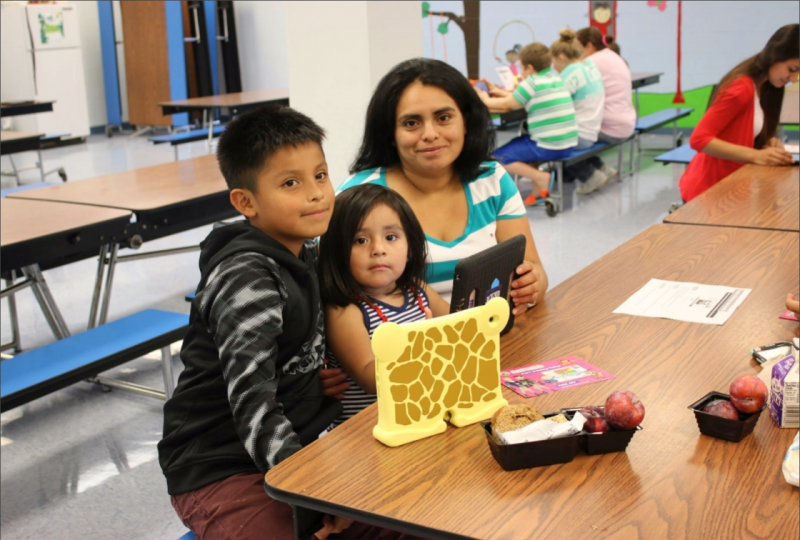 Recientemente, PBS KIDS creó y dirigió Family Creative Learning, un nuevo modelo de interacción comunitario y familiar con estaciones miembro locales en 11 comunidades y financiado con un donativo de Ready To Learn del Departamento de Educación para Corporation for Public Broadcasting y PBS. Tanto a las familias como a los niños se les entregan tabletas durante una serie de talleres, y los moderadores les ayudan a navegar por la aplicación PBS KIDS ScratchJr para crear secuencias de acción y animaciones para personajes mediante codificación basada en bloques. Estos talleres brindan a las familias y sus hijos la oportunidad de tener un tiempo a solas para explorar la tecnología mientras aprenden de manera colectiva. Además, se realizan en entornos comunitarios, de tal manera que las familias se sientan cómodas, y se les proporciona comida para que se les facilite asistir en caso de que tengan poco tiempo. El modelo de los talleres está basado en el trabajo de Ricarose Roque, las décadas de una labor pionera por dos generaciones del National Center for Families Learning, las prácticas recomendadas en el aprendizaje basado en proyectos e indagación para niños pequeños, así como la idea, que expresó recientemente Fred Rogers Center en este blog, de que importa el contexto en torno al uso de los medios. En lugar de concebir la tecnología como una solución independiente, conlleva beneficios como una herramienta de contenido interactivo para favorecer el aprendizaje y crear relaciones.
A continuación, algunos mensajes clave de estos talleres sobre la interacción familiar: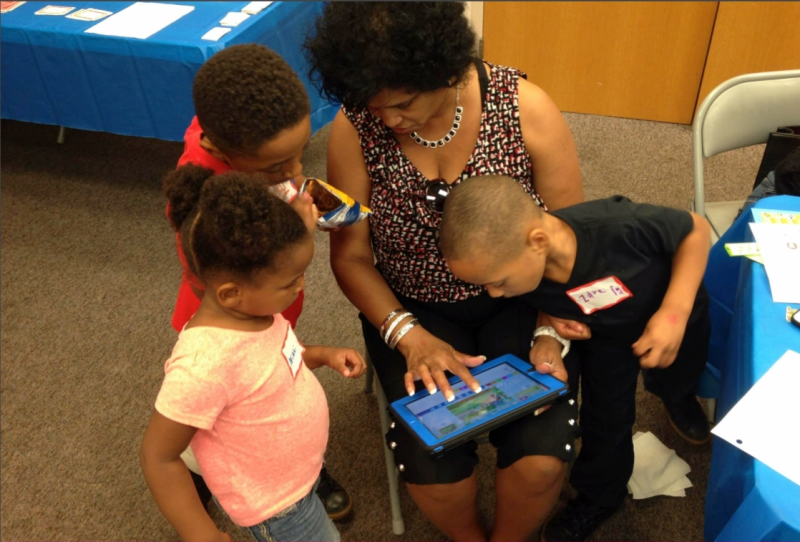 El tiempo y el espacio para estar juntos son momentos preciados que deben valorarse: la vida familiar puede ser frenética y caótica. Mientras los expertos hablan de los beneficios de ver e interactuar todos juntos, muchos adultos claramente utilizan el tiempo en el que sus hijos están absortos en contenido de confianza para realizar las tareas necesarias. Aunque es difícil pedirles que se comprometan con varias sesiones de los talleres de dos horas cada una, agradecen el tiempo ininterrumpido que pasan con sus hijos y las otras familias. Los educadores que promueven la interacción conjunta entre las familias en sus programas saben que eso marca la diferencia. Además de fomentar este hábito, es sumamente valioso apoyarlas brindándoles el tiempo y el espacio para que se olviden de sus preocupaciones cotidianas y puedan pasar un buen rato, jugar y aprender unos de otros sin distracciones.
Las familias merecen un enfoque basado en fortalezas: siempre deben darse recomendaciones e información para que estén preparadas para enfrentar los diversos desafíos de la crianza. Un objetivo principal de los talleres (y de todas las experiencias de interacción familiar) es darles las herramientas para que tengan la capacidad de contribuir al aprendizaje de sus hijos. En lugar de dedicarse a instruir a las familias, el modelo fomenta diálogos entre ellas con el propósito de basarse en sus ideas y desarrollar sus fortalezas, y no de imponer otras recomendaciones. Este enfoque no solo ayuda a crear confianza en las familias, sino que también promueve los vínculos y las relaciones.
Apoyar diversas maneras de aprender: Family Creative Learning está diseñado para contribuir a la exploración motivada por intereses, la creatividad y el juego entre las familias. Un elemento fundamental es proporcionar varios puntos de partida y caminos a una amplia gama de participantes. Los niños aprenden de manera distinta: tienen diferentes intereses, fortalezas y maneras de interactuar entre sí y con el mundo que los rodea. Lo mismo sucede con los adultos, que pocas veces tienen la oportunidad de asumir el rol de alumnos junto con sus hijos. A medida que el modelo evoluciona, se crearán más recursos y caminos según sea necesario para apoyar tanto a los alumnos pequeños como adultos.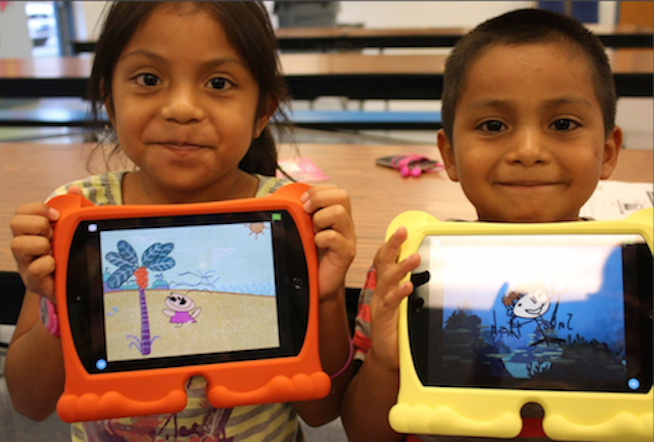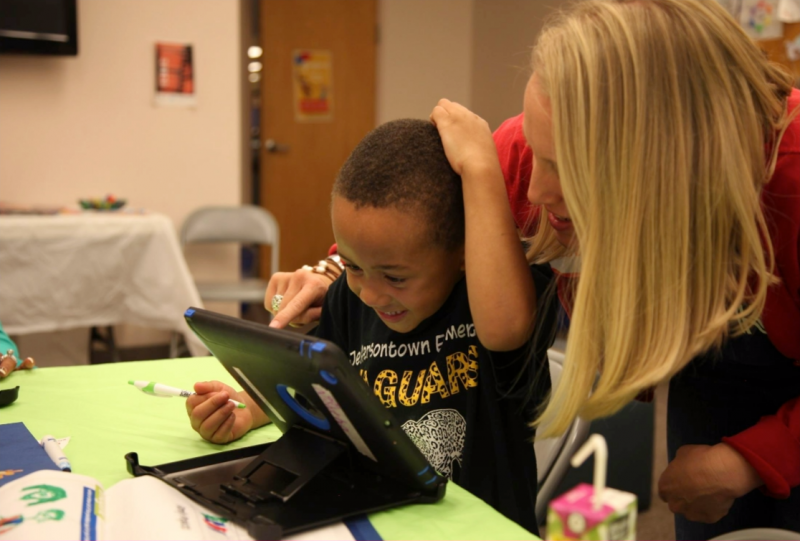 La educación de los niños pequeños y sus familias es una de las labores más apasionantes y gratificantes. Pedir a las familias que interactúen entre sí en un entorno de apoyo mientras disfrutan pasar tiempo con sus hijos puede ser un excelente modelo para compartir nueva tecnología y contenido interactivo de confianza, además de ayudar a formar una comunidad dentro de su programa.
---
La traducción de este documento ha sido elaborado en el marco de un acuerdo cooperativo (PR/Award no. U295A150003, CFDA Nº 84.295A) del Departamento de Educación de Estados Unidos. No obstante, este contenido no representa necesariamente la política del Departamento de Educación, y usted no debe asumir el aval por parte del Gobierno Federal.
​Aaron Morris
Aaron Morris is the senior manager of community engagement content at PBS Kids, working on behalf of the CPB-PBS Ready To Learn Initiative.
Aaron works collaboratively with education professionals at PBS Stations and the producers of PBS KIDS' media properties to create impactful learning experiences for children and families through outreach and community engagement efforts that meaningfully leverage PBS KIDS content and resources.
If you would like to implement something similar in your classroom or program, you may find the ideas and strategies in our PBS KIDS Family Creative Learning Facilitator Guide useful.