Lauren Baker
It was December 1995 and my mother—a die-hard early childhood educator—had decided to conduct an experiment. There would be no battery-operated toys for Christmas—at least not in her house. She would not purchase them for me or my brother that year. When grandparents, and other relatives asked her what gifts we wanted she made clear to them to avoid anything battery operated or that required electricity. "We're trying something new this year. No electronic toys." she explained.
She did follow up with a host of suggestions: "Books, puzzles, card games and board games are great! Don't be afraid of dolls and action figures and stuffed animals—they definitely aren't too old for that stuff yet. Lauren likes crafts and books. Alex loves anything that lets him be active or gets him outside."
While this rule was likely borne out of a mixture of curiosity, the cost of batteries, the noise the toys made, this is one of my most fondly-remembered holidays.
Since the "it" toy that year (a Tickle Me Elmo) was off the table, friends and family members really had to think about who we were and what we liked. A different level of thoughtfulness, time, and effort went into gifts that year. Our family members learned about us in order to select the right toy. After we opened our gifts, they also enjoyed playing with us as we explored the toys and games they'd given us.
Although looking back you might think I'd remember disappointment about the no-battery-operated toys rule—I just remember that my brother and I were pleased. I remember receiving a make-your-own-book kit (combination craft and book—I was in heaven) and a storybook with a gold ballet slippers necklace—which I put on immediately. I'm sure that the make-your-own-book-kit was finished before bedtime. My brother got a Nerf football and a GI Joe. We were thrilled.
While our family didn't repeat this experiment in later years, the holiday experiment was a rousing success. Though I have vague and hazy memories about the gifts I received other years. I can still recall the energy and excitement of that Christmas. As usual for our family, we decorated cookies on Christmas Eve and enjoyed our holiday dinner with extended family. But I think that year in particular my brother and I recognized the thought, love and kindness relatives put into selecting gifts. Even children know—the best holidays are the ones where family and friends are thoughtful and enjoy spending time together.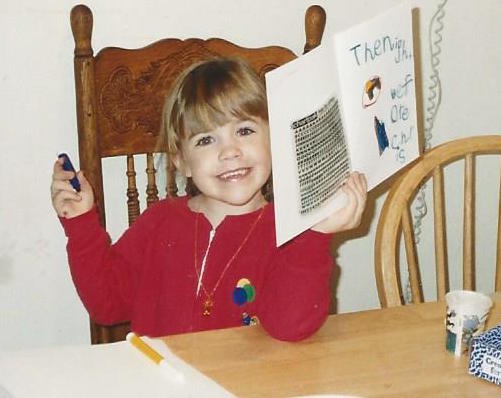 Me working on my make-your-own-book kit while wearing my ballet slippers necklace. The title of the book was "The Night of Our Christmas."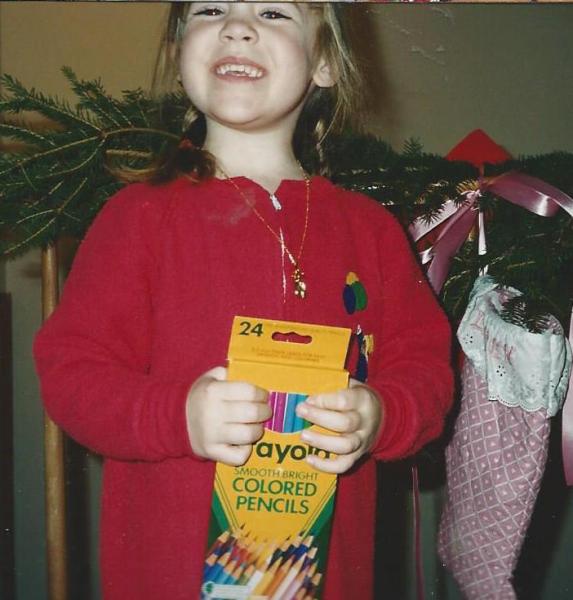 Colored pencils, to work on my book!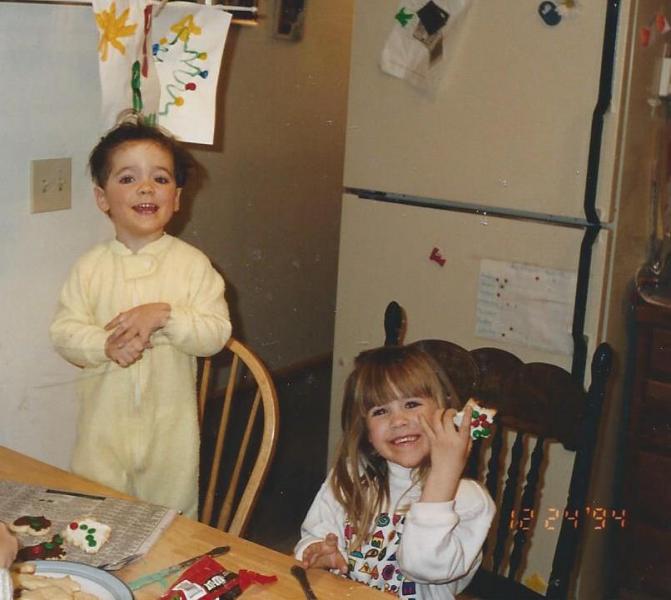 Christmas Eve festivities. (Good luck getting us to go to bed, Mom and Dad.)
Lauren Baker
Lauren Baker is an assistant editor at NAEYC. She writes and edits for the magazine Teaching Young Children.