On the Passing of Edward Zigler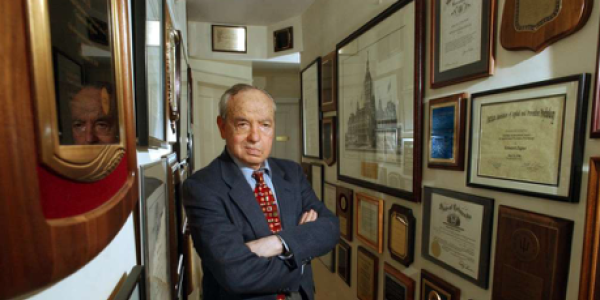 Sharon Lynn Kagan
The obituaries are being printed, the emails are flying about, the stories are being retold, and the memories are being recounted. When all is said and done, our field has lost one of its greatest leaders, Edward Zigler.
Whether you knew him personally or not, there is hardly a person in child development or early childhood education who has not read or heard of him. How could we not know the "Father of Head Start"? He was the originator of so many programs: Healthy Start, the Child and Family Resource Program, the Schools of the 21st Century program, the Child Development Associate credential - to name but a few. He was a passionate, ever-vigilant, ever-vociferous advocate for the Comprehensive Child Development Act (1971), paid family leave, supports for infants and toddlers, and so much more. Yes, the obituaries noted that he deemed himself a "Head Starter", predicated on his immigrant roots and receipt of settlement house comprehensive services. Yes, the obituaries noted his many diverse service contributions; they noted his accomplishments as a scholar and his most prestigious Yale Sterling professorship; they noted him as the author of over 800 articles and scores of books. And yes, they so correctly noted his copious awards and his well-deserved recognition from organizations and universities, too plentiful and too diverse to list.
But here is what doesn't get said in a formal obituary: Ed Zigler was a man of passion, of dedication, of consummate intelligence, and of incredible street smarts. He was a man who knew what he wanted to get done, and he did it. He was not afraid to think outside the box, to creatively imagine what could be—hence, the emergence of field that actually took hard science (developmental psychology) and applied it to our country's most pressing problems (the plight of low-income and otherwise challenged children and families). Certainly routine today, but prescient when he envisioned it, he created a field…and that is what made him so incredible. He realized ideas; he brought life to constructs that were only thoughts in the minds of most. He marshalled his brilliant mind and overwhelming heart to drive his scholarship and advocacy.
No, the obituaries don't say how warm and giving he was. Following a speech at a Head Start gathering, when handed his honorarium check, he immediately gave it back, hoping that it would be used to buy supplies for the kids. In fact, he never actually used the word kids, "They aren't goats, but cherished children," he admonished us all one evening, cigar in hand! Ensconced in an office that was brimming with photos of his students, books, papers, articles, awards, newspaper clippings, and a couch you could not see because it was so cluttered with stuff, encyclopedic Ed knew where everything was, and what each article said. He also knew what he had to do—yes, science is fact-based, but social change is policy in action. Democrat, Republican, Liberal, Conservative, all were welcome; he made time for all, for anyone with an idea, a passion, a hope.
Ed dreamed big dreams, but not at the expense of dealing with minute details. Ask any of his students, most of whom have gone on to illustrious, productive careers, and they will regale you with endless stories about how lovingly demanding he was, attending to each statistic, each comma, each teeny word as a dissertation was produced or a paper readied for publication. No, he didn't mince words…if and when you got a "that's good" from Ed, you knew it was. He told it like it was—sometimes tough, typically intellectually challenging, but always totally clear and honest.
Ask anyone, and they will tell you about a complex, caring man who loved poker, movies, and scotch as much as he loved a well-crafted academic analysis. They will tell you about the physical challenges he overcame with dignity; they will tell you about his wry sense of humor and his profound sense of justice. They will tell you about an undaunted iconoclast who envisioned the unimaginable and championed the undoable.
Legions of policymakers, philanthropists, early childhood educators, university administrators, faculty, students, colleagues, and staff all have their individual Ed stories; just ask anyone who ever met him and they will likely have an amazing tale to share. He was just like that—a veritable memory-maker. As for me, I worked, wrote, and strategized with Ed on a daily basis for 22 years. Like many of the Zigler gang, I never knew what to expect from Ed on any given — from the daily crises/events that needed to be addressed immediately, or even from the bevy of notables who would leave his office with his imprimatur and new ideas for us all to absorb. Most of us, I suspect, felt privileged and challenged simultaneously; we knew we were in the company of a man who made a profound imprint on so many, but mostly on the scholarship, policies, programs, organizations, and fields that bear witness to his legacy. Ed would have wanted no more than for his zeal for the good, the right, the just, and the young to prevail.
Deeply saddened by the loss, fully inspired by his person, and fervently dedicated to honor that legacy, we join together to share our appreciations for an incomparable man and his incomparable, fully-lived life of contribution.
Sharon Lynn Kagan
Sharon Lynn Kagan is the Virginia and Leonard Marx Professor of Early Childhood and Family Policy and codirector of the National Center for Children and Families at Teachers College, Columbia University. She is an adjunct professor at Yale University's Child Study Center and a former board member and president of NAEYC.