Cate Heroman Paige Zittrauer
Paige Zittrauer desafió a sus alumnos de kínder y a sus compañeros del proyecto de estudiantes de arte de preparatoria: Hagan un aparato que se mueva por sí solo por una hoja de papel y que deje una marca en su trayecto.
Intrigados por el desafío, los niños de kínder vieron algunos ejemplos de cómo se mueven las "máquinas para hacer garabatos" y luego vieron otros videos. Los alumnos de preparatoria recibieron un extracto de una guía de proyectos en línea sobre máquinas para hacer garabatos.
Los niños de kínder y compañeros del proyecto de preparatoria siguieron un proceso de diseño de ingeniería para crear sus máquinas para hacer garabatos, el cuál consistía en planear, construir/crear, probar, mejorar y luego compartir.
---
PASO UNO: PLANEAR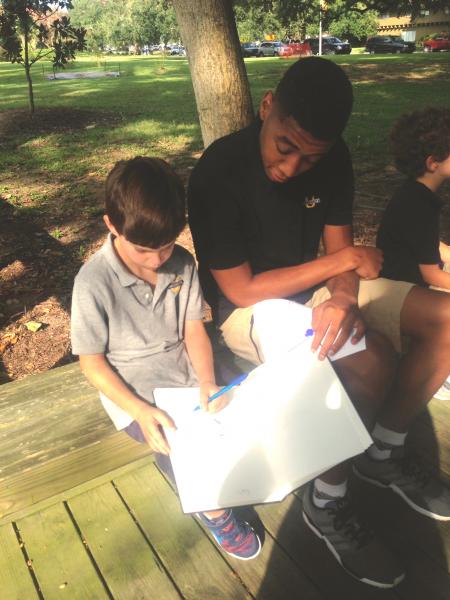 Los grupos conformados por alumnos de kínder y preparatoria imaginaron cómo sería su máquina para hacer garabatos. Hicieron un plan y un bosquejo de sus ideas. Paige los invitó a traer algo de su casa o usar materiales del salón de clases como base.
 
---
PASO DOS: CONSTRUIR O CREAR
Los equipos recibieron un motor de pasatiempos de 1.5 voltios, una barra de pegamento y una batería AA. Juntos seleccionaron materiales de arte y piezas sueltas. Con los planes en la mano, crearon sus máquinas para hacer garabatos. La mayoría colocó la barra de pegamento en la punta del motor como habían visto en los videos. Otros probaron algo diferente, como una pequeña sección de cuentas de Mardi Gras unidas a la punta del motor.
---
PASO TRES: PROBAR
¿Funcionaría? Los alumnos de kínder y de preparatoria no recibieron instrucciones paso a paso. Se les proporcionó suficiente información para empezar y se les animó a jugar. Conectaron la batería al motor y observaron lo que sucedió. La mayoría de las máquinas para hacer garabatos se encendieron, pero no se movieron por el papel. ¿Qué había salido mal?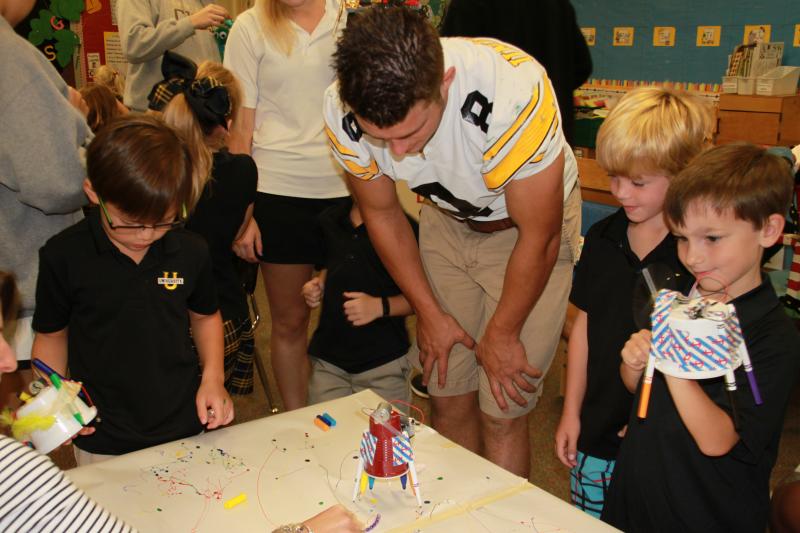 Los niños de kínder y sus compañeros de preparatoria especularon sobre por qué las máquinas no se movían:
Mi batería estaba muerta.
Nuestra máquina para hacer garabatos era demasiado pesada.
Nuestro motor no funcionó.
---
PASO CUATRO: MEJORAR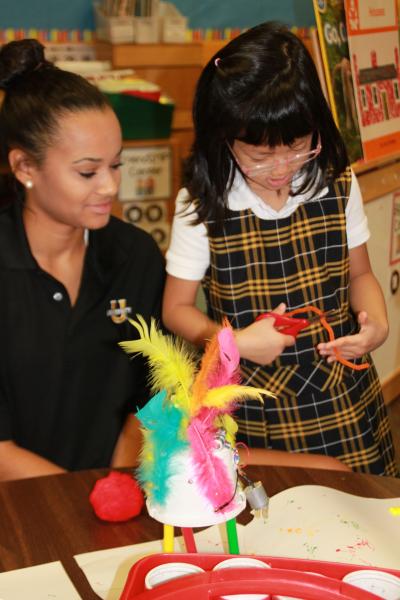 La próxima vez que los grupos se reunieron, compararon las máquinas que se movían por el papel con las que no. Un probador de batería estaba disponible para quienes creían que el problema era la batería. Los equipos notaron que las barras de pegamento en las máquinas que sí se movían se encontraban en diferentes posiciones de las que no se movían. Los equipos pronto se dieron cuenta de que el motor tenía que estar desequilibrado para que la máquina se pudiera mover por el papel. Ajustaron las barras de pegamento en los extremos del motor para que no estuviera centrado. ¡Éxito! Los equipos estaban muy contentos y muchos intentaron mejorar sus máquinas. Algunos agregaron dos motores y baterías adicionales para ver si podían hacer que su máquina se moviera más rápido. Algunos niños hicieron ajustes e intentaron competir con sus máquinas para hacer garabatos contra otras máquinas.
---
PASO CINCO: COMPARTIR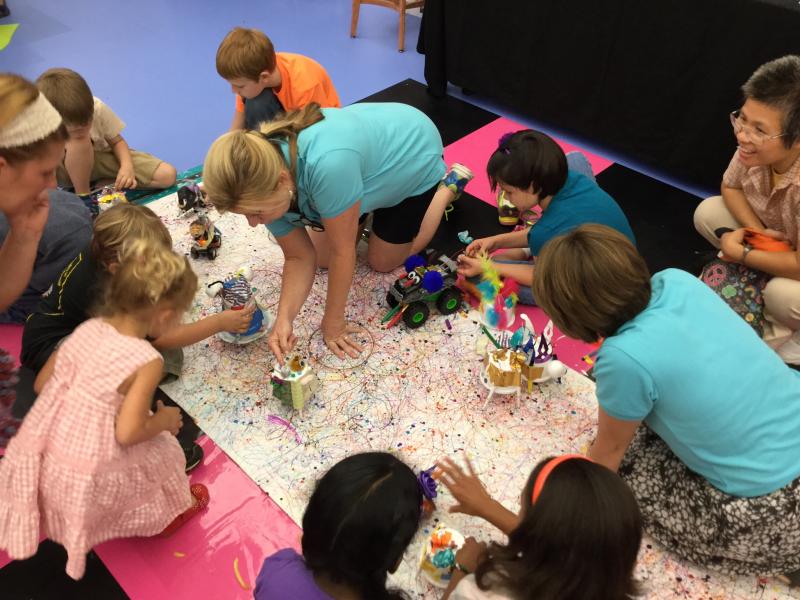 Todas las máquinas para hacer garabatos se exhibieron en la exposición Baton Rouge Mini Maker Faire en una biblioteca pública. Participaron más de 2.000 personas —entre niños y familias— y los niños podían seleccionar una de las máquinas para hacer garabatos y probarla en una hoja grande de papel en el suelo. Los niños de todas las edades gritaban de alegría mientras trabajaban con las máquinas.
---
Algunos maestros podrían pensar que no tienen tiempo para experiencias de Ciencias, Tecnología, Ingeniería y Matemáticas (STEAM, por sus siglas en inglés) como esta, ya que el enfoque principal en kínder dado es la alfabetización. Los niños no solo aprendieron conceptos de ciencia, tecnología, ingeniería y matemáticas, así como vocabulario (por ejemplo, rotar, desequilibrar, circuito), sino que Paige también integró la alfabetización durante todo el proyecto. Los niños participaron en la redacción compartida durante la etapa de planeación y en la escritura funcional conforme elaboraron las listas de materiales y escribían instrucciones. Después de la actividad, escribieron notas de agradecimiento a sus compañeros de preparatoria y respondieron por escrito a indicaciones como:
Menciona algo nuevo que hayas aprendido al construir tu máquina para hacer garabatos.
Explica cómo puedes construir mejor tu máquina para hacer garabatos la próxima vez que construyas una.
Esta actividad es un maravilloso ejemplo de cómo los niños construyen su propia comprensión de las ideas y los fenómenos mientras juegan y construyen cosas con sus manos. También demuestra cómo los maestros pueden crear actividades atractivas y adecuadas para el desarrollo mientras cumplen con normas estrictas de aprendizaje.
¿Le interesa hacer esto en su salón de clases? Para la actividad de las máquinas para hacer garabatos, la maestra Peige se inspiró del Exploratorium, un laboratorio de arte y ciencia en línea.
---
Lo que aprendieron los niños
La siguiente es una lista completa de las diferentes áreas de aprendizaje que abordó esta actividad:
Desarrollo social/emocional
Coopera cuando trabaja con otros
Toma turnos
Sigue los límites y cumple con las expectativas
Resuelve problemas sociales
Desarrollo físico
Desarrolla la motricidad fina

coordinación mano-ojo
destreza
Desarrollo cognitivo
Resuelve problemas
Piensa de manera lógica y razona
Planes
Desarrolla enfoques positivos para el aprendizaje

atención y participación
persistencia
pensamiento flexible
creatividad
curiosidad y motivación
Desarrollo lingüístico
Escucha y sigue instrucciones
Se expresa
Hace preguntas
Participa en conversaciones
Utiliza y amplía su vocabulario con base en el contenido
Alfabetización
Interactúa durante lecturas en voz alta integradas y enfocadas en el contenido
Participa en experiencias de escritura compartidas
Utiliza escritura funcional
Escribe para transmitir significado y comunicar
Matemáticas
Explora figuras e ideas geométricas
Medidas
Explora las relaciones de espacio
Ciencia, ingeniería y tecnología
Observa, hace preguntas e investiga
Sigue el proceso de diseño de ingeniería
Participa en descubrimientos de la ciencia física

cómo se mueven las cosas
fuerzas
circuitos iniciales (baterías, motores)
Utiliza herramientas y tecnología para realizar tareas
Las artes
Se expresa con creatividad
Crea estructuras tridimensionales
Utiliza una variedad de herramientas y materiales artísticos
¿Le interesa saber cómo esta actividad se integra con las normas para los Programas de acreditación para niños pequeños de la NAEYC? Obtenga más información en este breve ensayo sobre cómo conectar el aprendizaje auténtico con las normas.
---
La traducción de este documento ha sido elaborado en el marco de un acuerdo cooperativo (PR/Award no. U295A150003, CFDA Nº 84.295A) del Departamento de Educación de Estados Unidos. No obstante, este contenido no representa necesariamente la política del Departamento de Educación, y usted no debe asumir el aval por parte del Gobierno Federal.
Cate Heroman
Cate Heroman is an author, early childhood consultant, and volunteer education chair at Knock Knock Children's Museum, a museum designed for children birth to age 8.
Paige Zittrauer
Paige Zittrauer teaches kindergarten at the University Laboratory School on Louisiana State University's campus in Baton Rouge. She also volunteers for Knock Knock Children's Museum.