What's Play All About? Children's Museums Weigh In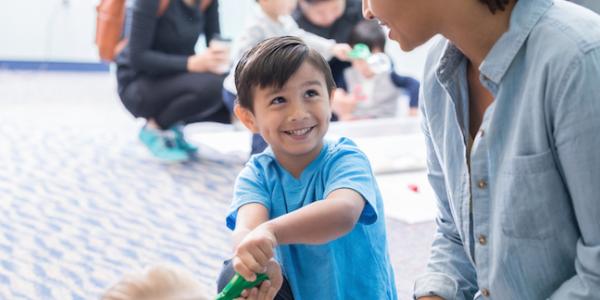 Nicole R. Rivera, Alix Tonsgard
NAEYC's "12 Principles of Child Development and Learning" state that "play is an important vehicle for developing self-regulation and promoting language, cognition, and social competence".
While these ideas may be widely held among early childhood professionals, there is growing concern reflected in the academic literature about the reduction in child-directed, playful learning due to increasing academic pressures and families' overscheduled lives.
Children's museums focus on providing places where all families are welcome and learn together through play and hands-on activities. (For information and locations, visit Association of Children's Museums at https://findachildrensmuseum.org/about.) As members of the Children's Museum Research Network, we helped conduct a study to examine how children's museums position themselves around play.
Interviews were completed with 49 senior-level museum professionals representing children's museums across the country. Our findings indicated that while individuals strongly agreed about the importance of play, only 57 percent of the institutions have the word play in their mission statements (Letourneau & Rivera 2017). Even though play is heavily identified as a process for learning, there appears to be a lack of clear definitions about what play is and how to assess play as part of the learning experience.
These findings made us curious about what the families in our local community think about play. We completed two studies at the DuPage Children's Museum to examine caregivers' perceptions about play and learning. We found that while caregivers highly value play to support children's social and emotional learning and the development of cognitive skills, they are less likely to associate play with academic learning and physical development.
Both focus group data and survey data point to concerns that caregivers have about their roles as facilitators of play. Some focus group participants shared that while they felt comfortable taking children to places like children's museums, they do not always feel confident as play partners. The mother of a 6-year-old described how her son was facing academic pressure, and the mother of a 9-year-old commented that people tell her daughter she is too old to play. Finally, survey data revealed that busy family schedules and concerns about safety present barriers to play.
When we shared these findings with early childhood professionals through conference presentations, attendees tended to think about their own cautions about labeling activities as play, due to the tensions surrounding the concept of play. Representatives from preschools, park districts, libraries, and child care centers shared anecdotes (that were illuminated by the children's museums professionals) demonstrating that early childhood professionals across sectors are experiencing conflict around play.
We believe it is important to recognize the tension around play and learning, and to engage in thoughtful conversation about the value of play in order to arrive at clear understandings about the roles and benefits of play in supporting children's development and learning. These discussions can help to codify beliefs and inform decisions about programming for young children. Part of this conversation should involve listening to parents, educators, and other caregivers to understand their beliefs, and then crafting messages to share with families about the value of play in supporting their children's development and learning.
---
Reference

Letourneau, S., & N. Rivera. 2017. "Results from a Study of Play in US Children's Museums." Hand to Hand 31 (1): 19–20.