Back to School: Why Creating Classroom Community is So Important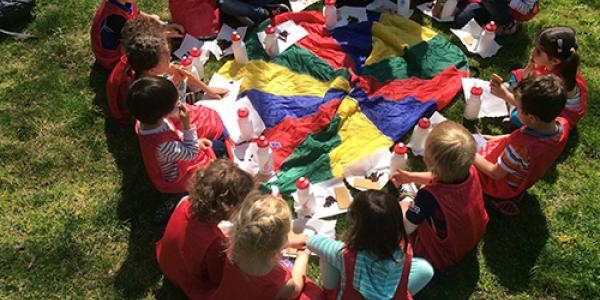 When I describe the goals of my early childhood classroom to families, I share that social and emotional development is an intentional and significant part of our curriculum. Families need some information about how helping their children develop social and emotional skills is deeply connected to their learning. Kids need to experience being part of a group, regulating their emotions, and negotiating complex social conflicts in order to truly learn cognitive material like math concepts and early literacy skills.
In my classroom, we believe that the crux of social and emotional learning is creating a classroom where children feel both empowered and invested. We use a variety of strategies to facilitate children's individual skills as they interact with peers and learn to navigate the complex issues around them.
The key to teaching children social and emotional skills is creating a classroom culture built on community. Strong communities have members who have shared goals and experiences, who feel empowered to contribute, who trust in one another, and who feel understood and capable as individuals. These attributes enable teamwork, cooperation, a willingness to negotiate, and the ability to draw on one another's skills.
Translating this idea of community into reality in an early childhood classroom presents a unique opportunity. Young children are ripe for responsibility and for the chance to have some control over their own worlds. And as they experience their first peer relationships and a new world away from their families, the classroom can become a community in which each child is an active member.
The children in my class contribute to classroom rules and participate in discussions with teachers about fair consequences. Early in the year, we create a classroom manifesto that distills the community's belief system. The statements in the manifesto are always in the affirmative—for example, "We use kind voices with one another," "We keep bodies and feelings safe," and "It's okay to make mistakes." Teachers guide the class and model empathy as the children collectively discuss breaches in the manifesto and encourage their peers to cooperate. The manifesto is meaningful to children because it is in their language and it is framed in the lens through which they see the world.
Focus on Trust and Relationships
Also early in the school year, it is important to offer opportunities to build relationships. Playing games and facilitating projects in which children can find out how they are the same and how they are different, and providing forums for each child to demonstrate his or her interests and strengths, are activities that lend themselves to future teamwork. In addition, having classroom discussions in which every child is encouraged to have a voice, and allowing ample time for unstructured play in which children can create their own networks and connections with each other and can experiment with conflict resolution, is ultimately the crux of community.
Setting the foundation of familiarity and trust in the classroom lays the groundwork for a group of children to develop intimacy and chemistry over time, and begin to function as a self-organizing system. Children feel more motivated to change, grow, and learn when they understand the wider implications of their individual contributions to the classroom.
Co-create Rules With Children
Members of any strong community must be invested in the rules of their environment. They also help nurture a feeling of ownership and accountability. A classroom community built with rules created by children (with the teacher's guidance) enhances crucial social and emotional skills by holding children accountable. Co-created classroom rules foster individual students' capabilities, requiring them to self-regulate, demonstrate flexibility, and see different perspectives and giving them the opportunity to create the world they inhabit.
Give Children A Say
Empowering children to have some influence over decisions in play and in choice of study means allowing children to have input in curriculum topics, parts of the daily schedule, and the physical space around them. When the class negotiates together, they begin to exercise their social and emotional skills in independent yet cooperative ways.
When teachers resist the urge to micromanage play and activities, they give children the space they need to explore, experiment, and make—and learn from—mistakes. The experience of working together to solve problems in both play and projects creates opportunities for children to learn important cooperation skills. It also requires children to rely on one another and to learn from one another's individual capabilities. Of course the teacher has a role in guiding the children but the community is stronger when children can guide their play and participate in creating the class manifesto.
The classroom provides a unique environment for children to experience peer relationships and to create their own community of learning. A strong classroom community is one in which students feel empowered and valued, and one in which children will ultimately thrive.
Readers may also be interested in the NAEYC-published book, Rituals and Traditions: Fostering a Sense of Community in Preschool.