Grow a Salad! Preschoolers Plant and Prepare Their Food
You are here
Lauren Baker, Abbe Futterman
Preschoolers might think that their lunch comes from opening the fridge or going to the supermarket. They don't fully understand the long journey that much of our food travels as it grows from seeds planted in the ground to being presented at the table. We noticed that many of the ingredients in a salad lend themselves well to growing in a classroom garden. Se we decided to show the preschoolers at The Earth School where fresh food really comes from.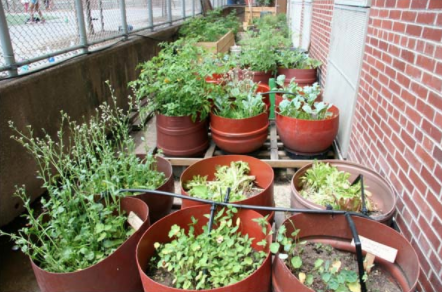 The children begin in the small garden next to their classroom. Found space becomes garden space for our New York City classroom. The garden is located between buildings, but there is enough room for more than 60 different types of plants. The children have plenty of space to work. Here they grow their lettuce, the first ingredient in the salad. Each child's lettuce plant grows in its own small pot, set in a place where the children can easily see it.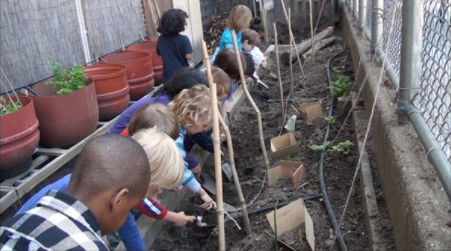 Lettuce grows and sprouts within three to four weeks, allowing the children to see the results of their work quickly. The children are responsible for checking the plants every day and watering them as needed.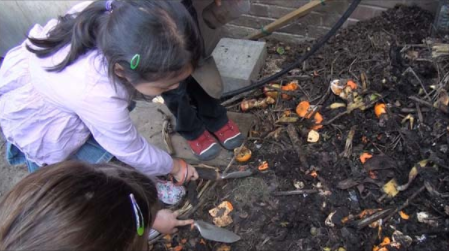 The children use leftover food from mealtimes to compost their garden. They enjoy getting involved while working together as a team.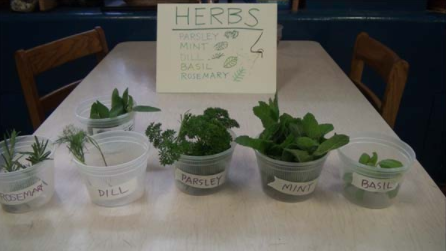 The class also works together to grow herbs in the garden. The herbs will be a nice addition to their salad dressing. Any herbs that they don't use are added to recipes made by other classes in the school.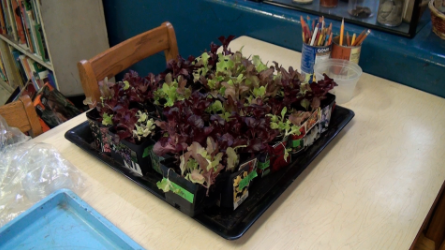 Once the lettuce and the herbs have finished growing, it's time to harvest and make use of the crops.



Around the room, I set up different stations involved in making salad dressing. There are seasonings (such as salt and pepper), aromatic spices (I use garlic), fresh herbs, acidics (vinegar or lemon juice), and oils. I model for the children how they will move from station to station deciding what to put in their dressing.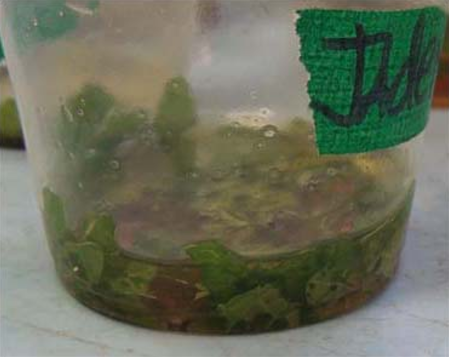 The children start with the seasonings, add garlic, then choose the herbs. The acid is next, vinegar or lemon juice, and they add the oil last. This order makes a delicious dressing since the flavors merge better without the oil.
After discussing expectations, the children move from station to station deciding what ingredients they would like to use. Some children add very few ingredients. Other children want to use them all.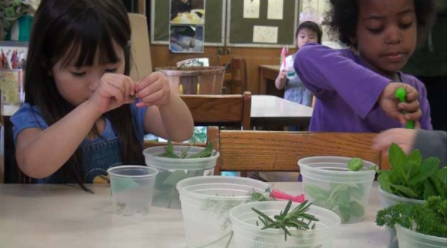 The children make sure to rip up the herbs before they put them in their dressing. Then they mix it well!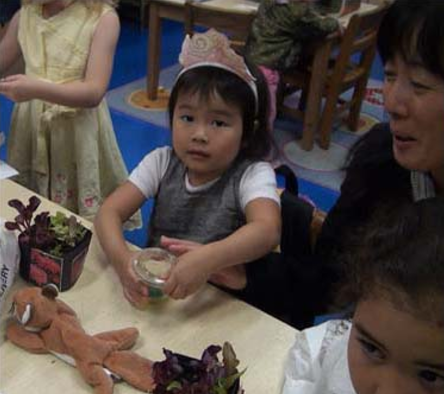 Cooking with children encourages healthy eating and independence. Some children want to eat their salad right away. Some may choose to bring it home to eat and enjoy with their families. They proudly say, "Look! I made it myself."
Lauren Baker
Lauren Baker is an assistant editor at NAEYC. She writes and edits for the magazine Teaching Young Children.