让学龄前儿童成 为生态艺术家 (Preschoolers as Eco-Artists)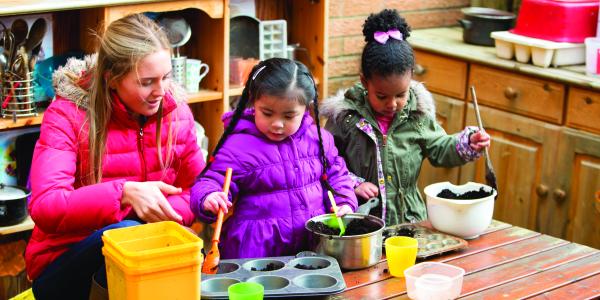 You are here
Triada Samaras, Janis Strasser
一位名叫特瑞莎的学前班教师和一群 4 岁的孩子一起围坐成一个圈。这些孩子最近刚看过一部关
于艺术家安迪·戈兹沃西的影片以及相关书籍。她问道:"谁能告诉我安迪·戈兹沃西是用什么来进行艺术创作的?"
"是冰。"
"是雪。"
"他冒着雨躺在室外,于是他身体的形状就在地上成了艺术!"
---
戈兹沃西不寻常的艺术创作方式令学龄前儿童们印象深刻。作为一个艺术家及博物学家,戈兹沃西利用科
学和艺术,在各种各样的天气条件下进行室外雕塑创作。他可以用自然世界中的各种材料进行创作,包括
树叶、石块、细枝、雪、芦苇以及荆棘。
特瑞莎用戈兹沃西的艺术作品帮助孩子们理解生态艺术这一概念。在某种程度上,这种艺术的特别之处就
在于它们并非永久性的。拉仙娜举手补充发言道,"它会消失!就像是我们堆了一个雪人,然后它融化了。"
为什么要让孩子接触生态艺术?

生态艺术是科学、工程、数学与临时性、无限制的艺术创作的有趣结合。它将 STEAM 以及以项目为本的课程设置与各个地方的幼儿早期教育环境相结合。孩子们通过天气、他们身边的自然环境以及在室外所寻找到的材料来思考科学。工程和数学则在他们一边考虑平衡、结构以及组合,一边将材料组装来进行三维立体创作时发挥作用。孩子们可以用数码相机、平板电脑或是手机来将他们的创作经历捕捉下来,好让他们的一次性艺术以照片、影片、书籍,或是纪念板等形式得以保存。
介绍生态艺术

1. 收集照片和书籍。 展示戈兹沃西在艺术、科学及文化领域的作品。
2. 观看视频并讨论。播放《河流与潮汐,安迪·戈兹沃西的艺术人生》
(Rivers and Tides, Andy Goldsworthy Working With Time [www.youtube.com/watch?v=iBsBlGhkLxc])中的选段,并请孩子们讨论他们所观察到的。
3. 请家庭一同参与。给每个家庭发放小的棕色纸袋,并请他们和孩子一起,从后院里或是街道上收集可用的自然材料。整理、分类,然后用
放大镜、尺子、铅笔和剪贴板来为它们画素描。
4. 寻找附近的自然材料。陪着孩子一起在您项目地点周围的街道四处走走,并鼓励他们去寻找可以一并收集的自然材料。
5. 与孩子们探讨对自然的兴趣。和孩子们聊聊自然、季节、植物的生长周期等。用孩子的兴趣和疑问来引导您们之间的讨论。
6. 分析艺术。比较生态艺术与孩子们平常制作的艺术种类,找出相同和不同之处。
搭建室内及户外雕塑作品

室内

让孩子们选择他们想在何处,以及和谁一起搭建生态艺术雕塑。他们可以在地板上、地毯上,或是桌上,独自或是与他人一起进行创作。试着用大尺寸的黑色纸张来划定孩子们的工作区域。
在搭建、记录,然后拆分完室内的生态艺术雕塑后,邀请孩子制作一个可永久保存的生态艺术雕塑。他们可以用胶水和一块长方形的木板或是硬纸板来为雕塑做一个底盘。
户外

在户外搭建时,老师们需要考虑到许多因素,包括为天气变化做准备以及将需要的材料搬运至雕塑地点。虽然稍温暖些的天气或许最适合进行户外工作,但这位作者却是在十二月完成了这个项目。我们用螺丝刀和锤子在冰冻的土地上凿洞。然后将直径稍大的树枝笔直地放进了这些洞中。孩子们从物理学中得到灵感,比如平衡、重力以及质量,并用它们完成了他们的雕塑作品。
此外,如果所选的雕塑地点并不在学校范围内,还必须将所有的自然材料搬运到所选的地点。可以在项目开始前,请家长和同事们帮忙运送这些材料到所选地点。
学校范围内的土地是一个更便捷的选点。另一个班级的孩子们就在学校的地面上,通过将树枝、花朵以及其他自然材料编织成一个围栏网,完成了他们的生态艺术雕塑。
视频是记录这个项目的一个绝好的方法。录制学龄前儿童们搭建这些雕塑的过程是十分有趣的。项目完成后,孩子们可以在教室里的电脑上观看这些有他们身影的视频,并把这个创作体验再一次带进教室里。在进行录制的同时,老师们可以就孩子们所作出的艺术选择提一些问题。另外,老师和学龄前儿童们都可以在圆圈时间反复地回想、思考这个视频,以此来巩固他们所学到的知识。录制视频还可以将生态艺术雕塑随时间、天气的变化很好地捕捉下来,将其变为一次持续的科学探究活动。
无论什么样的雕塑作品,都应鼓励孩子们为他们的创作命名,并制作标签。可以让家长们在这些雕塑被拆分前进行参观。老师们还可以举办一个家庭生态艺术日,让所有人都可以一同参与创作一些大型的、精彩的作品!
---
问题

利用这些问题来引发孩子对于这项艺术活动的思考。
1. 你的雕塑作品中使用了什么形状、颜色以及材质?
2. 你是如何选择你所使用的材料的?
3. 你是如何决定将这些材料用在什么地方的?
4. 你的雕塑作品让你联想到了什么?
5. 你想给你的雕塑作品取什么名字?为什么?
---
词汇

暂时的、短暂的、荆棘、细枝、雕塑、质地、博物学家、大规模、草、种子、落叶的、临时的、永久性的、倚靠着站、弯曲、折叠
---
资源

Beautiful Stuff: Learning With Found Materials, by Cathy Weisman Topal and Lella Gandini. 1999. Davis.
Time, by Andy Goldsworthy. 2008. Thames and Hudson.
艺术家、博物学家主页:安迪·戈兹 沃西。www.morning-earth.org/ARTISTNATURALISTS/AN_Goldsworthy.html
---
其它生态艺术家

罗伯特·史密森(请看他于犹他州创作的螺旋形防波堤)沃尔特·德·玛利亚(请看他于加利福尼亚州的莫哈维沙漠创作的一英里长的素描)
---
在这里,作者想要感谢激励儿童和教师利用会随时间变化的材料来进行临时性艺术创作的威廉帕特森大学儿童发展中心主任辛迪·珍娜雷利。此外,还要感谢新泽西州儿童观众网为将STEAM 融入学前班教学所付出的努力。以及感谢与学前班的孩子们一起探索生态艺术的新泽西州纽瓦克市莎拉沃德托儿所主任帕特里夏·贝克尔。
Janis Strasser
Janis Strasser, EdD, is a teacher educator and coordinator of the MEd in Curriculum and Learning Early Childhood concentration at William Paterson University in Wayne, New Jersey. She has worked in the field of early childhood for more than 40 years.