رسالة في حقيبة الظهر (Message in a Backpack™) توجيه سلوك طفلك (Guiding Your Child's Behavior)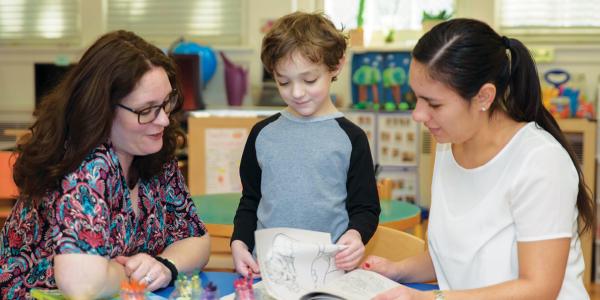 You are here
توجيه سلوك طفلك

ن طفلك في مرحلة ما قبل المدرسة يتعلم السلوكيات الإيجابية تماما كما يتعلم الكلمات والمهارات الجديدة. وتحدث سلوكيات التحدي،
عندما يشعر الأطفال أنهم لا يجدون وسيلة أخرى للتعبير عن مشاعرهم أو وسيلة أخرى للحصول على ما يريدون. من المهم أن تبقى
هادئا وصبورا وثابتا، بينما أنت تساعد طفلك على فهم توقعاتك.
طفلك مستاء جدا ويمر بنوبة غضب
جرب هذا:
فكر فيما يمكن أن يكون مرتبطا بالنوبة. هل هو جوعان أم متعب، أم هل
يحتاج للذهاب إلى الحمام؟ قم بتلبية هذه الاحتياجات أولا.
شجع طفلك على أخذ عدد من الأنفاس العميقة؛ يمكنكما القيام بذلك
معا.
تحدث بهدوء و انحن لمستوى طفلك.
حدد عواقب منطقية مرتبطة بالسلوك غير المستحب، وعد باستخدامها،
ونفذها. )"إذا كنت لا تستطيع الصبر على أخذ دورك على الأرجوحة،
فسوف نذهب إلى الزلاجة."(
---
وعندما يكون طفلك هادئا و مسترخيا، سوف يكون
ذلك وقتًا ملائما لوضع بعض الأمور في نصابها
لتشجيع السلوك الإيجابية لديه.
جرب هذا:
تحدث عن قواعد الأسرة وتوقعاتها. إن طفلك يمكنه الإتيان ببعض
القواعد والعواقب المترتبة على عدم اتباعها.
عزز السلوكيات الإيجابية )"أنت تستخدم كلماتك للتعبير عما تريد!"(
ساعد أطفالك بشأن السلوكيات التي يبذلون مجهودا كبيرا لتعلمها، مثل
انتظار دورهم. مارسوا هذه السلوكيات معا.
كن داعما من خلال كونك قدوة في السلوكيات الإيجابية.
Keri Giordano
Keri Giordano is an assistant professor at Kean University. She has been in the field of early childhood for 21 years and specializes in working with children with challenging behaviors and their teachers and families.