Message in a Backpack ™ Learning through Everyday Activities پیام در کوله پشتی ™ یادگیری از طریق فعالیت های روزمره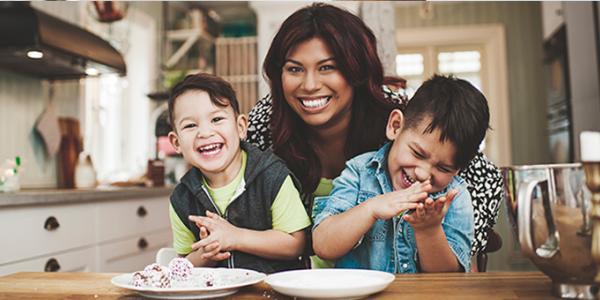 You are here
PBS KIDS and the READY TO LEARN INITIATIVE
شگفتی یادگیری با کودکان خود را در هر زمان وهر مکان تجربه کنید! زمانی  که  کودکان تان به مدرسه برمی گردند ، این کارهای ساده و روزمره را با هم انجام دهید تا یادگیری آنها را تقویت کنید.
---
زمان صرف غذا

  هنگام صرف غذا با کلمات  مرتبط با غذا سرگرم شوید. به عنوان مثال، اگر برای شام سیب زمینی، مرغ و نخود فرنگی سرو می کنید، در مورد اینکه نام کدام یک از این غذاها با  صدای / p / شروع می شود صحبت کنید.   چیزهای دیگری را که در روی میز قرار دارند و با حرف / p /  شروع می شوند، مانند بشقاب یا فلفل را هم نام ببرید.  همچنین می توانید به نوبت، کلماتی را بیان کنید که با چیزی که شما می خورید  یا کودک تان  می خورد، هم  قافیه باشد. به عنوان مثال ، پنیر و نخود  (به زبان انگلیسی )، هم  قافیه هستند.
در آشپزخانه

 دستورهای آشپزی جدید ایجاد کنید  و یا دستورهای آشپزی  مورد علاقه خود را با کودک تان مطرح و اجرا  کنید. مواد لازم را با هم بشمارید. (به عنوان مثال ) شما می توانید تعداد سیب های مورد نیاز برای یک شیرینی و یا تعداد هویج های اضافه شده به خورشت را بشمارید. دستور آشپزی را به  کودک نشان دهید تا او ببیند نوشتار یک دستور آشپزی  چه شکلی است.
در فروشگاه مواد غذایی

حروف الفبا را در همه جا  پیدا کنید- از جمله روی برچسب های مواد غذایی ، تابلوهای موجود در فروشگاه و مجلات روی قفسه ها جلوی صندوق پرداخت. به کودک خود یک جعبه  مواد غذایی مانند یک جعبه غلات صبحانه،  بدهید. به حروف الفبا  روی جعبه اشاره کنید (با  اولین حرف نام کودک خود شروع کنید) و از کودک خود بخواهید که تعداد بیشتری از آن حرف الفبا را روی سایر جعبه های مواد غذایی موجود در فروشگاه،  پیدا کند.
قدم زدنی در اطراف محله

به همراه کودک خود در محل زندگی تان، اشکال هندسی را جستجو کنید. شما می توانید مستطیل ها را در ساختمان ها (پنجره ها و آجرها) ، دایره ها را در خودروها (چرخ ها) و مثلث ها را در تابلوها و علامت ها (علامت عبور با احتیاط ) پیدا کنید. از آنها عکس بگیرید و یک کتاب حاوی اشکال هندسی درست کنید.
در زمین بازی

در حین صحبت کردن  با کودک خود در مورد آنچه که انجام می دهد، حروف اضافه را به او آموزش دهید - بالا و پایین رفتن از سرسره ، خزیدن از روی پل، ایستادن در زیر درخت و یا نشستن روی نیمکت.
---

Find more everyday learning tips on the Play & Learn app from PBS KIDS.
pbskids.org/apps

Visit families.naeyc.org to browse articles about outside time, reading together, and more!
---
The contents of this article were developed under a cooperative agreement #PRU295A150003, from the U.S. Department of Education. However, these contents do not necessarily represent the policy of the Department of Education, and you should not assume endorsement by the Federal Government. PBS KIDS® and the PBS KIDS® Logo are registered trademarks of PBS. Used with permission.
---
Photos © iStock
PBS KIDS and the READY TO LEARN INITIATIVE