Mira, escucha, aprende. ¿A dónde va la lluvia? El papel del maestro en los descubrimientos de los niños.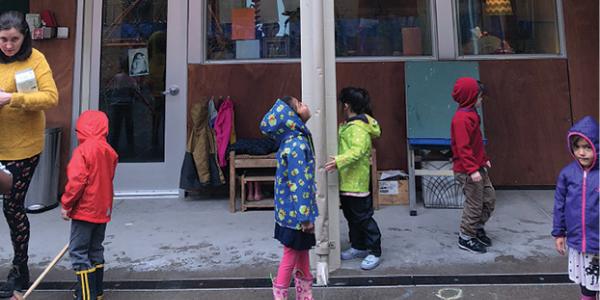 You are here
Brian Silveria, Deb Curtis
Lea la siguiente historia y las reflexiones del maestro y utilice las preguntas de reflexión que aparecen al final de este artículo para profundizar en su pensamiento y dar forma a sus prácticas de enseñanza.
Un día lluvioso en el patio de recreo, el maestro Brian se dio cuenta de que Tahlia estaba tocando una bajada de agua a un costado de la escuela. Tahlia acercó la oreja a la tubería y sonrió diciendo: "¡el agua está bajando por la tubería!". Varios niños se acercaron y escucharon la tubería de bajada con ella. Un niño dio un paso atrás y señaló la parte superior del edificio diciendo: "¡eh, llega hasta allí arriba!". Tahlia se volvió hacia Brian y le dijo: "me pregunto para qué sirve".
Antes de que Brian pudiera responder, la atención de Tahlia se dirigió a la rejilla de desagüe que había bajo sus pies. Se arrodilló, entornó los ojos hacia la rejilla y exclamó: "¡hay agua ahí abajo!". Los niños descubrieron el camino del agua desde el tejado hasta la tubería y el desagüe, y Tahlia dijo: "el agua va al océano".
Los niños observaron y pensaron en el agua de lluvia y la tubería de bajada durante gran parte de la mañana.
Las reflexiones de Brian.

Esta experiencia me recordó mi infancia, cuando también me fascinaba la lluvia y a dónde iba.
Cuando Tahlia se preguntaba en voz alta para qué servía la tubería, yo deseaba poder transportarnos mágicamente a la azotea para que los niños pudieran ver lo que ocurría. Pensé en explicar los hechos, pero decidí no hacerlo. Tahlia y sus amigos estaban inmersos en un intenso aprendizaje independiente. No parecían necesitar mi intervención ni mis explicaciones.
Cada vez que un niño hacía una observación, los demás se inclinaban para ver mejor y escuchar con más atención. Se dieron cuenta de que el agua se movía en una dirección hacia una tubería de desagüe y hacia un agujero oscuro en el pavimento. Después de que Tahlia formulara la hipótesis de que el agua iba al océano, otro niño añadió: "va a un lugar donde primero limpian el agua, y luego va al mar".
Los niños vieron tesoros atrapados en el desagüe: una moneda, un pequeño dinosaurio amarillo de juguete y un puñado de arena. Hablaron de diferentes maneras de sacar los objetos.
Soy muy reflexivo a la hora de participar en los descubrimientos de los niños. En este ejemplo, los niños aplicaron sus propios conocimientos a un asunto de la vida real. Yo podría haber ofrecido mis conocimientos de adulto sobre las bajadas de agua de lluvia. Pero ¿habría cortado su pensamiento y desalentado su sentido de asombro? ¿Estaría enviando el mensaje de que utilizar los conocimientos de un maestro es una mejor manera de aprender que emprender su propio proceso de descubrimiento?
Me conformo con apoyar su viaje mientras estudian y se maravillan de los misterios que les rodean. Buscaré formas de ayudar a los niños a explorar sus preguntas. Puedo:
Proporcionar algunas canaletas o rampas exteriores la próxima vez que llueva, para ver si los niños pueden averiguar cómo mover el agua de lluvia
Sugerirles que observen el agua que baja por un tobogán y que intenten cambiar su dirección utilizando sus manos o un poco de arena
Colocar tubos transparentes y embudos sobre la mesa para ayudarles a ver lo que ocurre dentro de una tubería de bajada
Grabar los sonidos que produce la tubería cuando llueve, y luego reproducir la grabación durante nuestra reunión matutina, desafiando a los niños a identificar los sonidos y a hacer los mismos sonidos usando sus voces o los objetos artículos del salón de clases
Utilizar preguntas abiertas para ampliar el pensamiento y las investigaciones de los niños
Buscar libros infantiles sobre este tema para ampliar su aprendizaje
Ofrecer experiencias activas y significativas para despertar la curiosidad natural de los pequeños, fomentar la investigación y promover la comprensión, es el papel del maestro que quiero seguir desarrollando en mí mismo.
Sé que los niños acabarán aprendiendo sobre la lluvia y a dónde va el agua. Lo podrían aprender en internet, en la televisión o en la escuela más adelante, pero espero que los niños y sus familias piensen primero en esta preguntas mientras observan una tormenta.
---
Preguntas de reflexión

Utilice las siguientes preguntas del Thinking Lens™ para reflexionar solo o con un compañero.
Conocerse a sí mismo

Si estuviera en la situación de Brian, ¿cuál es el papel que es más probable que desempeñe?

Observaría atentamente y tomaría en cuenta las preguntas y los puntos de vista de los niños.
Ofrecería datos y consejos para responder a las preguntas de los niños.
Probablemente no me involucraría en lo que hacen los niños.

¿Qué papel aspira a desempeñar en los descubrimientos y el aprendizaje de los niños? ¿Por qué?
Encuentre ejemplos de la capacidad de los niños.

¿Qué habilidades, competencias y actitudes de los niños observó en las descripciones de Brian sobre su investigación?
¿Cómo evaluaría las habilidades sociales, de indagación y la comprensión de los sistemas de lluvia y agua de los niños?
Pida a los niños que le den sus puntos de vista:

¿Qué cree que los niños consideraron tan fascinante sobre la lluvia y la tubería de bajada
¿Cómo cree que los niños se vieron unos a otros durante esta investigación?
¿Cuáles son los descubrimientos en los que ha participado su propio grupo? ¿Qué cree que les interesa de sus investigaciones?
Considere las oportunidades y posibilidades de los pasos siguientes:

Observe a los niños en su salón de clases cuando estén investigando y haciendo descubrimientos. ¿Qué nota sobre sus intereses, comprensiones y habilidades? Intente los siguientes pasos:

Observe atentamente y plantee preguntas para que los niños las tomen en cuenta.
Piense en los materiales que puede ofrecer para fomentar las investigaciones de los niños.
Considere las respuestas de los niños a tus acciones y preguntas. ¿Son las respuestas que esperaba?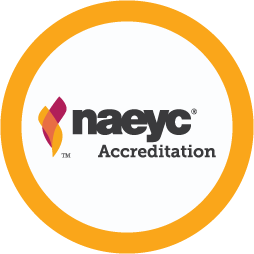 3G: Uso de la instrucción para ampliar los conocimientos de los niños y desarrollar sus habilidades

Photograph: Courtesy of Brian Silveria
---
La traducción de este documento ha sido elaborado en el marco de un acuerdo cooperativo (PR/Award no. U295A150003, CFDA Nº 84.295A) del Departamento de Educación de Estados Unidos. No obstante, este contenido no representa necesariamente la política del Departamento de Educación, y usted no debe asumir el aval por parte del Gobierno Federal.
Brian Silveria
Brian Silveria has been teaching young children for over 30 years. He started his career in Quincy, California, a small mountain community surrounded by pine forests. He now works in an urban setting at Pacific Primary School, in San Francisco, where he is a lead teacher.
Deb Curtis
Deb Curtis has spent the past 40 years working with children and teachers in early childhood programs. She developed the Thinking Lens with Margie Carter and Ann Pelo.