Using Positive Words: Creating an Encouraging Classroom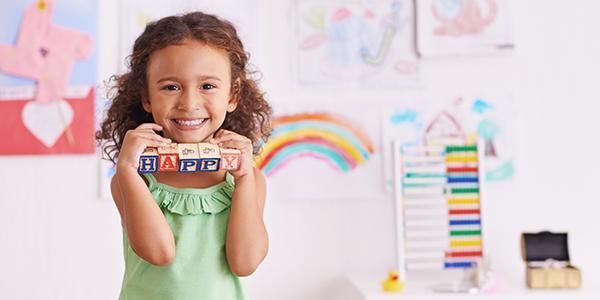 You are here
Deb Jones
Words matter. They are packages of power that can harm or help. As Fred Rogers said, "The greatest thing we can do is let people know that they are loved and capable of loving." This article offers activities and techniques centered on using positive words to make your classroom an encouraging place where children, families, and teachers feel the love.
Ideas to use with children

Use each child's name frequently, and pair it with positive comments.
Sing throughout the day, inviting children to sing with you. Directions and transitions sound so much better when sung. Pick a favorite tune that the class can use to sing through necessary routines, like "We hang up our coats and wash our hands, wash our hands, wash our hands, / We hang up our coats and wash our hands before we go to circle" (to the tune of "Here We Go Round the Mulberry Bush").
Set a goal to spend time with each child daily (or every other day) so you can build your relationship.
Broadcast children's accomplishments by describing what they are doing as they play and learn. Be sure to do this with each child so that everyone has their strengths recognized.
Make class photo books together that highlight ways classroom members care for each other. For example, based on Bill Martin Jr. and Eric Carle's book, Brown Bear, Brown Bear, What Do You See?, the children could create a book about being kind called Friend, Friend, Who Do You See?
Cut out paper hearts and use them to write down loving things children do for each other. Read these aloud at circle time and make a bulletin board to display them.
Give out weekly "happy grams" to each child. These are positive written messages (on fun-shaped paper) describing something a child did that week. Hand them out to your fellow teachers and to children's family members once in a while, too—everyone can use a happy gram!
Play uplifting and calming music in the classroom. We play music from several classical composers, a calm-down album called Cool Bananas by Genevieve Jereb (a pediatric occupational therapist), and fun playlists we create ourselves (one of my favorites includes "All You Need Is Love," by the Beatles, "I'm a Believer," by the Monkees, and "Under a Shady Tree," by Laurie Berkner). Aim for a variety of options so the songs don't get too repetitive.
Ideas to use with families

Address parents and other caregivers by name.
Ask family members about their lives and interests so that you get to know them as individuals (and also get to know their children better).
Share positive information regularly about each child.
Make family members feel welcome whenever they are in the classroom. Encourage them to be involved in class activities, like field trips or class events, whenever they have time in their schedules.
Share photos of children's activities on bulletin boards in the classroom, in newsletters, and at family conferences. A picture really is worth a thousand words.
Send out weekly communications to keep families informed about classroom happenings. Ask families how they prefer to receive these updates.
Provide difficult feedback in a supportive way. For example, discuss a child's strengths at the beginning and ending of a meeting, even when the focal point of the meeting is a concern that needs to be addressed.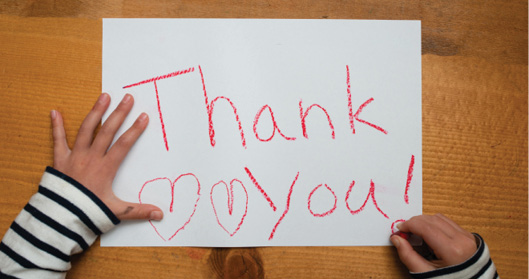 Ideas to use with other teachers and staff

Post comics, funny sayings, and joyful anecdotes in the staff room.
Pass on good comments about your coworkers that you hear from other people.
Put notes of encouragement and gratitude in staff mailboxes (candy is often appreciated as well).
Recognize staff accomplishments at every staff meeting.
Ideas to use with yourself

Take care of yourself. It is impossible to fill up others' buckets with positive words and actions unless you are filled with love yourself.
Subscribe to positive, encouraging emails and blogs, like the What We Can Continue to Learn from Fred Rogers monthly e-newsletter, written by Hedda Sharapan of the Fred Rogers Center.
Create a "smile file" of cartoons, funny stories, and uplifting articles and books.
Start a gratitude journal. Each day or week, write down three to five things that you are grateful for.
Keep notes and pictures that children and families give you in a pretty storage box. Review the contents often.
Watch your self-talk and mind your mind. Even when reflecting on something you could have done better, use positive words and appreciate that you are growing.
Post positive affirmations around your classroom and home.
Adopt a role model—mine is Fred Rogers—and ask, What would _______ do?
A Closing Thought

We teachers have tremendous power to impact children and families with our positive words and actions. As educator Mary Anne Schwalbe said, "Each expression of friendship or love may be the one that makes all the difference." Nothing we do or say is wasted. Shine on!
---
Photographs: © Getty Images
Deb Jones
Deb Jones recently retired from the Burrier Child Development Center at Eastern Kentucky University, in Richmond, Kentucky, where she taught preschoolers and student teachers for 21 glorious years.