Feature Teacher: Margarita Barragan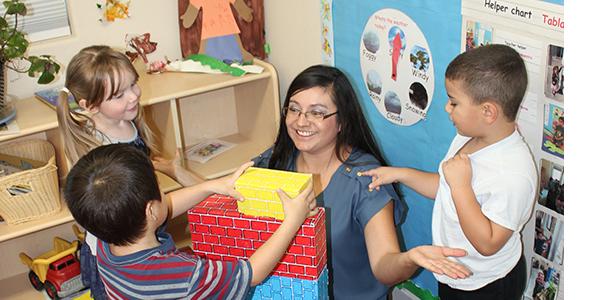 You are here
Margarita Barragan was raised in Tieton, Washington. In high school, she wanted to join the nursing field and then become a pediatrician, but her life took a turn when she became a mom at 19. She received an opportunity to work at a local Head Start when her baby was 4 months old, and she's still there 17 years later. Margarita enjoys working with children and families and plans to pursue further education to enhance her efforts to help children be kindergarten ready.
What is something important a child has taught you? We had a child in our program who was diagnosed with cancer. She taught me that no matter what she was facing, she was eager to learn and was no different from the other children.
What is most important in your classroom? Making children feel they are important and showing that I value them.
How do you build on children's individual and family strengths, cultural backgrounds, and experiences? We conduct conferences with families at our center and home visits, and we talk about child as well as family strengths. We get to know each family's culture and beliefs and accommodate for them. We also encourage families to come to our classroom to share about their culture and beliefs.
How do you show children that you value them? By smiling the moment I see each child. I greet them individually and acknowledge what they say and do. I also offer individual support and follow the children's lead in conversations.
What do you do when things don't go as planned? I make changes to my lesson plan to follow children's interests and accommodate the children's needs.
Words of inspiration: "You might be the first smile your students see each morning, or the first hug they've had since Friday. We have the most important job of all!"—Spiri Howard
This touches me, because I have had children in my classroom who come from multiple foster homes at their young age, and greeting them with a smile, a hug, or a high five means the world to them. Some children have said to me, "Teacher, will you be here tomorrow?," and I reassure them, "Yes, I will be."
Future Goal: To continue preparing children for kindergarten, especially in social and emotional development.
Favorite children's book: No, David!, by David Shannon. I think this is the children's favorite because it has a couple of words on each page, and it gets them to think about and respond to why Mom tells David no.
How I take care of myself: By reading, going for nature walks, and spending time outdoors.
Why didn't someone tell me? That teaching is so hard and exhausting, but so worth it. I love to see the smiles and the aha moments.
My two cents: Don't get discouraged when you think children are not listening, because there is always a child who is!
Proudest accomplishment: When children I had many years ago still remember me and can tell me about a time when I made them feel special and valued.
When I knew I had to teach: I was scared and knew teaching was not going to be easy, but I learned quickly to be an adult who has a child's heart and let the children show me what teaching is all about.
My teaching style in three words: Encouraging, caring, flexible.