كیف تدعم التجارب الفنیة التي تركز على المعالجة الأطفال في مرحلة ریاض الأطفال How Process-Focused Art Experiences Support Preschoolers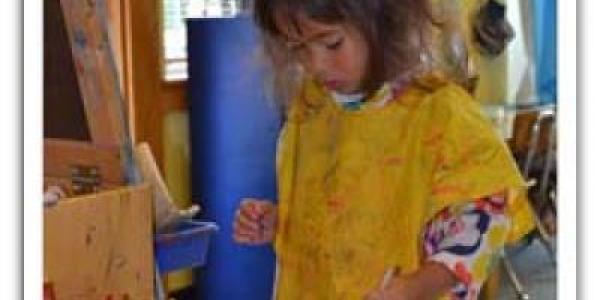 You are here
ھل ھدفك ھو تشجیع إبداع الأطفال من خلال الخبرات الفنیة الملائمة نمائی اً؟ راجعي الاختلافات بین الفن الذي یركز على المعالجة والذي یركز على المنتج لمساعدتك على البدء.
---
خصائص الخبرات الفنیة التي تركز على العملیة

لا توجد تعلیمات مفصلة خطوة بخطوة.
لا یوجد نموذج یقلده الأطفال.
لا توجد طریقة صحیحة أو خاطئة للاستكشاف والإبداع.
یركز الفن على الخبرات واستكشاف الوسائل والأدوات والمواد.
الأعمال الفنیة فریدة وأصیلة.
التجربة مریحة أو مھدئة.
تكون الأعمال الفنیة كلھا من إبداع الطفل.
تكون الخبرة الفنیة من اختیار الطفل.
الأفكار لیست متاحة بسھولة على الإنترنت.
ما قد یقوله الأطفال

"انظري ماذا صنعت!" "سأقوم بصنع واحدة أخرى!"
"ھل یمكنني الحصول على مزید من الوقت؟"
---
خصائص الخبرات الفنیة التي تركز على المنتج

یوجد تعلیمات یتبعھا الأطفال.
تنشئ المعلمة نموذجًا للأطفال لیقوموا بتقلیده.
توجد طریقة صحیحة وخاطئة للتنفیذ.
یوجد منتج نھائي یوضع في الحسبان.
الأعمال الفنیة النھائیة لجمیع الأطفال متشابھ.
یشعر الأطفال بالإحباط.
قد تقوم المعلمة "بتصحیح الأخطاء".
یشارك الفصل بأكملھ في مشروع فني في نفس الوقت.
الأنماط والأمثلة متاحة بسھولة على الإنترنت.

ما قد یقوله الأطفال

"ھل انتھیت من العمل الآن؟"
"ھل ھذا صحیح؟"
"لا أستطیع القیام بھ"
"عملي لا یشبھ عملك"
---
توفیر خبرات فنیة إبداعیة وغیر محدودة من خلال تقدیم أنشطة مثل

الرسم باستخدام حامل اللوحات مع توفیر مجموعة متنوعة من ألوان وفرش الطلاء (بدون تعلیمات).
الرسم بالألوان المائیة.
الاستكشاف والتشكیل بالصلصال.
الرسم بالأصابع.
الرسم بأدوات غیر معتادة مثل استخدام فرش الأسنان وبكرة الدھان وھراسة البطاطس.
الطباعة والختم (الأختام الجاھزة أو صناعتھا بالإسفنج).
صنع دولاب التلوین باستخدام مشغل الاسطوانات والألوان والبخاخات وفرش الطلاء وأقلام التحدید.
نظم الخرزات باستقلالیة وإبداع.
حیاكة الملابس أو الصوف أو الورق.
الرسم بأقلام الرصاص أو القلام الفنیة أو بأقلام تحدید مختلفة الأحجام أو بأقلام التلوین.
استخدام العجائن المصنوعة یدویًا في المنزل.
صنع كولاج من الملصقات باستخدام المنادیل وأحجام مختلفة من الورق والصمغ واللصق والغراء والمقص ومواد معاد تدویرھا.
---
نصائح لإدارة الأعمال الفنیة التي تركز على العملیة

1. جعل نشاط الفنون مثل اللعب المفتوح - على سبیل المثال ، توفیر مواد متنوعة ومشاھدة ما یحدث خلال قیادة الطفل لخبرة النشاط الفني.
2. جعل الفن خبرة ممتعة، وذلك بالسماح للأطفال باستخدام المزید من الطلاء والألوان والقیام بالمزید والعدید من الاعمال الفنیة.
3. توفیر متسع من الوقت للأطفال لتنفیذ خططھم واستكشافاتھم.
4. إعطاء الحریة للأطفال في القیام بالأعمال الفنیة والتوقف عنھا حسب رغبتھم.
5. ملاحظة المعلمة وتعلقیھا على ما تراه: انظر إلى كل ھذه النقط الصفراء التي رسمتھا.
6. الموافقة على أفكار الطفل الفنیة.
7. توفیر مواد جدیدة وممتعة.
8. تشغیل موسیقى في الخلفیة.
9. أخذ المواد الفنیة إلى الخارج تحت ضوء الشمس الطبیعي.
10 . تزوید كتب الأطفال بالرسوم التوضیحیة، مثل تلك التي كتبھا إریك كارل ولویس إیلیرت وجافاكا ستبتو.
11 . إعطاء الحریة للأطفال في أخذ أعمالھم الفنیة للمنزل أو إبقائھا في الفصل.
12 . تذكري أن الطفل ھو من قام بالعمل الفني ولیس أنت.
---
ما یقوم به الأطفال ویفعلونه خلال النشاط الفني الذي یركز على العملیة

من الناحیة الاجتماعیة والعاطفیة
یھدأ الطفل ویركز ویشعر بالنجاح ویمكنه التعبیر عن مشاعره.
من الناحیة اللغویة ومعرفة القراءة والكتابة
قد یختار الطفل مناقشة عمله الفني أو إضافة كلام علیه (بنفسه أو عن طریق إملاء المعلمة).
من ناحیة العملیات المعرفیة
یقارن الطفل ویتنبأ ویخطط ویحل المشاكل.
من الناحیة الجسدیة
یستخدم الطفل مھارات العضلات الصغرى للرسم والكتابة واستخدام الصمغ وتشكیل الصلصال وعمل الفن التصویري.
---
Resources

Spotlight on Young Children and the Creative Arts, edited by Derry Koralek. This NAEYC publication focuses on both understanding and doing creative arts with young children.
More Than Painting, Preschool and Kindergarten: Exploring the Wonders of Art, by Sally Moomaw and Brenda Hieronymus. This book provides many process art activity ideas.
The Creative Arts: A Process Approach for Teachers and Children, by Linda Carol Edwards. A textbook format that provides a foundation for understanding process in art, music, and drama activities with young children.
http://prekandksharing.blogspot.com/2012/02/making-transition-from-produ...
www.ooeygooey.com/handouts/art.pdf
Laurel Bongiorno
Laurel Bongiorno, PhD, dean of the Division of Education and Human Studies at Champlain College, writes and presents on a variety of early care and education topics—play as learning, parents' and teachers' understanding of play, process art, and early childhood leadership. She is a past president of the Vermont Association for the Education of Young Children.