March DaDness: Engaging Fathers
You are here
If you're a basketball fan, you're probably familiar with March Madness—the NCAA's annual monthlong college basketball tournament, which culminates in the Final Four and the national championship. So, what is March DaDness?
March DaDness is a calendar of family engagement activities inspired by this fast-paced, exciting basketball tournament! It's designed to invite fathers and other important males in children's lives to participate in the children's early learning programs. Besides dads, male involvement can include grandfathers, uncles, brothers, stepfathers, cousins, Big Brothers—any male figures who are role models for the children you work with. This is not to say that mothers and other female caregivers cannot participate in March DaDness!
Our annual March DaDness event is developed and sponsored by the Male/Fatherhood Involvement Committee of Pittsburgh (Pennsylvania) Public Schools, which strives to create programs and activities aimed at reinforcing classroom learning, promoting school readiness, and strengthening parent involvement—especially that of fathers. Any of the activities or event ideas described can be adapted to suit the families of the children in your program.
For ways to try March DaDness in your own program—and increase male involvement in March and beyond—read on!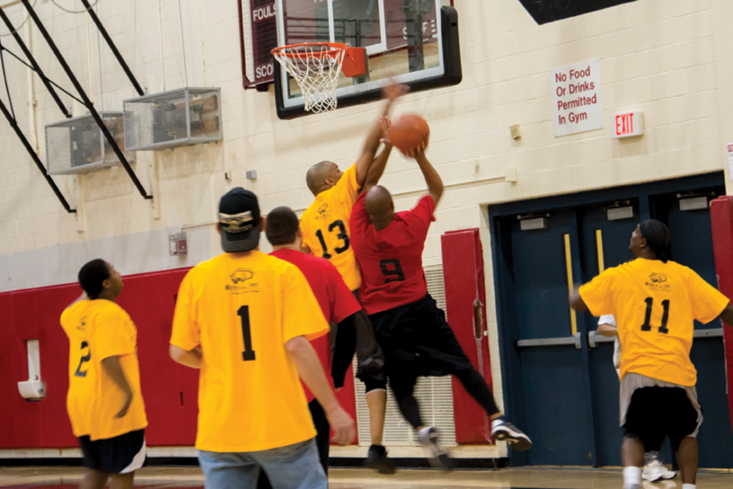 Engaging fathers and significant male figures

A March DaDness campaign . . .
Builds teamwork through playing basketball
Involves fathers and other male caregivers in a variety of activities with their children, linking learning to things families already enjoy
Connects fathers and families to community resources in a month of dad-ness!
Collaborative event planning

Our March DaDness is successful because fathers and other significant male figures, community representatives, and program staff plan the activities together, and our community partners rally around the event. Everyone contributes to the design of activities so they engage both adults and children. Work with the families in your program and with local community members to plan activities that encourage fathers and other significant male figures to get involved with children in new ways.
A safe, fun environment for families

March DaDness activities provide a safe, fun, and healthy environment in which families can gather with their children, and fathers and children can have opportunities to bond with others in their community. Families build skills and practices that they can use to support their children's learning.
To add to the fun, children get a T-shirt and a gift bag with science, math, and literacy tools, such as pencils, crayons, drawing paper, and children's books. We hope families use these resources together at home. March DaDness activities are a chance for families to become acquainted with local organizations and receive information that they might not seek out on their own, such as parks and recreation offerings and the local library's schedule. We also partner with local food banks and shelters.
For your own event, consider your families' needs when deciding what to send home in gift bags. What will help children build on the skills they learn while participating in the activities? Also consider which community organizations can help support your families. Bringing parents face to face with organizations makes it easier for them to access available resources!
Community sponsors

Community partners help us make March DaDness a success. They provide space, food, prizes, materials, and volunteers. Think about the needs and interests of your families to determine the best groups to reach out to. For example, local musicians or artistic groups could offer workshops on drumming or painting. Sports teams (high school, community college, college—even national) might be willing to offer a skills workshop, such as coaching children and dads on dribbling. During our March DaDness, alumni fathers return to volunteer. This is exciting because we get updates on how their children are progressing in school. Take advantage of having parents and other caregivers together in a relaxed environment to share appropriate resources that could benefit children and families.
Supporting program goals and outcomes

As you plan your own March DaDness events, keep in mind program goals and outcomes, such as those specified in NAEYC's Standard 7 for engaging families in early learning programs (See Overview of the 10 NAEYC Early Learning Program Standards.)
Our March DaDness addresses several of Head Start's Parent, Family, and Community Engagement (PFCE) goals and outcomes, and contributes to kindergarten readiness. (See eclkc.ohs.acf.hhs.gov/hslc/tta-system/family/framework.) For example, it supports families' connections to peers and to the community as adults and children bond with others in the program while working, learning, and playing together.
Adults see themselves as lifelong learners and children's first teachers as they build skills and practices they can use at home to support their children's learning. Combining lively, enjoyable social activities with skills development in many areas—physical, cognitive, language and literacy, and social and emotional—will keep everyone engaged and learning!
Conclusion

In every program, there are fathers and other male caregivers who want to be involved and engaged in their children's learning. March DaDness is one example of a great initiative that involves fathers and other male role models in the early learning experience in a different way. The Pittsburgh Post Gazette, which covered our March DaDness event, said it "elevates the coolness of fathers' involvement in kids' education."
---
The Pittsburgh Male/Fatherhood Involvement Committee hosts monthly events to boost involvement all year long, including a science movie night and a two-week, at-home Read-a-Thon. Events like these are designed to create positive pathways to lead fathers and other significant male figures to become more involved parents, caregivers, and role models and to reinforce their roles as fathers, husbands, partners, grandfathers, uncles, and community leaders. For more information, visit www.pps.k12.pa.us/Page/4145.
---
For more information and resources for families, visit National PTA MORE (Men Organized to Raise Engagement) www.pta.org/programs/content.cfm?ItemNumber=3212
March DADness: Sweet 16 Gifts The Best Dads Give Their Kids and Elite 8 Encouraging Words Elite Dads Say to Build Self-Confident Kids, by Jackie Bledsoe
jackiebledsoe.com/march-dadness-sweet-16-gifts-the-best-dads-give-their-kids
jackiebledsoe.com/march-dadness-elite-8-encouraging-words-elite-dads-say-to-build-self-confident-kids 
Strong Fathers—Strong Families: strongfathers.com
Head Start Parent, Family, and Community Engagement Interactive Framework
eclkc.ohs.acf.hhs.gov/hslc/tta-system/family/framework/interactive.html
---
Photos  © Getty Images and courtesy of the author
James Saunders
James Saunders is a family services coordinator for Pittsburgh Public Schools Early Childhood Education Programs.