Supporting Children's Reflection With Phones and Tablets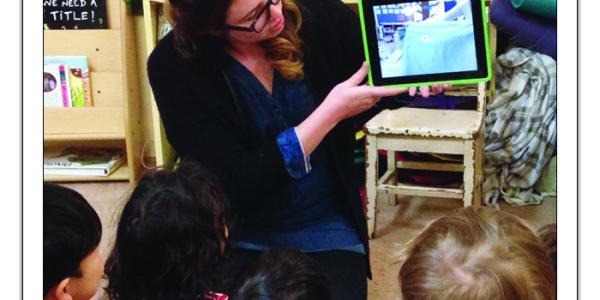 You are here
Jordan Foley, Jarrod Green
Early in the day, Jordan, a preschool teacher, asks a group of children,
"Before we start playing, do you want to watch the video of what you did yesterday?" "Yes!" chime several children as a few get up and run over to the tablet.
Jordan plays the short video and asks, "What's happening here?"
"Amelia was sick!" says Sara.
Zach agrees: "Yeah, she has diphtheria.
Sara saw it on the X-ray. See? There she is looking at the X-ray."
"Well, doctors, how will you help our friend today?" asks Jordan.
Zach replies, "We need to get her the medicine, but it is far away."
Sara suggests having a dogsled relay to get the medicine, connecting yesterday's play to the story of Balto the sled dog, currently popular in the class.
The children rush off, gathering props and friends—they need as many dogsled teams as they can get! Soon most of the class is working together on the relay, getting Amelia her medicine in the nick of time. Later in the day the children watch a video of the dogsled play and revisit their harrowing tale with each other.
Encouraging reflection is an important practice for early childhood educators. When young children reflect, they build skills like remembering, questioning, investigating, explaining, translating, sharing, and revisiting. These skills are crucial both in school and in life. Reflection is a valuable part of anything we want to teach preschoolers—self-regulation, conflict resolution, planning, even literacy. It's also an important skill to learn in and of itself.
At the Children's Community School (CCS) we help children develop their own ideas and build connections with each other. Our practice revolves around the inquiry process. We encourage children to explore and experiment with ideas, collect and record information about what they know, and reflect and share what they know. They do all of this in the context of play. Through this process we help children think deeply and work together to make meaning from their work.
At CCS, we've long used photographs as one tool to help children reflect on activities—their own and each other's. For instance, a teacher might show a child a photo of the child working on a piece of art and ask him to recall the process he used. Or the teacher might show some photos of a previous day's activity to a small group and ask them to revisit their ideas. Recently, we started to use tablets and phones to make audio and video recordings as well. By creating videos of children's play and audio recordings of their stories and conversations, we offer children unique opportunities to reflect on their ideas and voices.
When preschoolers watch or listen to themselves, they have a particularly powerful window into their own thoughts and actions. For example, while listening to themselves tell a story, children can really listen in a unique way. It's difficult for young children to talk and listen at the same time, so hearing a recording lets them think about what they have said. When watching videos of play, children can sometimes take a wider view than they could during the play itself. They can consider their own role, each other's roles and actions, and the play as a whole.
The perspectives offered by recordings can be especially useful in helping children take ideas to the next level. They can connect different ideas, involve more classmates, and find ways to resolve problems in their stories (all demonstrated in the opening vignette). Asking children to revisit recordings is also useful when children are losing interest and leaving play, or when play is getting stuck and the children keep repeating certain ideas without developing them.
In addition, the process of making and sharing recordings is a wonderful experience for teachers. Teachers get to reflect on children ("Wow, Elena really has a lot of great ideas in dramatic play!") and reflect on practice ("Oh, next time I'll ask a different question."). Watching children reflect on themselves is an empowering experience for the adults who teach them.
Here is how we make and use recordings with preschoolers:

Record. It's most powerful to create videos of activities in which the children are deeply engaged. Collaborative socio-dramatic play is often a good place to start. Collaboration and engagement are built-in elements for this kind of play, and its narrative framework makes it easy for preschoolers to come back to later. At first the recording device may distract children, but soon they'll get used to it and play normally. That said, just because you're holding the camera doesn't mean you have to stop the scaffolding you normally provide children during play. Your recording shouldn't take you away from the children.
Share. Viewing a video or listening to a recording should never interrupt play in progress; the focus should always be on getting children to engage as deeply as possible in what they're doing. Share recordings of play after a little time has passed or during a community reflection time, such as the end of the day or the start of a new play period. Audio recordings of children's stories can sometimes be shared as soon as the story is over, to help children hear what they've just said.
Reflect. The goal is for children to actively reflect and build on their own ideas. The teacher's role is to serve as a support and guide, not as a director. Ask the children to describe what they see or hear. ("What are you playing in this video?," "What do you notice about your play?") Ask them to revisit the play and change or expand it. ("If your story kept going, what would happen next?," "When you play this again, what would you like to do differently?") Ask them to translate what they've seen or heard into a different form. ("Would you like to draw a picture of your play?," "You could write a book about the story you told.," "How about having a puppet show?") Ask them to share it. ("Would you tell the rest of the class about this at Together Time?," "What's a good way to share this with your families?")
---
Jarrod, a preschool teacher, guides a small group of 3-year-olds through making up a story. His phone sits in the center of the circle, unobtrusively recording their words.
As soon as the children reach the end, Jarrod asks, "Shall we hear your story? When you listen, pay attention to who's in the story."
The children all lean in close, eagerly whispering "That's me!" when they hear their own voices.
When they're done listening, Jarrod says, "Let's act it out!"
One child says, "I want to be the dragon!"
Another child says, "But I want to be the dragon!"
"Great," says Jarrod. "Two dragons! Who remembers another character?"
When all the children have decided who they want to be, including two who choose to be the audience, Jarrod says, "Think about what happened at the beginning, middle, and end of the story." This brief discussion helps the children act out the story in order.
After the children take their bows at the end, Jarrod says, "Let's listen to the recording one more time. This time try to think about which parts of the story would make interesting drawings."
Use of technology in early childhood is a charged topic right now. Many teachers find themselves with tablets and phones in their classrooms, looking for supportive ways to use them for teaching and learning. At CCS, we use mobile technology with thought and intention, helping children focus on each other and create their own ideas. We use the recording and playback capabilities of phones and tablets to help children see, hear, and reflect on themselves. This deepens children's thinking and reinforces their connections to each other, to their community, and to the world around them.
Happy recording!
---
Photo courtesy of the author
Jordan Foley
Jordan Foley, MEd, is an early childhood educator at the Children's Community School in Philadelphia, Pennsylvania. Her professional practice explores the empowerment of children through emergent curriculum and democratic classroom practices.
Jarrod Green
Jarrod Green is a teacher and administrator at The Children's Community School, a preschool in Philadelphia. More of his writing, as well as his podcast and his children's album, can be found at http://jarrodgreen.net.