Using the Village to Raise a Reader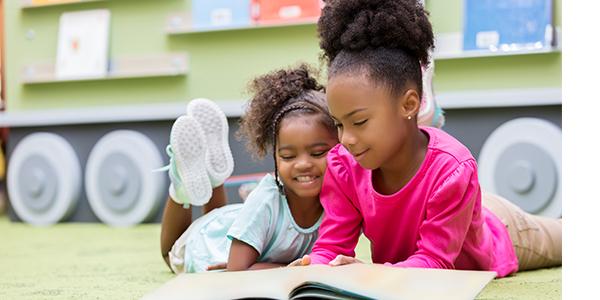 You are here
Donna C. Celano, Susan B. Neuman
---
Accreditation Standard 8: Community Relationships

As part of the fabric of children's communities, effective programs build strong relationships with agencies and institutions. By helping to connect families with local resources and enrichment opportunities, early education programs further children's health, development, and learning. This article highlights a new community resource that you can help spread: adding literacy corners to laundromats.
---
It takes a village to raise a child. As literacy researchers, we see the truth of this day after day. Although preschool teachers play a major role in helping children become readers, they operate as part of a larger community team that supports a child's early literacy development. What children learn in the classroom is reinforced by family members as well as by a host of local resources, such as public libraries, community programs, and health centers.
In some communities, the newest member of the team is an unlikely one: the local laundromat. Thanks to new initiatives that supply books, volunteers, and other resources to laundromats, this weekly trip is turning into valuable time for families with young children to engage in early literacy activities.
In this article, we explore the key roles that teachers, families, and community initiatives like those underway at some laundromats play in helping children become ready to read.
Promoting literacy in the classroom

Building a proficient reader begins long before a child starts kindergarten. As caregivers cuddle with infants and respond to their coos and cries, children absorb the sounds and rhythms of the language. Within the first year, infants begin to imitate sounds and recognize the familiar voices of their caregivers.
As children grow, their daily routines in early childhood settings provide prime opportunities for developing early language and literacy skills. While many factors influence young children's future reading proficiency, researchers have long known that early childhood educators are especially critical in reinforcing a few key components of early literacy, including the following:
Oral language: Oral language includes listening comprehension, verbal expression, and vocabulary development. Preschool educators help children develop oral language by providing opportunities for children to use language in meaningful interactions, such as by listening and responding to stories, answering open-ended questions, engaging in extended conversation, describing events, and using novel vocabulary.
Alphabet knowledge: Children need to learn the alphabet and develop phonological awareness (the ability to distinguish the sounds within words). Preschool teachers support this learning by ensuring children have lots of exposure to the alphabet through books, blocks, magnets, and other materials that encourage playing with letters. They also share rhyming poems and songs that immerse children in carefully listening to the sounds that make up words.
Concepts of print: Children must gain an understanding of environmental print and concepts of print, such as where to begin reading a book and in what direction to read. The more interactions children have with print, the better. Activities such as a visit to the grocery store, daily story time, and writing centers give children opportunities to understand different uses of print and to experiment with written communication. Environmental print, such as signs, labels, and charts, also helps reinforce children's understanding of print.
Books, books, and more books: Children pick up critical skills by engaging with books at a young age. Preschool educators encourage children's book use by placing books near play activities and toys. For example, children are more likely to pick up a book about trains when it is placed near a play train set. Mixing books and toys sends important messages to children: books are fun and reading is a part of everyday life. Children also use books more frequently when they are kept in a defined space with comfortable seating—and when the books are shiny and new.
Supporting literacy outside school

Early childhood educators play an important role in putting children on the road to reading. But their efforts are only a piece of the larger environment for literacy development. Children need their families to reinforce early literacy skills during out-of-school time as well.
When it comes to children's oral language development, alphabet knowledge, and concepts of print, families play a key part. A wealth of research shows that the time families spend interacting with their children during routine activities, such as singing, drawing, and playing games, is critical to a child's vocabulary development.
Visits to museums, zoos, and aquariums are also highly beneficial because they provide many opportunities for children to learn new vocabulary and add to their knowledge base. The time families and children spend reading together is particularly crucial since books expose children to new words, spark conversations, and help children learn the conventions of print.
But not all children have played with books, enjoyed trips to museums, or been read to often by the time they arrive at school. Families in under-resourced communities are especially challenged in finding high-quality, age-appropriate books. Many children in under-resourced neighborhoods live in book deserts—communities where there is limited or no access to children's books. In our research, we've found that in neighborhoods in which two-thirds of the children live in poverty, 833 children would have to share one book! To learn more about book deserts, see Susan B. Neuman and Naomi Moland's article "Book Deserts: The Consequences of Income Segregation on Children's Access to Print," in the journal Urban Education.
Promoting literacy in everyday spaces

Over the past several years, many new initiatives have been created to boost reading success for children, especially for those living in chronically under-resourced communities. For example, First Book has delivered more than 130 million books and other educational resources to children living in families with low incomes. A variety of local initiatives are providing books in places families frequent, such as churches, community centers, schools, and apartment buildings. If you haven't asked around your community lately, you may find some great new ways to encourage children and families to access free books!
Laundromats are one of the most interesting new settings for these literacy initiatives. They range from national programs backed by large foundations (like the LaundryCares Foundation) or corporations to caring individuals working alone to make their local communities better. The table "Laundromat Literacy: A Small Sample of a Big, New Idea," on page 33, highlights the wide variety of approaches these initiatives are taking and how they support what children learn in preschool.
Although the idea of a laundromat serving as a literacy space may seem improbable, the range of programs operating in many communities shows they are an ideal place to meet families where they are. Research shows this too. A study we recently conducted with the Clinton Foundation's Too Small to Fail initiative and the LaundryCares Foundation found that transforming laundromats using Family Read, Play & Learn spaces resulted in children engaging in 30 times more literacy activities compared to laundromats without a similar space. The same study found that when librarians led weekly story times in laundromats, children were engaged in 47 minutes of sustained literacy activity. Among the soap, suds, and mounds of laundry, early learning is taking place.
Tips on Starting Laundromat Literacy Programs

In your classroom:
Create a laundromat literacy play area in your classroom! In your laundry center, include
Many different brands of empty soap and detergent containers
Baskets for sorting play clothes, labeled with colors or categories like "stripes and solids" or "long and short sleeves"; also add blank cards for children to create their own labels
A table for folding clothes
Timers and memo pads for children to keep track of the laundry
Signs providing instructions on how to use soap
Environmental labels
Dolls and puppets
A cozy library to read books while waiting for the laundry cycle to finish
Paper and crayons to send notes to one another and to make lists of supplies to purchase
In your community:
Start your own community laundromat literacy program. Contact the LaundryCares Foundation at [email protected] for connections to local laundromats in your neighborhood and for support in creating a Family Read, Play & Learn space. The foundation can help introduce you to their network of laundromat owners. If you are reaching out to a laundromat on your own, talk with managers about starting a literacy corner. Explain that these areas are easy to create and are a cinch to maintain. Be sure to inform them about how laundry literacy areas will benefit their business. Based on our study with Too Small to Fail and the LaundryCares Foundation, some positives include:
Building loyalty with customers
Showing the community that laundry owners care about local families, helping to build an important connection between them
Creating an enticing space at little cost. Work with local schools, churches, and community groups to get the following items donated or purchased:

Books that children will love
Sock puppets
Markers and a whiteboard
Puzzles
Book rack
Puppet stage
Small couch and table
Comfortable area rug
As you create your laundromat literacy program, establish a group of committed librarians and/or volunteers to help you refresh the literacy corner every month.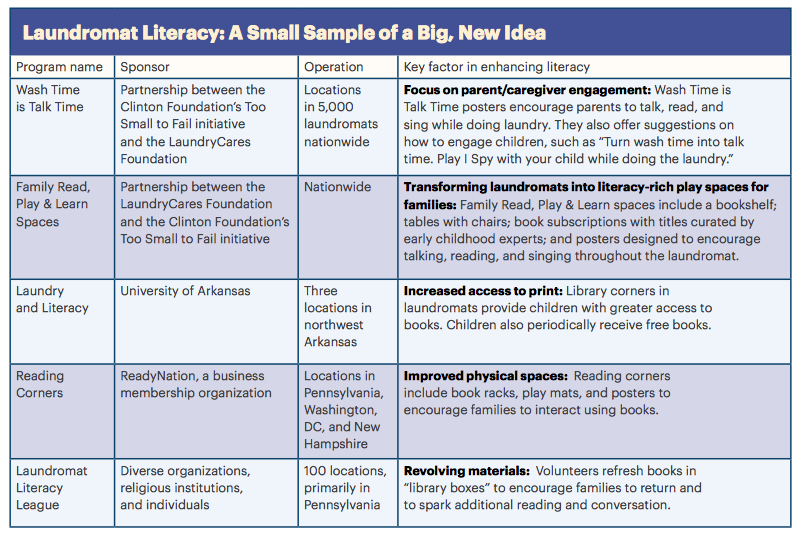 Selected Accreditation Assessment Items Related to Making Connections to the Community

8A.1 Show or describe how you assist families with using community child and family support services.
8B.1 Show two examples of how staff used their knowledge of the community to develop curriculum and create learning experiences for the children.
8C.1 Show or describe one example of how you involve close neighbors in your program as appropriate, or cooperate with them on neighborhood interests and needs.
Photograph: © Getty Images
Donna C. Celano
Donna C. Celano, PhD, is an assistant professor of communications at La Salle University, in Philadelphia, Pennsylvania. She served as a senior researcher on the national evaluation of the Every Child Ready to Read initiative. Her research interests include family literacy and children's access to and use of books, computers, and other media. [email protected]
Susan B. Neuman
Susan B. Neuman, EdD., is a professor of childhood education and literacy development in the Teaching and Learning Department at New York University. Susan specializes in early lieracy and oral language development, and focuses her work on interventions that change the odds for children from low-income families. [email protected]