Message in a Backpack™ Caregiving in Uncertain Times: Early Childhood Educators Offer Seven Tips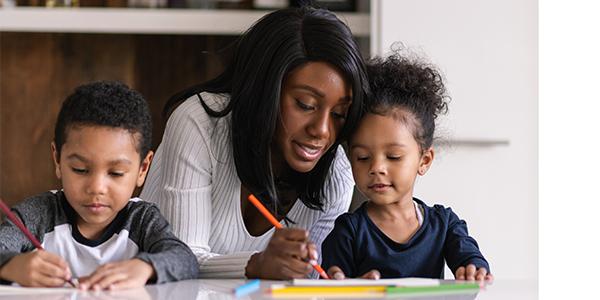 You are here
Susan Borst, Holle A. Brambrick, Nagwa Elsamra, Jennifer Eshleman, Melanie Muskin, Maryscott Pietrafese
1. Let your child play.

Learning happens through all multisensory experiences—not just in a virtual or in-person classroom. Give your child opportunities to wonder, create, explore, and notice things in their home environments and communities. Allow them to lose themselves in the appropriate, uninterrupted, and meaningful learning that occurs with block play, sensory play, and creative play with unrelated materials.
2. Be confident in your parenting.

There is no one right answer during a pandemic or other challenging time. Each day is different, as are each day's choices. Be confident that the parenting choices you make are the best for you and your family. That way, you can look back when this is over and say, "I did the best I could with the information I had at that time."
3. Trust your child's resilience.

Children are open to all possibilities—including wearing masks and maintaining social distancing—if it means they can play with friends. They take seriously their role in keeping others safe, and they understand when schools need to be closed or other precautions need to be taken.
4. Be flexible.

With virtual-learning platforms, families often worry when their children aren't fully engaged or don't want to participate. It's okay. There are other options to engage and learn, such as sensory play, outdoor exploration, and one-on-one story time.
5. Create a learning space at home.

Organize and label your child's materials. Set a realistic schedule for them. Read books to them each day. These practices will maximize your child's exposure to what is developmentally appropriate for them. It also will minimize the shock of past changes and allow you to better support your child through future change.
6. Celebrate rituals.

How does your child get ready for school in the morning? How do they go to bed at night? What steps do you and your child routinely follow? These kinds of rituals help children know what to expect. They also give parents confidence and help ease our anxiety as we continue to face uncertainty and "new normals."
7. Partner with teachers.

Teachers are your allies. They love your children. Together, you can partner to cultivate a positive learning experience despite the wider context in which we are living. Young children are resilient. Regardless of the circumstance—be it a pandemic or other upheaval—your child can still thrive.
---
Copyright © 2021 National Association for the Education of Young Children. See permissions and reprints online at NAEYC.org/resources/permissions.
Susan Borst
Susan Borst is the director of The Ark Children's Center in Olney, Maryland.
Holle A. Brambrick
Holle A. Brambrick, MEd, is the director at Lakewood Child Care Center in Lakewood, Ohio.
Nagwa Elsamra
Nagwa Elsamra is technical assistance supervisor for Grow NJ Kids at the Central Jersey Family Health Consortium.
Jennifer Eshleman
Jennifer Eshleman is an early childhood classroom teacher at Hawken School in the Cleveland, Ohio, area.
Melanie Muskin
Melanie Muskin is the education director at Brooklyn Schoolhouse in New York.
Maryscott Pietrafese
Maryscott Pietrafese teaches at Hawken School in the Cleveland, Ohio, area.