Singing and Moving in the Time of COVID-19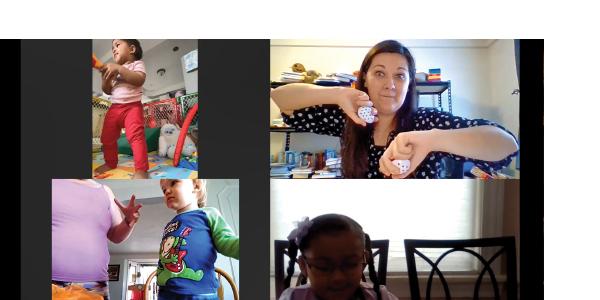 You are here
Karen Salvador, Kerry B. Renzoni 
It's almost 9 a.m. on Saturday morning, and Savannah's mom calls her to the living room. "Savannah, it's time for music class!" They log on to the computer and are joined by ten other boxes of families on the screen, each saying hello to each other. Preschooler Savannah sees her music classmate Zeke in one of the boxes and waves hello. The families mute their sound as Mr. James begins class by singing a familiar and beloved hello song, "Let's Sing Hello Together," inviting families to move and sing along. He sings hello to each child, asking them one by one to unmute themselves and share how they are doing. When it's Savannah's turn, she joyfully sings "I'm fine" with glee, giving her mom a high five.
Savannah attends virtual music class each Saturday. Because her early learning program has closed temporarily due to the COVID-19 pandemic, these virtual gatherings give her time to engage in music and interact with her peers. During the sessions, Mr. James guides families through a series of engaging music and movement activities, and he encourages adults to adjust activities to their child's needs and home environments. Before each class, Mr. James sends out a list of suggested materials for families to have ready—a blanket for expressive movement; homemade maracas made from paper towel rolls for rhythmic exploration. Before the pandemic, Mr. James and the families met in person for class, but this is their new normal.
What's in a song? A lot, when it comes to the early childhood classroom. Whether used to build community during circle time, to introduce or reinforce a concept, to transition children from one activity to another, or to offer opportunities for creativity, self-expression, and enjoyment, music and movement are critical components of excellent early childhood teaching.
However, music and movement are among the activities that COVID-19 has made challenging. The Centers for Disease Control and Prevention (CDC) suggests that the virus can travel in the microscopic droplets expelled from the respiratory system when someone sings or moves. As a result, educators and families have raised doubts about the safety of singing and moving in early childhood education settings. Even for programs that have moved to all-virtual teaching, music and movement may be an afterthought.
That's unfortunate. Music and movement are important in children's lives. When children sing and move, they develop tools for self-regulation and emotional connection, and their enjoyment helps them cope with daily life events. Music and movement also help children learn and grow across other developmental domains. Joyful and engaging music and movement activities are essential to a comprehensive early learning program.
Recognizing the importance of music and movement in early childhood, the National Association for Music Education (NAfME) has collaborated with the Early Childhood Music and Movement Association (ECMMA) to provide guidance for educators. Based on CDC recommendations and the most recent research, they offer strategies for safer music and movement activities in person and virtually. Teachers can share these strategies with families to help allay their fears about the health and safety of music and movement during significant health crises like the COVID-19 pandemic.
Singing More Safely in the Classroom

To minimize risk, NAfME and ECMMA recommend that children singing in a group wear a face mask, stay 6 feet apart, and face the same direction. Singing should be limited to a maximum of 30 minutes, and good ventilation is required. Additionally, early childhood educators should consider these approaches for singing safely in an early childhood setting:
Record yourself singing or use recordings of others singing as a way to limit your contribution of aerosolized particles. If you select and play videos of children singing, be sure those videos represent a variety of gender expressions, races, and ethnicities.
Consider not having all children sing at once. Designate a "singing spot," where assigned "singers of the day" go and sing for the class (keeping masks on and with appropriate spacing).
Children who aren't "singers of the day" can sing in their heads or keep the beat of the song by using a variety of body percussion options. These include stomps, claps, or patting their knees.
Use books that are also songs to maintain interest among those not singing. Select songs and books that represent music and people relevant to your students. (See "Music and Movement Resources" below.)
Moving More Safely in the Classroom

Similar to singing activities, NAfME/ECMMA guidance suggests children stay 6 feet apart and wear a mask during movement activities to lower the risk of infection. Teachers can help children maintain that "self-space" by using something to mark the floor, such as spot dots or Hula Hoops. Outdoors, teachers can define space with chalk or tape. Once students are aware of and maintain their distancing, they should be allowed to move freely.
To encourage movement, teachers can try these activities:
Beat-keeping, such as moving specific body parts like the head, arms, shoulders, and feet, or moving side-to-side, swaying forward, and rocking back. Define individual movement spaces with spot dots or Hula Hoops.
Engage in hand-clap games with a chair or other object as the child's partner.
Try walking, marching, and skipping in a small personal circle.
Consider going outside for socially distanced movement if weather permits.
Singing and Moving Virtually

If music and movement take place virtually, teachers should provide live, interactive engagement that is developmentally appropriate and focused on relevant learning goals. Virtual music and movement activities can include moving creatively to recorded music, chanting and singing, and creating songs and stories.
When providing music and movement instruction virtually, consider these activities:
Encourage everyone to sing! Children can sing as much as they want while muted, so encourage them to sing out loud. Be aware, though, that individual children may have situations that limit how loud they can sing, such as a napping sibling or sharing their learning space with others. Connect with families on a regular basis to learn about each family's situation, what's working, and what's been a challenge.
Invite children to take turns being the lead singer with the songs they know. As the facilitator, teachers can mute the other children to prevent issues with lag and feedback.
Encourage children to identify space limitations or barriers by incorporating directed movement activities that explore boundaries. For example, we like to use the song "Look to the Window" from Music Play: The Early Childhood Curriculum:
Look to the window  
Look to the door 
Look to the ceiling 
Look to the floor
After the first time through the song, we ask children: "Is there anything on the floor that you'll need to pick up so you can move safely? Please do that now." Then, to continue the song, we ask children to suggest movements that we can substitute for "look," such as "point."
Ask children or caregivers to share school-appropriate songs they enjoy singing by providing a YouTube link or a video of themselves singing the song. When families share these recordings, it provides a window into a child's life and helps teachers make connections between classroom content and the child's world. Preview the link before sharing to ensure it is appropriate for your community. If so, encourage all participants to view and sing along.
Invite families to participate in a way that works for them during both singing and moving activities. This may mean they're off camera at times.
Ensure diversity in who is represented in the songs and videos you share so children can make connections to their own social identities and interests.
Because you won't be able to monitor everyone's participation, give caregivers and children plenty of ongoing encouragement to sing. Use props (like puppets) to encourage singing.
Provide recordings of music with movement directions spoken on the track. This will give students a chance to perform the movements on their own and in different settings.
---
Music and Movement Resources

COVID-19 has created unprecedented challenges for early childhood educators. Continuing to provide music and movement activities despite these challenges will help children develop emotionally, socially, physically, and musically. Use, modify, and extend these suggestions to fit your students and your situation.
Books With Rhythmic Text
Read with a steady beat and encourage children to flick their fingers to the beat as they move their hands through the air. 
Barnyard Dance, by Sandra Boynton (1993)
Llama Llama Mad at Mama, by Anna Dewdney (2007)
Brown Bear, Brown Bear, by Bill Martin (1996)
Edward's Rhythm Sticks, by Franklin Willis (2020)
I Got the Rhythm, by Connie Schofield-Morrison (2014)
Books That Are Songs
If you don't know these songs' melodies, you may be able to find them on YouTube.
There Was an Old Lady Who Swallowed a Fly, by Pam Adams (2000)
We Are the Dinosaurs, by Laurie Berkner and Ben Clanton (2017)
The Ants Go Marching, by Dan Crisp (2007)
Over in the Meadow, by Jill MacDonald (2012)
Down by the Bay, by Raffi Songs to Read (1999)
Five Little Ducks, by Raffi Songs to Read (1999)
Abiyoyo, by Pete Seeger (1994)
De Colores and Other Latin American Folk Songs, by Jose-Luis Orozco (1999)
Every Little Thing, by Cedella Marley (2015)
Recordings for Steady Beat and Expressive Movement
"Iko Iko," by Buckwheat Zydeco
"Linus and Lucy," by Vince Guaraldi Trio
"Hanuka," by Judy Frankel
"Loch Laven Castle," by Celtic Music Voyages
"Rodeo," by Aaron Copeland
"Peixinhos do mar," by Daniele Sepe
"Uskudar'a a Gider Iken," by Pink Martini
"Carmen Overture," by Georges Bizet
"Hamisha Asar," by Flory Jagoda
Recordings to Sing Along With
Songs of Our World, by Raffi
Children's Songs—A Collection of Childhood Favorites, by Susie Tallman and Friends
Putumayo Kids Presents World Sing Along
Best of the Laurie Berkner Band
Dr. Jean and Friends
Additional Information
The National Association for Music Education is a professional organization for music educators that envisions the making of music by all. The Early Childhood Music and Movement Association is a group of early childhood educators, early childhood music specialists, and researchers that seeks to be a catalyst for meaningful early childhood music and movement practices. The groups worked together to create three documents related to guidelines and recommendation practices. Information about them is available on the NAEYC Blog. 
---
Photograph: Courtesy of the author.
Copyright © 2021 National Association for the Education of Young Children. See permissions and reprints online at NAEYC.org/resources/permissions.
Karen Salvador
Karen Salvador is an assistant professor of music education at Michigan State University in East Lansing, Michigan.
Kerry B. Renzoni 
Kerry B. Renzoni is an associate professor of music education at SUNY Buffalo State in Buffalo, New York.