Teachers Are My Classroom: Reflecting on My Journey from Teacher to Director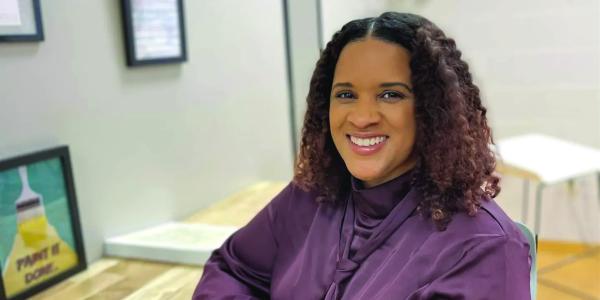 You are here
Editors' Note: As noted in the NAEYC book Survive to Thrive: A Director's Guide for Leading an Early Childhood Program, by Debbie LeeKeenan and Iris Chin Ponte, many effective program directors begin their careers as classroom teachers. While there are a number of parallels between working with children and working with adults, the jump from peer to supervisor can be daunting.
Aarie Wade moved from lead teacher to program director when she was just 24. After 11 years in a leadership role, she reflects on the lessons she learned and offers advice to others assuming a director role.
I was 15 when I began working as a summer helper at a for-profit early learning program in Grand Rapids, Michigan. Just nine years later, I became its director.
I had a college degree, a Child Development Associate credential, and lead teaching experience, but none of that quite prepared me for my new leadership role. I wanted to be liked. I wanted to please. I didn't want anyone to be mad at me. All of that was fine until evaluation time, when the teachers (all of whom were older than me) started to push back. I learned that leadership can feel very lonely.
Still, I had a vision. Our center had a lot of growing to do. My goal as a director was not only to get myself to the next level but our staff as well. I began to set clear boundaries: I didn't insert myself into classroom lessons; I kept conversations focused on the children; I worked to develop professional relationships. After a while, my team began taking me more seriously. They started seeing me as their advocate and as someone they could come to with questions.
After six years, I moved to Baxter Community Center as director of education for its Child Development Center. I supervise a staff of more than 15 and serve over 60 children, infants to pre-K.
Baxter is where I really started growing my leadership skills. In this new role, I was the expert, and the executive director of our organization looked to me to solve the challenges facing the Child Development Center. But at the beginning, staff questioned my expertise and often challenged my knowledge and ideas. My first task was to develop a tightly knit structure, which took a lot of redirection and relationship development. This experience transformed me professionally.
Adopting a New Lens

It's challenging to move from teacher to director. Once you oversee a program, you move beyond the concerns and requests of a single classroom or group to a more macro-level view. You have to think about 10 steps ahead: "How do I want this day to end?" That's how we need to begin.
I wish teachers more clearly understood this expanded view and all that directors have to see and consider when we make decisions. How will this affect continuity of care? How does this decision align with our organization's vision, mission, and goals? What do licensing, accreditation, and Great Start Readiness (Michigan's state-funded preschool program) require? Teachers who are transitioning to a leadership role need to take time to understand the larger-scale tasks and thinking that they'll have to do.
But it's also important for directors to stay teachable. One mistake I made when I started at Baxter was always trying to be right. I was so focused on proving myself that I never gave myself grace. When I started admitting to and sharing mistakes with teachers, our team became dynamic.
One of the ways I shared my mistakes and created learning opportunities for my team was by sharing licensing reports. Our first licensing visit under my leadership went pretty well; however, we were cited for some very important and easily overlooked mistakes. I shared this information, as well as the corrective action plan process, with Baxter's teachers. As director, I was accountable for correcting these issues, but I involved my staff by asking for their ideas and doing research alongside them. This took me from just leading to leading alongside my team.
As a director, it's important to be transparent. Share your learning moments. Share the mistakes you've made. Remember that teachers look to you for validation, just like our little ones. They need love, guidance, and attention. They want to learn from you. Teachers are my classroom!
---
Photo courtesy of Aarie Wade
Copyright © 2023 by the National Association for the Education of Young Children. See permissions and reprints online at NAEYC.org/resources/permissions.
Aarie Wade
Aarie Wade is the director of education at Baxter Community Center in Grand Rapids, Michigan, and trustee for Grand Rapids Public Schools.