Message in a Backpack ™ پیام در کوله پشتی ™ Choosing the Best STEM Activities for Your Child انتخاب بهترین فعالیت های علم ، فناوری ، مهندسی و ریاضی برای کودک خود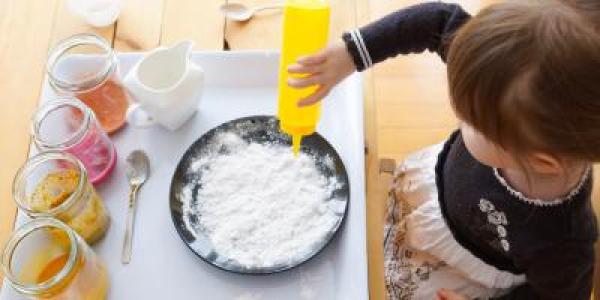 You are here
کودکان خردسال دوست دارند دنیای اطراف خود را کشف کنند - و فعالیت های STEM* بهترین راه برای کمک به آنها در انجام این کار است. STEM مخفف علم ، فناوری ، مهندسی و ریاضی  است. بسیاری از فعالیت های STEM  به صورت آنلاین  در دسترس است تا خانواده ها و فرزندان  آنها بتوانند در خانه انجام دهند ، اما برخی از آنها بهتر هستند! با وجود تعداد بسیار فعالیت های STEM ،  شما چگونه می توانید بهترین  آنها  را برای کودک خود  انتخاب  کنید؟
در اینجا چندین پرسش وجود دارد که  شما می توانید از خود بپرسید:
۱. آیا این فعالیت ها مورد علاقه کودک من خواهد بود؟

آیا کودک شما به ساخت و ساز علاقمند است؟  به جمع آوری انواع سنگ چه طور؟ به تماشای آسمان در هنگام شب چه طور؟ فعالیت هایی را انتخاب کنید که مورد درخواست کودک شما خواهد بود و یا آنهایی را انتخاب کنید که کودک شما  تا کنون آنها را انجام نداده است ! هنگامی که شما علایق کودک خود را دنباله روی می کنید و جرقه فعالیت های جدید را مورد جلب توجه شان قرار می دهید شما یادگیری کودکان را مبتنی بر‌آنچه که آنها از قبل می دانند و یا قادر به انجام آن هستند،  حمایت می کنید.
۲. چه کاری برای انجام کار فرزند من وجود دارد؟

به دنبال فعالیت هایی باشید که کودک شما را به جستجو و کشف ترغیب می کند. اطمینان حاصل کنید که کودک شما با ساختن ، غلتاندن توپ ، حفاری ،  مخلوط کردن ، ایجاد سایه یا حتی کثیف شدن فعال خواهد بود! هنگامی که کودک شما به طور فعال درگیر بازی با اشیا و مواد است ، آنها چیزهای زیادی در مورد نحوه کار چیزهای اطراف خود می آموزند.
۳. چه چیزی برای کودک من وجود دارد که بتواند آنها را  حل و فصل کند؟

   به دنبال فعالیت هایی باشید که کودک شما را قادر به حل و فصل  مشکلات و یافتن راه حل های  منحصر بفرد کند. فعالیت هایی را انتخاب کنید که کودک شما می تواند به روش های مختلف انجام دهد تا نتایج متفاوتی بدست آورد. اشکالی ندارد اگر آنها مفاهیم علمی را که مشاهده می کنند به طور کامل یا دقیق درک نکند؛ آنچه مهم است این است که آنها با استفاده از مهارت های مورد نیاز برای فکر کردن مانند یک دانشمند ، کاوش و کشف می کنند. این نوع فعالیت ها کودک شما را قادر می کند تا آ تجربه کند ، نظریه ها را آزمایش کند و بفهمد چه راه حل هایی بهترین نتیجه را دارند.
۴.  چه چیزی  برای کودک من وجود دارد که بتواند درباره آن  صحبت کند؟

 فعالیت هایی را انتخاب کنید که به شما و کودک تان  ایده های جالبی برای گفتگو بدهد. وقتی از کودک خود می خواهید آنچه انجام می دهد، آنچه را مشاهده می کند ، و آنچه را که فکر می کند، را برای شما تشریح و توصیف کند، شما مهارت های علم، فناوری ، مهندسی و ریاضی را در او ایجاد می کنید. از کودک خود دلایل را سوال کنید: چرا شما  این چنین فکر می کنید؟  شما چرا این گونه امتحان کردید؟  شما ممکن است از ایده  و دلایل  فرزندتان تعجب کنید!
۵. چه چیزی  برای کودک من وجود دارد که  بتواند درباره آن نقاشی بکشد یا بنویسد تا  این گونه اکتشافات خود را به اشتراک بگذارد؟

 فعالیت هایی را انتخاب کنید که شامل فرصت هایی برای نوشتن ، نقاشی کشیدن  یا ساختن یک مدل باشد. کودک شما ممکن است یک سازه  از خانه تان بسازد یا از لوله های سیمی  برای ساخت یک پروانه که در بیرون از خانه  مشاهده کرده است، استفاده کند. شما همچنین می توانید با گرفتن عکس و فیلم با  استفاده از تلفن هوشمند خود کارهای آنها را ثبت کنید. سپس از فرزند خود بخواهید که تجربیات خود را با سایر اعضای خانواده در میان بگذارد!
*STEM: یک برنامه درسی  ترکیبی  با رویکرد میان رشته ای کاربردی مبتنی بر چهار رشته علم ، فناوری ، مهندسی و ریاضی است.
---
Copyright © 2021 National Association for the Education of Young Children. See permissions and reprints online at NAEYC.org/resources/permissions
Rosemary Geiken
Rosemary Geiken, EdD, retired as an associate professor from East Tennessee State University. She consults with Regents' Center for Early Developmental Education on STEM for young children.