Message in a Backpack™: Optimizing the Use of Media and Technology with Your Child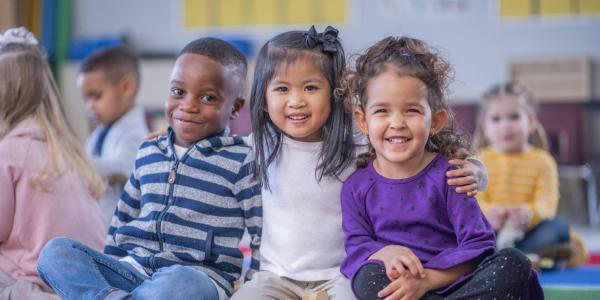 You are here
As new COVID-19 variants continue to cause shifts with in-person learning, technology is essential to maintaining progress. Here are five key takeaways from the pandemic that can help promote your child's learning and development while using technology and media.
Intention matters. Avoid digital media designed for mindless consumption with no educational value. Instead, look for interactive programming that will engage children in active, playful learning. See if it is connected to specific learning goals and has been evaluated by others. For example, Sparkler Learning Noggin's Big Heart World Initiative provides free resources in the form of videos, book lists, and activities (along with a handy guide) to integrate into daily discussions and activities to help children identify and process their emotions, build empathy, understand diversity, and develop skills involved in interacting with others. (See http://www.bigheartworld.org/ for more.)

Reignite children's social skills. High-quality digital programming can help support social and emotional development. For example, your child's favorite on-screen characters can also model positive social skills for home, school, and beyond. Look for digital activities and programs that focus on relationships, dealing with different emotions, empathy, mutual respect, and ways to peacefully resolve differences.

Go beyond the screen. The best media ignite play long after the digital experience ends. When children play pretend with their favorite characters, they apply social, emotional, and thinking skills, and problem solving. Incorporate hands-on activities, music, podcasts, and other independent play or co-play with the whole family and other children.

Encourage co-play. Use digital media to connect with your child individually, particularly if they seem more reluctant to or find it challenging to engage in social situations. Explore educational content with them, asking questions and interacting with the media and technology alongside them. The benefits of co-play, or "joint media engagement," to child well-being and family bonding cannot be overstated!

Use media and technology for self-care. Early childhood educators and families need opportunities to attend to their own self-care. Many digital tools, such as apps like Calm or Insight Timer, help build mindfulness and routines that can help you better handle important responsibilities.
---
Photograph: © Getty Images.
Copyright © 2022 by the National Association for the Education of Young Children. See permissions and reprints online at NAEYC.org/resources/permissions.
Michael Levine
Michael Levine is the senior vice president for learning and impact at Noggin, Nick Jr.'s digital learning platform. He is the coauthor of Tap, Click, Read: Growing Readers in a World of Screens (with Lisa Guernsey) and the founding executive director of the Joan Ganz Cooney Center at Sesame Workshop.